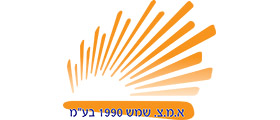 A.M.Z. Shemesh 1990 Ltd.
Contractor and Infrastructure Works

Company's Profile
| | |
| --- | --- |
| Established: | 1990 |
| Line of Business: | Contractor and Infrastructure Works |
| Address: | P.O.B. 1441, Pardes Hanna-Karkur |
| Phone: | 972-4-6379999 |
| Fax: | 972-4-6379333 |

Company Executives
Mahade Abu Muck

CEO and Owner

A.M.Z. Shemesh 1990 Ltd.

View Profile

Mahade Abu Muck
Leading Executive
Mahade Abu Muck CEO and Owner
Shuki Weizmann CFO
Adv. David Ohayon General Counsel
Avi Rodnitzki Head of Contracts and Agreements
Rotem Kokhavi Comptroller
Orit Cohen Procurement Manager
Doron Richter VP, Engineering

About A.M.Z. Shemesh 1990 Ltd.
A.M.Z Shemesh (1990) Ltd. is a longstanding company that has been executing complex works in the fields of infrastructure, civil infrastructures, earthworks, road paving, tunneling, bridge and interchange construction, water conduits, drain ducts, sewage, drainage, lighting, communication and more. The company is a leader in the dynamic compacting industry and executes work from north to south. The company's annual turnover exceeds NIS 500M and its orders backlog exceeds NIS 2.5B.
30 Years of Professional Excellence
The company has contractor classifications in the segments Infrastructures (200) - C5 (Unlimited), Sewage, Drainage and Water (260) - C5 (Unlimited), Bridges (300) - C3, and Construction (100) - C3. The company is ranked by the State of Israel with an asterisk in the road paving segment. The company is committed to high and excellent levels of execution and is ISO 9001:2008 certified.
Uncompromising Quality and Innovation
The company owns advanced and modern equipment which is customized for the nature of operations in Israel, including the most advanced dynamic compacting equipment in the country. The company employs excellent professionals from every discipline, such as: Engineers, quantity surveyors, procurement professionals, legal department, finance department and seasoned managers with extensive professional knowledge, who enable the company to meet strict timetables. The secret is in the company's organic team, which is the human capital which drives its performances. In our view, the infrastructures and transport industries are the economy's growth drivers and truly deserve an investment. Over the next few years, the State of Israel would make huge investments in the infrastructure industry and any government which would be formed would have to pay attention to the severe shortage of professionals in the industrial and construction segments. Professional training of workers would lead to a tremendous surge and growth in an industry that has enormous potential, and the company also carefully maintains the professional level of its workers through professional training. The team members participate in training and seminars, and knowledge is shared between veterans and new team members, and above all else, the company's policy is to first and foremost protect its human capital. In addition, the company owns dozens of heavy equipment units, which are operated by professional and skilled team members, in order to execute the various projects in a professional and uncompromising level. In addition, the company underwent a significant internal reorganization which included the implementation of an ERP system with a module that was customized for its needs, for the purpose of applying control, budget analysis and monitoring of every parameter of project execution, all with the aim of maximizing profitability and positioning the group at the front tier of heavy engineering and infrastructures companies.
The Company's Clientele Includes
Israel Roads Company, Highway 6, Netivei Ayalon, NTA, the Dead Sea Protection Company, Arim Urban Development, The Ministry of Housing, Yefe Nof Management and Construction, Mekorot, IEC, Tel Aviv-Yafo Municipality, Or Yehuda Development Company, Ministry of Defense, Rishon LeZion Municipality, The Sharon Drainage and Streams Authority and more.
Selection of Notable Projects
1. Executing Road surfacing and repairs, North District - NIS 300M.
2. Surface preparation works for the Jerusalem Light Rail - ordered by Moriah Jerusalem Development Company Ltd. - NIS 119M.
3. Building the Haifa-Nazareth Light Railway, ordered by Highway 6 - NIS 150M.
4. Civil engineering works along the Rosh HaAyin's railway for Israel Railways – NIS 144M.
5. Paving Road 65, East Afula Bypass, for Israel Roads Company - NIS 135.1M.
6. Paving Road 60 ElArob Bypass, for Israel Roads Company - NIS 133.2M.
7. Maintenance services South-South for Israel Roads Company - NIS 120M.
8. Hen Interchange, Road 22, for Israel Roads Company - NIS 100M.
9. Paving the Sde Teiman Ofakim Road, for Israel Roads Company - NIS 97.5M.
10. Executing works for protecting and restoring the beach mounds of Ein Bokek in the Dead Sea, for the Government Company for Protecting the Dead Sea - NIS 77.5M.
11. Development and infrastructures works in Levy Eshkol Av., Holon, The LR Green Line, for NTA Ltd. - NIS 75M.
12. Infrastructures works, Yeshayahu Leibovitz / Noami Shemer streets, for NTA Ltd. - NIS 69M.
13. Paving the public transport lane, M. Adar Junc. - Ra'anana, for Israel Roads Company - NIS 66.8M.
14. Facilitating Road 444 Hadid Junc. - Nablat, for Israel Roads Company - NIS 56M.
15. Infrastructures development works in the Shaked-Ofakim Industrial Zone, for the Economic Company for the Development of Ofakim - NIS 40M.
16. Road restoration works across Tel Aviv, for the Tel Aviv Municipality - NIS 30M.
17. Works in the Park Ayalon Neighborhood of Or Yehuda, for the Or Yehuda Development Company - NIS 26M.
18. Adding a lane in road 444 Bareket Junc. - Elad, for Highway 6 - NIS 67M.
19. Complex tree transplanting works for NTA -NIS 50M.
20. Works in segment PLW2-3 Shiva-Ramat Efal-Azar for NTA - NIS 36M.
21. Bridge works in Kiryat Modi'in/Yatir for Highway 6 Ltd. - NIS 64M.
22. Works in HaHagana/Moshe Dayan, Tel Aviv, for NTA - NIS 63M.
23. Works in segments G1-5, LR Green Line Holon, for NTA - NIS 97.6M.
Vision and Mission
In the next few years, the company intends to continue and invest every necessary mean for continuing its growth in the various infrastructures segments through the execution of complex mega-projects.
Development and Real estate
The company's execution capabilities would be directed also towards residential projects and projects of commerce and public buildings on lands that the company owns. These would be build with advanced technology and a professional team of first-class architects, consultants, engineers and seasoned project managers.
Community Outreach
The company conducts extensive activities of contribution to the community and healthcare institutes, and help to NGOs that support underprivileged populations.

Photo Gallery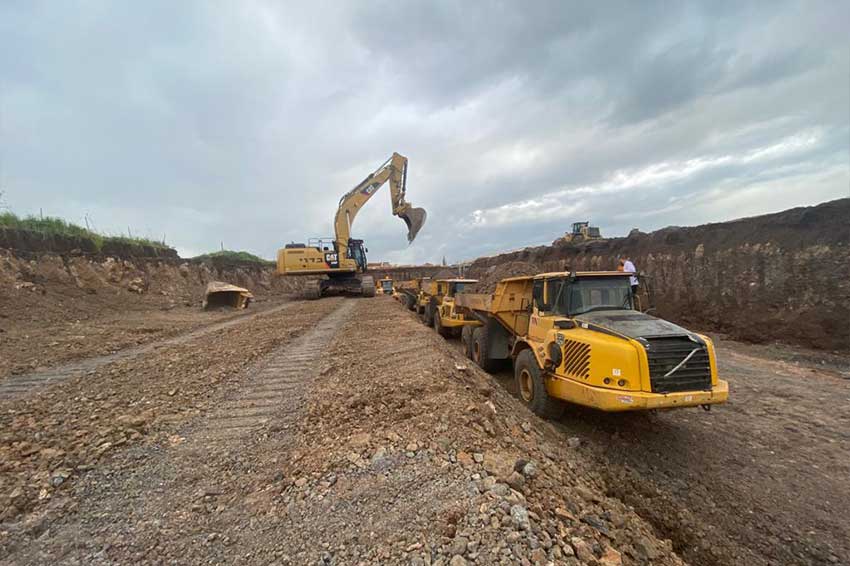 Road 90 - infrastructure, squares, and roads
PR Photo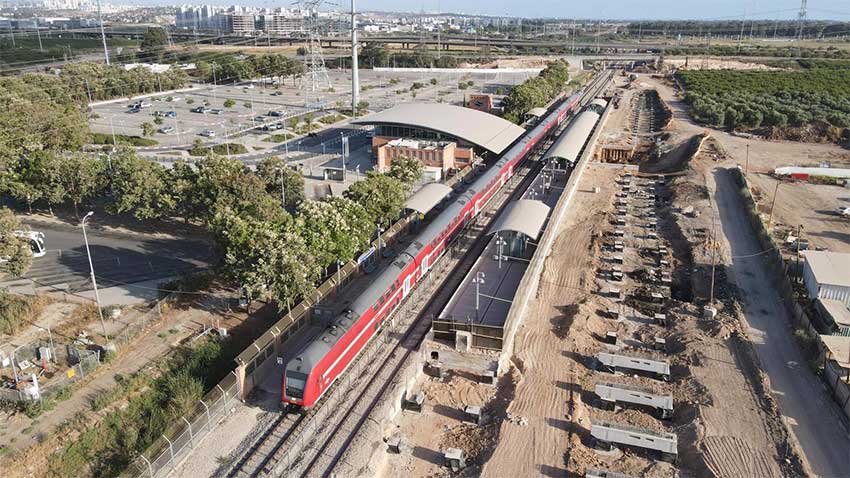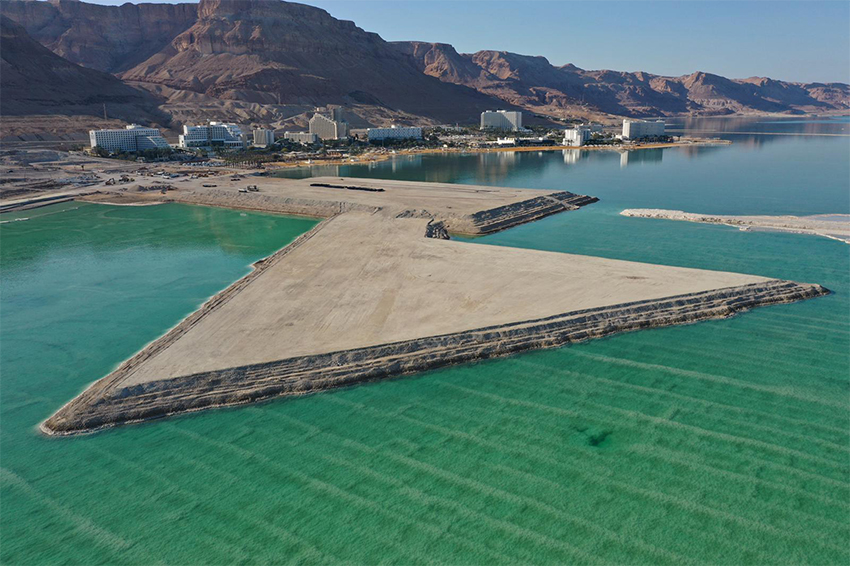 Construction of bridges and road paving
pr photo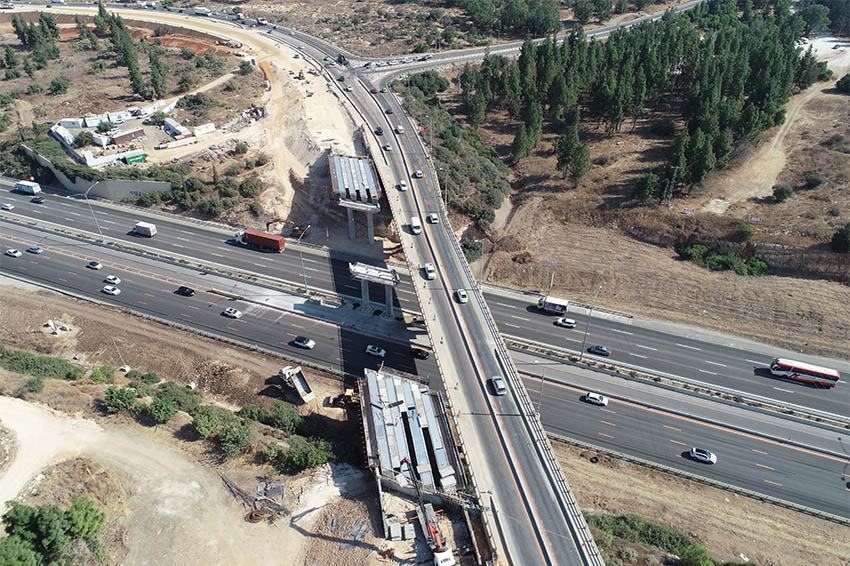 Construction of bridges and road paving
PR Photo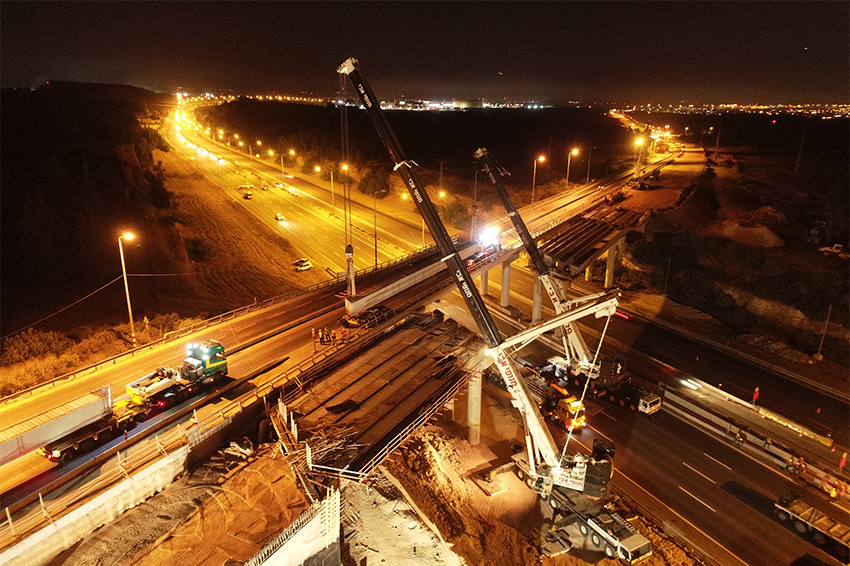 Road 444, night works
PR Photo

Company Rankings