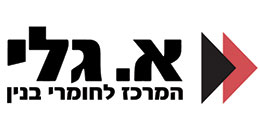 A. Gali The Constructions Materials Center
Marketing construction materials, equipment, and cranes

Company's Profile
| | |
| --- | --- |
| Established: | 2012 |
| Line of Business: | Marketing construction materials, equipment, and cranes |
| Address: | 2 Dov Yosef, Jerusalem |
| Phone: | 972-2-6718378 |
| Fax: | 972-2-5667902 |

Company Executives
Ahmed Git

Owner

A. Gali The Constructions Materials Center

Mohammad Git

Owner

A. Gali The Constructions Materials Center

Nadel Git

Owner

A. Gali The Constructions Materials Center

About A. Gali The Constructions Materials Center
A. Gali is a leading family-based company that was established in 2012 in Jerusalem by the three brothers, Nadel, Muhammad, and Ahmed Git. As one of the top wholesalers in the industry of marketing construction materials and accessories in Israel, the company is committed to providing fast, reliable, and convenient service to all of its customers, whether they are occasional customers, private contractors, or construction firms.
The Official Distributor of Leading Brands in the Construction Industry
A. Gali began its journey by supplying construction accessories to private customers and over the years its activity continued and expanded. Today it is the official distributor of leading companies in the industry such as Pazkar, Tambor, Or Bond, and others. Additionally, the company provides complementary services and solutions for construction to contractor companies and diverse projects. A. Gali provides a wide range of renovation and construction solutions, delivering personal, professional, and high-quality service.The company's store and a lot are located near the central Pat intersection in Jerusalem and customers can park conveniently.
A Dominant Importer of Construction Materials From
Abroad and an Expert in Importing Iron
In addition to being a major center for all construction materials of any kind, the company is considered a dominant importer of several construction materials from abroad and specializes specifically in the import of iron, which is distributed all over the country at unprecedented prices.
ONE STOP SHOP in the Construction World
A. Gali supplies a vast variety of high-quality products, including paint products and related equipment, various cement products, electricity, plumbing, wood, ceramics and exterior stone cladding, construction materials, sand, cement, blocks, and some of the best quality sealing products available in the field. Also, one can find a broad selection of tools from the world's leading brands such as Makita, Bosch, and Skill. In addition, iron can be ordered in the company store according to weights and charts upon request.
Human Capital
A. Gali employs dozens of professional workers, including engineers and contractors, to supply the best and safest products in the country, thereby providing a valuable service and professional and high-quality guidance to all of its customers.
Nationwide Service and Wholesale Distribution
The company owns a fleet of a variety of trucks, vans, and cranes (ranging in height from 6 to 44 meters), enabling direct delivery from the supplier to the customer anywhere in Israel.
Family Atmosphere, Service, and Professionalism
A. Gali is characterized by a particularly welcoming family atmosphere while talking at eye level with every customer who comes to the store. The company provides its customers with a dedicated and accessible service that is highly accessible, and these features, along with the professionalism and extensive knowledge of the management and staff members, contribute to an enjoyable shopping experience.

Photo Gallery