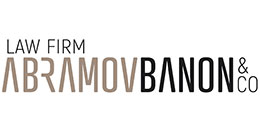 Abramov Banon & Co. - Law Office
Litigation, civil-commercial law

Company's Profile
| | |
| --- | --- |
| Established: | 2017 |
| Line of Business: | Litigation, civil-commercial law |
| Address: | 58 HaRakevet St., Electra City Tower, 9th floor, Tel Aviv |
| Phone: | 972-3-5640033 |
| Fax: | 972-3-5640039 |

Company Executives
Adv. Eyal Abramov

Founding Partner

Abramov Banon & Co. - Law Office

Adv. Sigla Banon

Founding Partner

Abramov Banon & Co. - Law Office

About Abramov Banon & Co. - Law Office
Abramov Banon & Co., recently merged in order to unite forces between advocates Adv. Eyal Abramov and Adv. Sigla Banon. The united firm reflects years of accumulated experience and reputation, specifically in the commercial litigation field, covering all its aspects. Adv. Eyal Abramov served for many years as a partner and the head of litigation departments in large law firms, and the great challenge that he faced when he embarked on his independent journey was to recreate and upgrade the practice area in which he specialized, while creating sort of an "elite unit" with independent operations and the capabilities to execute special and complex missions. Nowadays, about 5 years after he founded the firm, Adv. Abramov, and upon merging with Adv. Banon, the firm's team grew and has been involved in legally-complex and publicized cases and achieves legal success vis-à-vis top leading firms. The firm's clientele includes dozens of businesspeople, private individuals, public and private companies. The common denominator of the firm's clients is their great trust in Adv. Abramov and Adv. Banon, to whom they entrust their business battles, which often become personal battles. This trust evokes a great sense of responsibility in Adv. Abramov, Adv. Banon and their team, a sense that accompanies the firm in all its cases, day by day, hour by hour.
People's Advocates – People First
Adv. Abramov and Adv. Banon maintain high interpersonal skills, while the leading values upon which the firm was based are uncompromising professionalism and humanity. Adv. Abramov and Adv. Banon's capability to contain the clients' anxieties, wishes and desires in times of crisis, while providing a personal support and not just a purely legal one, serves as one of the firm's major sources of strength. For Adv. Abramov and Adv. Banon, involvement in the clients lives, through ongoing counsel, exceptional availability and persistence, is not a slogan, rather a way of life, which leads to extraordinary successes. When someone is in a situation of a crisis or a business dispute, the ability to find solutions, while remaining attentive to the clients' personal needs, including counterparties and legal factors – is critical for the success of case management. This is doubly true in disputes between business partners, which are based on personal relationships.
Over 20 Years of Experience
Adv. Abramov has been a member of the Israel Bar Association since 1988, and his vast professional career started immediately upon his completion of his internship in the commercial litigation field. Over the years, Adv. Abramov managed complex litigation cases pertaining to business disputes between partners, monetary lawsuits in sums of NIS tens and hundreds of millions, and infrastructures and real estate related disputes, during which he appeared countless times before courts of all levels.As years went by, Adv. Abramov was appointed as a partner in leading law firms where he headed the commercial litigation departments. He also provided legal counsel to some of Israel's leading companies and associations and in control struggles thereof, including accompanying company acquisitions transactions.
Adv. Banon holds a LL.B. cum laude, and a B.A. in business administration with a specialization in finance. Adv. Banon maintains experience as a litigator in one of Israel's leading law firms, as well as a comprehensive systematic and business view, creativity and a high level of problem solving. Adv. Banon provides legal consult to corporations, private companies and public companies in civil-commercial matters, including complex business disputes and legal strategy, which are based upon an impressive appearance.
Unafraid of Complex Cases
Adv. Eyal Abramov and Adv. Banon testify that over the years they underwent a process of professional maturation and discovered the joy of winning cases that appear to have low chances of victory. In such cases, which are characterized by legal and evidence challenges, their litigatory capabilities shine and more than once they managed to turn the tables against all odds. It can be said that Adv. Abramov and Adv. Banon have no fear of entering the legal arena even in difficult fights, when they see the clear goal of fighting and protecting the interests of their clients.
Combination of a Boutique Attitude with the Work Practices of a Large Firm
The firm is based on several core principles: providing an elite-level legal service at a fair price. These core principles guarantee the close and unmediated support for the clients, and at the highest legal level. They also relate to Adv. Abramov and Adv. Banon's vision to guarantee constant growth while remaining personally involved in the critical path of each and every one of the firm's cases – whether if this includes meetings, drafting documents, negotiations and court appearances.
Main Practice Areas
Adv. Abramov and Adv. Banon's practices several main areas:
Corporate Law Related Litigation, and in Particular Struggles of Control
The firm represents leading clients from various sectors in substantial monetary lawsuits, struggles of control, defending officers from personal lawsuits, defending against applications for the certification of a class actions, defending against applications for filing derivative actions, enforcement of external rulings and more. The field of struggles for control evokes strong emotions in the various parties, and Adv. Abramov and Adv. Banon's high emotional intelligence often helps to reach a solution of the complex issues, to the satisfaction of the stakeholders.
Infrastructures and Real Estate Litigation
The firm represents contractors and subcontractors in disputes pertaining to real estate and infrastructures.
Administrative Litigation
In this practice area, the firm represents its clients on proceedings pertaining to public Tenders Law. The legal service includes, inter alia, filing administrative petitions for contesting or defending public tenders in a wide variety of issues, and filing Bagatz petitions. In addition, the firm represents companies and associations in proceedings vis-à-vis administrative authorities.
Family Law Litigation
The firm represents its clients in dispute resolution within the family, specifically representing women who deal with violence, including in disputes that require knowledge and specification in corporate law. Labor Law LitigationThe firm represents both employers and employees, dealing with prevention prior to disputes between parties as well as in Labor Courts.Real Estate and Urban RenewalThe firm accompanies entrepreneurs, contractors, and residents, both regarding contracts as well as in disputes that arise between parties and require specific knowledge in these fields.
Volunteering
The firm aims to contribute from its professionalism and capabilities to further diverse social goals and help those who cannot afford legal services. Accordingly, the firm founded a social department that accompanies disadvantaged sectors in situations that require legal knowledge, alongside a standing contribution from the firm's income intended to promote disadvantaged youth with substantial difficulties.

Company Rankings