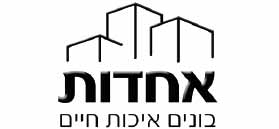 Achdut Property Upgrading Ltd.
Execution of Tama 38 Projects

Company's Profile

Company Executives
Roi Nachmoke

CEO and Owner

Achdut Property Upgrading Ltd.

About Achdut Property Upgrading Ltd.
Achdut is a construction developer and initiator which specializes in executing Tama 38 and urban renewal projects.
The company was founded in 2008 by Mr. Roi Nachmoke who serves as the company's CEO.
Since its establishment, the company has been working in the execution of Tama 38 projects throughout all of central Israel and mainly in the cities of: Tel-Aviv, Herzliya, Ramat HaSharon, Ramat Gan and Rishon LeZion.
Achdut Ltd. specializes both in Tama 38/1 (constructing additions) and Tama 38/2 (demolition and reconstruction) projects.
To date, the company executed a variety of Tama 38 projects in its areas of operations, and delivered dozens of new apartments to its customers.
Achdut works to plan and execute each project in accordance with its unique character, and integrates the building components originally and with high-quality, in order to build architectural masterpieces.
Achdut provides a complete and comprehensive service for its executed projects, from planning and legal checks, through the management of the property owner agreements, receiving construction permits, and executing the project until completion.
The company's has a leading team of leading employees in their respective fields, which includes, inter alia: civil engineers, practical engineers, finance personnel and other professionals.
During their years of working in the Tama 38 field, the company's employees gained extensive experience both in managing the agreements process with existing apartment owners, through to efficient issuance of construction permits with maximal utilization of the rights in the projects, an up to high-quality construction of the project with an excellent finishing level.
Achdut – Leading in Tama 38 Execution

Photo Gallery