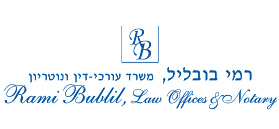 Adv. Rami Bublil, Law Offices & Notary
Military Law, Real Estate, Company Law, Civil-Commercial Law.

Company's Profile
| | |
| --- | --- |
| Established: | 1989 |
| Line of Business: | Military Law, Real Estate, Company Law, Civil-Commercial Law. Mobile: 972-54-4222637 |
| Address: | Jabutinsky St., Moshe Aviv Tower, 35 fl.7 |
| Phone: | 972-3-6129099 |
| Fax: | 972-3-7513735 |

Company Executives

About Adv. Rami Bublil, Law Offices & Notary
Adv. Rami Bublil, Law Offices & Notary is a leading and longstanding firm which specializes in military law, real estate, companies, liquidations and creditors arrangements, receiverships, banking, commercial law and more. Adv. Rami Bublil, the firm's founder and owner since 1989, has the rank of a Colonel (res.) in his service in the Military Advocate General's Defense Attorneys Department. The firm's operations are based on personal and respectful attention for every client, and the customization of the service for the personal and legal characteristics of its clients.
Adv. Rami Bublil, The Firm's Owner
Adv. Bublil has an LL.M. and an LL.B. from Bar-Ilan University, admitted into the Israel Bar Association since 1985. He has been serving as the Chairperson of the Israel Bar Association's Military and Defense Committee for 26 years, is a member of Bar-Ilan University's Board of Trustees, one of the founders of the "Oz Shlomo" pre-military academy in southern Israel (formerly the Kiryat Mal'ahi Pre-Military Academy) and has been serving as Chairperson of the Academy's Circle of Friends for more than 19 years. For over a decade, he has volunteered as the legal counselor of the Israel Navy Association and of the National Diving Fund, headed by former admiral Zeev Almog (for 18 years).
A Groundbreaking Firm in the Military Law Practice
The firm is a groundbreaking military law firm and is considered to be one of Israel's leading and prominent firms in the representation of military personnel in their mandatory, standing and reserves service, vis-à-vis the military authorities. Among others, Adv. Rami Bublil represented the former Minister of Defense, Navy Admiral and brigadier generals and major generals before their testimonies before the Winograd Commission on the Second Lebanon War, and also represented numerous offices and career soldiers, before the IDF's legal system, and in general.
Accompanying and Counseling IDF Soldiers Before and During IMF Interrogations
Adv. Bublil has vast experience in representing and providing legal support to soldiers and officers who are awaiting or at the midst of an IMF (Investigative Military Police) interrogation. He represents soldiers and officers in the various military courts, including in detention, investigation and trial management in these courts.
Representation of Enlistment Candidates
Adv. Rami Bublil represents Enlistment Candidates ("Malshabim") in various proceedings such as conscription, service postponement, service duration, service exemption, Israeli citizens residing abroad – children of immigrants who wish to come to Israel for academic studies and afterward return to their homeland without being conscripted, and older foreign residents with academic degrees who wish to serve in the army, and he managed to get them prominent positions in the IDF, with a shortened service that benefits both the IDF and the clients. Adv. Bublil also fights to include Malshabim who wish to join legal and technology reserve studies in the IDF but were rejected due to full quota, and managed to have them join these programs.
Real Estate, Civil-Commercial Law and Estates
Adv. Bublil has been representing some of Israel's largest development and construction companies in real estate and company law, debt restructurings / insolvencies amounting to NIS hundreds of millions of some of Israel's prominent companies and businesspersons. He has been representing companies and individuals that own properties which are valued in dozens and hundreds of millions of Shekels.
24/7 Client Service, Personal Attention and Availability
The firm handles numerous cases with an explosive media potential but over the years it has demonstrated its ability to maintain extreme discreetness and a low profile which helped the clients, who received an appropriate solution for their problems and/or their commercial and other interests, while maintaining confidentiality, compartmentalization and avoiding public disclosure.
Adv. Bublil is fully available for his clients.
Notable Cases
Over the years, Adv. Bublil has made legal achievement and won precedents which became legal guidelines.
For example:
The Kahalani Bagatz: A principle case where a legal guideline was set under which all of the career soldiers who accumulated sickness or paid leave until the date of their retirement from service, before the date when the government decided to cancel their entitlement for redeeming and/or using this leave, would be entitled to do so and use and receive a monetary and/or other compensation for these days without having their entitlement revoked. Adv. Bublil filed a Bagatz application at that time, applying to cancel the government decision on the matter. Following this application, Bagatz set the aforementioned guideline (which changed the rules in the Israeli labor law field). Adv. Bublil has won of the greatest achievements for the benefit of the career soldiers and members of the defense establishment and amending labor law in Israel. In light of this legal achievement, the State paid career soldiers, since the Bagatz application in 1996 and up to today, a cumulative sum estimated in more than NIS 4 billion for the redemption of sick leave days and accumulated paid leave.
Shortening the detention period for soldiers before being brought before a military judge: Following a struggle which was headed by Adv. Bublil et al., the perverse situation where a soldier could have been detained for up to 35 days without being brought before a military judge was corrected. Following Adv. Bublil determined struggle, in opposition to the position of the IDF and the State authorities, this glaring perversion was corrected and the basic rights of the IDF soldiers were protected, with the detention period before seeing a judge shortened to 96 hours and shortened further after a while following a Bagatz application to 48 hours, with a statement from the military attorney general that as a rule, it would bring the detainee before a judge within 24 hours of arrest, as customary in the criminal enforcement system.
Canceling the Dismissal of a Senior Commander: Adv. Bublil represented the commander in a case where the latter fought against being dismissed by the Chief of Staff. At the end of the proceeding, Adv. Bublil managed to return the senior officer to his position and he was even promoted following his service in this position and received the rank of a Colonel.
Another case where Adv. Bublil prepared and assisted a very senior commander at the rank of major general, was when the latter was about to deliver his testimony before the Winograd Commission for the Investigation of the Events of the Second Lebanon War, including the hit of a Hezbollah missile in a missile ship, which led to death of several fighters and damage to the missile ship. At the end of the day, the Commission found no fault and made no comments concerning the conduct of the senior commander in the war, including the event of the missile hit.

Company Rankings