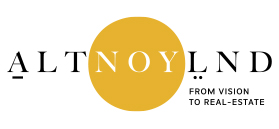 Altneuland
Real Estate Development and Construction

Company's Profile
Established:
2016
Line of Business:
Real Estate Development and Construction
Address:
96 Ramatayim Rd., Hod HaSharon
19 Rothschild Blvd., Tel Aviv
Phone:
972-73-7326699
Fax:
972-9-8952525

Company Executives
Eran Levy

CEO and Owner

Altneuland

View Profile

Eran Levy

Ronen Razon

Owner

Altneuland

View Profile

Ronen Razon

About Altneuland
Altneuland Group, led by Eran Levy and Ronen Razon, stands as a prominent development and construction company renowned for its expertise in planning and constructing luxury residential, commercial, and employment properties. With an impressive portfolio of projects in highly coveted and strategic areas, such as Tel Aviv, the Dan Region, the HaSharon area, and other select locations nationwide, the group offers an all-encompassing living experience. From the meticulous planning stage to flawless execution and timely completion, customer satisfaction remains the group's utmost priority. The group's mission is to create innovative, high-quality real estate that delivers substantial value to clients and the environment, while impeccably managing every detail throughout its projects.
Since its establishment, Altneuland has consistently showcased its outstanding qualities throughout the entire value chain of the development and construction industry - from location scouting, engineering planning, and construction to marketing and sales. The group possesses unique expertise in navigating complex transactions, particularly those involving intricate planning, legal matters, and interpersonal challenges. The name of the group was inspired by the famous book "Altneuland - The Old-New Land," written by the prophet of Israel, which perfectly aligns with their vision. This vision is centered around revitalizing old building complexes, transforming them into modern, innovative, and well-designed structures with a renewed aesthetic appeal.
The Founders
CPA Eran Levy, CEO and Owner: Holds a B.A. in Economics and Accounting (cum laude) as well as an M.B.A. from the prestigious Recanati School of Business at Tel Aviv University. Eran embarked on his professional journey by actively participating in transactions and serving as an auditor for prominent real estate companies in Israel while working at EY Israel.
Ronen Razon, Owner: A graduate of the Civil Engineering Department at the Tel Aviv College of Engineering and Construction, embarked on his career as a construction engineer, overseeing upscale residential projects. In due course, he founded a real estate development and construction company specializing in exclusive projects with high-level engineering complexity, including the preservation and reinforcement of historical buildings.
Sustainable & Innovative Future
Altneuland leads the real estate market in sustainable construction, promoting innovation and sustainability within the traditional sector. The company's projects are among the first in Israel to be awarded 3 sustainable construction stars. Adhering to the usage of sustainable materials and adopting the latest industry developments, Altneuland incorporates advanced systems into each project, ensuring a relevant living experience for the future. The company's focus on innovative green construction creates a high-quality, advanced, and healthy living environment while striving to prevent damage to natural resources and the environment. This commitment is reflected in the launch of its new premium project series, "NOY", which aligns with its sustainable vision. Altneuland is currently leading the revolutionary and innovative initiative "The Green Lane", dedicated to promoting and accelerating the green construction revolution in Israel.
Chosen Projects
The company owns projects and land reserves in unique prime locations in Tel Aviv, the center, and the HaSharon region, where it promotes the construction of approximately 500 residential units in the most sought-after areas.
Altneuland in Savion Junction: The company's flagship project in Kiryat Ono, near Savion Junction, is situated in the coveted MyOno quarter. Spanning 12 dunams, it consists of two towers for mixed-use commercial and offices and a residential tower, with about 190 units and a total built area of 100,000 sqm. The project is currently under construction.
NOY in 14-16 Itzchak Elhanan, Neve Tzedek, Tel Aviv: This exceptional project is poised to receive 3 sustainable construction stars. A four-story boutique building with 17 apartments, it gracefully occupies a prime location between the beach and Rothchild Boulevard. With a varied apartment mix, including high-standard 2-3 room units, unique garden apartments, and exquisite penthouses, it offers an unparalleled living experience. The project has obtained a building permit and is currently under construction.
NOY in 10 Itzchak Elhanan, Neve Tzedek, Tel Aviv: This prestigious and innovative boutique building comprises nine carefully crafted apartments. It showcases green construction practices and meticulous attention to high-quality specifications. The project has reached an advanced planning stage and has obtained the committee's approval.
NOY in 12 Adam HaCohen, Tel Aviv: A Tama 38/2 Demolition and Reconstruction project is underway in one of the most sought-after locations in Tel Aviv's Old North. The company is currently constructing a 6-story building consisting of 27 luxurious apartments. The project is currently in advanced planning stages and has successfully obtained the committee's decision. A permit is expected to be received in the coming months.
NOY in Ben Gamliel, North Jaffa: A 5-floor boutique building, located in a coveted location in the north of Yafo, near the flea market, and will include 23 special residential units, and a commerce floor. The total built area amount to about 3,000 sq.m. The project is in advanced planning stages.
NOY in Ben Dosa, North Jaffa: A unique project that includes two buildings, 18 residential units, and commercial areas in a perfect, picturesque location near Jaffa's flea market. The buildings perfectly combine Yafo's unique, magical character. The project is in planning stages.
NOY in 19 HaHashmal, Tel Aviv: A distinctive boutique project is set to be constructed near Rothchild Boulevard, right in the heart of Tel Aviv, within the highly desired Levontin neighborhood. The building will feature a diverse range of apartments and incorporate commercial spaces on the ground floor. The project is in the advanced planning stages.
NOY Complex, Hod HaSharon: A unique boutique complex comprising 4 buildings and 151 residential units is set to be situated between the coveted 1200 neighborhood and Magdiel neighborhood in Hod HaSharon. This exceptional development will feature a collection of unique and special residential units. The project is currently in advanced planning stages.
NOY in Ben Gamla, Hod HaSharon: An impressive 10-story boutique building at the center of Hod HaSharon which includes 23 residential units. The project is in advanced planning stages.
NOY in Hameyasdim, Hod HaSharon: An exquisite complex that includes 14 detached houses, meticulously planned and designed, including prestigious specs, precise planning, and a perfect location in the coveted Ramat Hadar neighborhood. The project is in advanced planning stages and passed the committee's decision.
An Employment Center in the Jezreel Valley: Promoting the zoning plan and planning an innovative employment center in a strategic location, on an area of about 100 dunams.

Photo Gallery