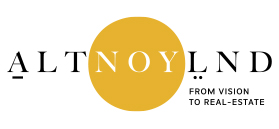 Altneuland
Real Estate Development and Construction

Company's Profile
Established:
2016
Line of Business:
Real Estate Development and Construction
Address:
19 Rothschild Blvd., Tel Aviv
96 Ramatayim Rd., Hod HaSharon
Phone:
972-73-7326699
Fax:
972-9-8952525

Company Executives
Eran Levy

CEO and Founding Partner

Altneuland

View Profile

Eran Levy

Ronen Razon

Founding Partner

Altneuland

View Profile

Ronen Razon

Adv. Gil Orenstein

Deputy CEO

Altneuland

Nadav Yagen

VP Marketing and Sales

Altneuland

CPA Roy Kanfi

CFO

Altneuland

Moti Karmi

VP Engineering

Altneuland

About Altneuland
Altneuland is a leading development and construction group which specializes in real estate development and construction of luxury buildings in demand areas. The company is the result of a merger between the development company "May Real Estate Connections" which was owned by the entrepreneur Eran Levy and the longstanding execution company "Gibsanit" which was owned by the entrepreneur Ronen Razon. The joint forces of the pair, who bring 30 years of accumulated experience in the development and construction realms to the table, creates one of the group's advantages -– a professional, synchronous, and efficient organization that delivers the highest quality and provides their clients with added value.
The Old-New Land
The group's name was taken from the famous book of the Visionary of Israel "Altneuland - The Old-New Land", and it accurately reflects its vision to renew old buildings complex properly and precisely under the sure leadership of the group, into attractive and designed real estate complex with a renewed liveliness.
Dozens of Projects
From its offices, which are located in Tel Aviv and Hod HaSharon, Altneuland promotes dozens of diverse projects in demand areas, through its professional departments, which specialize in locating business opportunities, facilitating the plan-ning proceedings, construction, marketing and delivery. In addition, the company promotes new City-building-plans in order to promote residence, commerce, employment and storage real estate projects.
Solving Tax Barriers and Legal Hurdles
Altneuland handles the entire value of chain of development and construction - locating the transaction, engineering planning, solving legal and interpersonal problems, construction, marketing and sales. The company's unique specialization is in finding the transaction, and the group maintains the unique ability to locate and promote complex transactions while solving planning, legal and interpersonal barriers.
Focusing on Land in Prime Locations and High-Quality, Green Construction
As a strategic decision, the company has been focusing since its establishment in developing and executing prestigious boutique projects in the most sought-after locations in Israel, among which are Tel Aviv and Hod HaSharon's most demanded neighborhoods, where the company can extract its qualities. The company's construction maintains a high-quality construction standard in each and every one of its projects, adopts the most innovative developments in the field and emphasizes green construction, while using green construction materials and elements, which help protect the environment, lead to energy saving and improve the residents' quality of life.
The Group's Founders
CPA Eran Levy, CEO and Director: Has a B.A., Economics and Accounting (cum laude), and an M.B.A. from the Recanati School of Business of Tel Aviv University. Eran started his career in facilitating transactions and as an auditor of Israel's leading real estate companies in EY Israel. Afterwards, he founded the development company and investment trust "May Property Management" which invests in the real estate industry, and he specialized in managing purchasing groups.
Ronen Razon, Director: Graduated from the Tel Aviv College for Engineering and Construction's Civil Engineering Department, started his career as a construction practical engineer in managing and execution of upscale residential projects. Over the years, he founded a real estate development and construction company which specialized in exclusive projects that require engineering complexity of the highest level and include: rehabilitation and restoration of historical buildings, strengthening and construction in urban-preservation-designated areas.
Selected Projects in Process
NOY in Yitshak Elhanan, Neve Tzedek, Tel Aviv: 2 boutique buildings located in the prestigious Neve Tzedek neighborhood, near the beach and Rothschild Av., includes approx. 26 apartments. The projects will offer 2 and 3 room-apartments in addition to penthouses and unique garden apartments, the facade will include commerce areas in one of the most coveted areas in Israel. The project is in advanced planning stages and the first building will be marketed in the coming months.
NOY in HaHashmal, Tel Aviv: A prestigious 5-story boutique building near the coveted Rothchild Boulevard, with about 17 residential units, including garden apartments and a penthouse. The ground floor that faces HaHashmal St. is planned as a commerce floor, and the project is in advanced planning stages.
NOY in Adam HaCohen, Tel Aviv: A Tama 38 Demolition and Reconstruction project in one of the most demanded locations in Tel Aviv's Old North, where the company will demolish an old 2.5-story building and build a 6-story building with 27 luxury apartments. In advanced planning stages.
NOY in Shim'on Ha'tsadik, Yafo: A 5-story boutique building, located in a central coveted location in the north of Jaffa, near the flea market, with 26 special residential units with an average area of about 80 sq.m. each, a commerce floor at the front, and the total built area would amount to about 3,000 sq.m. in advanced planning.
NOY in HaSargel, Hod HaSharon: Two 10-story unique boutique buildings located in the coveted 1200 neighborhood in Hod HaSharon, which include 50 unique and special residential units, the project is in advanced planning stages.
NOY in Ben Gamla, Hod HaSharon: An 8-story boutique building at the center of Hod HaSharon, adjacent to open fields. The project includes 23 residential units with 3 high-quality apartments on a typical floor. A unique and ambitious project that the company had completed and is in advanced planning stages.
West Hod HaSharon: Planning and construction of approx. prestigious 35 detached houses in the most coveted location in west HodHaSharon. The company is currently in advanced planning stages of an additional neighborhood of detached houses in the area.
A Logistics Center in the Jezreel Valley: Promoting the zoning plan and planning an innovative logistics center in a strategic location, on an area of about 100 dunams. The planning will include an accessible, functional and flexible automated center, integrated into the countryside landscape.

Photo Gallery