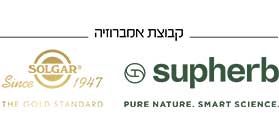 Ambrosia SupHerb Group
Manufacturing, Importing and Marketing Nutritional Products


Company's Profile
| | |
| --- | --- |
| Established: | 1986 |
| Line of Business: | Manufacturing, Importing and Marketing Nutritional Products |
| Address: | 48 Yad Haruzim St., Park Si'Im Complex, Building 11, Netanya |
| Phone: | *2535 |

Company Executives
Eitan Markovitz

Founder and CEO

Ambrosia SupHerb Group

View Profile

Eitan Markovitz

About Ambrosia SupHerb Group
Ambrosia SupHerb Group is one of Israel's leading and most advanced nutritional supplements companies and the largest nutritional supplements manufacturers in Israel and the middle east. The group was founded in 1986 by businessman and entrepreneur Eitan Markovits. The Group specializes in the development, production, exporting and importing of nutritional supplements and health products. The group has been manufacturing and marketing the brand "SupHerb" alongside importing and marketing "Solgar" products for more than 35 years. The Group also manufactures private labels of leading brands in Israel and worldwide. The company's products include nutritional supplements, vitamins, minerals, probiotics, medicinal herbs, essential fatty acids, dedicated formulas and sport nutrition products.
Leadership in the Israeli Market Alongside with Vast Exporting Activities
Currently, Ambrosia SupHerb markets more than 400 different products in the Israeli market and also has vast exporting operations to Russia, Belarus, Cyprus, South America, South Africa and the Far East. A significant share of SupHerb's R&D is conducted in cooperation with experts and research institutes, and articles that discuss the benefits of SupHerb's products are regularly published in professional journals.
SupHerb's Factory - The Largest of its Kind in the Middle East
The group's manufacturing operations rely on the SupHerb Factory, which was initially built as a small production facility for unique supplemental products in Gush Misgav of the Galilee. The executive management of Ambrosia Ltd. recognized the products' potential and acquired SupHerb in 1999. Over the years, Ambrosia transformed the small production facility into an empire, and through investments of more than $12 million it established, in Nof HaGalil's' Har Yona Industrial Zone, the current facility, which is considered to be Israel's most advanced facility in the segment of developing and manufacturing nutrition supplements.
The facility covers about 6,000 sq.m. and includes a microbiology lab, chemical labs, R&D labs, 15 "white" rooms with air and temperature control at a "Pharma" level, and an advanced logistics center for distributing the products. SupHerb's nutritional supplements line is produced at the highest quality from the best raw materials, and the products are aimed at helping the treatment and prevention of numerous health problems, and are particularly customized for the Israeli way of living - the majority of the products include a Kosher Mark from the Upper Nazareth Rabbinate and even Mehadrin Kosher.
Compliance with Strict Control, Regulation and Quality Standards
The SupHerb line of products is developed and manufactured exclusively by the group. The group invests many efforts in the selection and integration of natural, high-quality raw materials with strict quality control and manufacturing processes with cutting-edge technology, and some of its standards and regulatory certifications include:
ISO:9001 - An international standard specifying the requirements from a quality management system.
ISO:22000 - An international standard specifying the requirements from food safety management systems.
GMP (Good Manufacturing Practices) - A permit from the Ministry of Health to add the GMP mark to the company's products, to indicate compliance with good manufacturing practices.
HACCP - A food safety systems management standard that defines proper manufacturing conditions in the food industry, in order to guarantee strict compliance with the quality management requirements.
SupHerb's factory has the approvals to manufacture in accordance with requirements of the FDA. The company is coordinated and cooperates with healthcare and research institutes, with more than 6 products currently in double-blind clinical trials and more than 8 products that already demonstrated positive results in previous research.
The Next BIG Thing - Chewable Supplements
SupHerb's factory is considered to be the only factory in Israel to produce soft-gel capsules and it specializes in the development and manufacturing of high-quality nutrition supplements with various and complex formulations such as coated tablets, vegetable capsules, soft-gel capsules, plant-based soft-gel capsules and syrups.
Recently, the company launched TabInGum - a groundbreaking technology, which allows you to consume vitamins, minerals and other nutritional supplements in an accurate daily dosage using a chewable tablet wrapped in chewing gum.
TabInGum has a variety of excellent flavors, and maintains the highest possible standards.
This patent enables the consumer to enjoy active supplements in an easy, simple and tasty way, while easing consumers that did not maintain a steady supplement regime until now, to do so.
Guidance and Customer Service
Customer Service is a top priority for the Ambrosia SupHerb Group. The Call Center operates as a free professional guidance line and customer service that provides availability and answers for every customer who is interested in advice, explanation and guidance on every aspect of use of nutrition supplements, for hundreds of customers every day.
Leading Products
The company's products are sold in more than 1,800 POS across Israel - pharmacies, health food stores, websites, HMOs, pharma chains and more. These products include, among others, the following well-known brands:
SupHerb: Probiotics Bio-25, Curcumin Liquid Gel, Pre-Gently, Omega-3, Vitamin C, Vitamin D;
Solgar: Vitamin B12, Collagen and Hyaluronic Acid, No. 7, Magnesium Citrate, Gentle Iron, Multivitamin VM-2000.

Facebook Updates

Photo Gallery