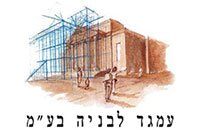 Amgad Building Ltd.
Real Estate Initiation & Execution and Urban Renewal

Company's Profile
| | |
| --- | --- |
| Established: | 2002 |
| Line of Business: | Real Estate Initiation & Execution and Urban Renewal |
| Address: | 6 Salame Rd., Tel-Aviv-Jaffa, P.O Box 8337 |
| Phone: | 972-54-4455027 |
| Fax: | 972-77-74448263 |

Company Executives
Michael Albilia

CEO

Amgad Building Ltd.

About Amgad Building Ltd.
Amgad Building Ltd.- Construction and Initiation, specializes in initiating and executing residential and commercial real estate and urban renewal projects throughout the country. The company was established by Michael Albilia, the founder and CEO who brings extensive knowledge and experience to the table regarding the initiation and execution of diverse real estate projects. At the top chain of the company's management, you can also find his daughter, Adv. Daniel Albilia-Itzhaki- who manages the legal and financial aspects, and his son Amit Albilia, who is responsible for the operational aspect and serves as the manager of all projects initiated and executed by the company. Alongside them, the company employs 22 experienced professionals, including engineers, CPAs and more. Amgad Building Ltd. stands out as a financially strong company. Its financial strength offers great substantial value to its clients. The company holds unlimited contractual classification (G-5) and the international standard ISO 9001.
Main Areas of Activity
Amgad Building Ltd. specializes in construction work, development and termination, and earthworks and roads projects. Since 2002, the company executes public construction projects, as well as foundations development, road paving, parking lot areas and the development of accompanying foundations, building private residences and ground-floor housing residential neighborhoods.
Public Structures - The company executes public structure projects including schools, kindergartens, day care facilities, HMOs, synagogues, Jewish ritual baths, research labs, gas stations, workspace areas, industrial and commercial centers for communal entities.
Foundations - Accomplished projects of foundations development, including road paving, parking lot areas and the development of accompanying foundations.
Residential Construction - Building private residences and ground-floor residential neighborhoods.
Our Clients Enjoy a Warm and Loving Attention
The Albilia family's harmony regarding the management of the company is reflected to its employees and clients, who benefit from a warm and loving attitude and the highest services standard. The added value that the company provides to its clients is reflected by a broad and holistic response in each and every step of the project, while insisting on reliability and transparency, and bringing the project to its end while obtaining the best result possible.
"One Stop Shop" for Initiation and Execution
Each of our projects, from the simplest ones to the extremely complex projects, are accompanied by high-quality professionals which were specifically selected, including architects, designers, safety consultants and more. The company is identified as a "One Stop Shop" for initiation and execution which provides the most professional services and solutions in the construction industry, all in one place. Amgad Building Ltd. specializes in initiating and executing residential construction, commercial real estate and urban renewal. The company's clients include some of the largest entities in the Israeli market. For instance, Israel's Nature and Park Authority, IEC, Southern Soreq Eshkol Authorities, The Rosh Ha'ayin Financial Company, Moriah- The company for the Development of Jerusalem Ltd., and many others. The company's professionalization is in the initiation and execution of high-quality projects which have financial and communal value, such as day-care centers and day centers for the elderly, as well as the construction of research institutes, including medical research institutes and a The Cord Blood Research Institute at The Dead Sea which was built by the company for Kibbutz Kalia.
High-Quality Construction, Safety and Meeting Deadlines
The company holds a great reputation thanks to its high-quality construction, safety, and uncompromising deadline meeting. It is known as a leading contract work company in the public sector, and currently operates in cooperation with municipalities and councils. Furthermore, the company serves as a framework contractor for large companies and public entities.
Transparency, Liability and Personal Attention
Amgad Building Ltd. has made "operating professionally and being uncompromisingly liable" its motto. Transparency, liability and personal attention are the company's and its employees' main values. The company insists on providing remarkable results while making the clients' needs a top priority. The projects are performed while ensuring effective execution, using the best equipment and materials. The company's devoted, professional service and the high-quality of its project executions, place it at the top of the leading companies in the construction field.
Top Quality Projects
"The Bilingual School" in Jerusalem- The company established the school from start to finish. The school population is one of the most diverse in the country: Secular and religious, Jews, Muslims, and Christians. Beside the establishment of core studies classrooms, many classrooms were built intended for a wide range of subjects- such as arts, theatre, science, religion and cultures, communications, and western and eastern music as well.
"The School of Arts" in Jerusalem- The establishment of this school, which consists of 12 classrooms for core studies, alongside theatre, cinema, dance, music, sculpting, painting, multi-purpose halls and others which were built. (Among the school's daily activities, single and group exhibits are being displayed there).
"Dror School" in Jerusalem- This high school includes 18 classrooms. In addition to that, laboratories (including special desks and lab equipment), an amphitheater, an auditorium, a religion studies hall, and a library were built as well.
An Urban Renewal Project at "Giloh" in Jerusalem- This was an urban renewal project (NOP 38-1) of reinforcement and additions, which was executed at 11-15 Vardinon St. As part of the project, the company added 3 whole stories and 19 brand new residential units to an existing four-story building consisted of 24 residential units.
The Flagship Project in Eilat- This project will include 24 high-quality, luxurious Villas with a pool, at the "Shachmon" neighborhood in Eilat. Most of the Villas were already sold to residents of the city. The units offer a sea view in a quiet area at an idyllic neighborhood of ground-floor homes.

Photo Gallery