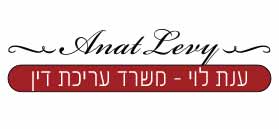 Anat Levy – Law Offices
Real estate law and planning and zoning

Company's Profile
| | |
| --- | --- |
| Established: | 2008 |
| Line of Business: | Real estate law and planning and zoning |
| Address: | 6 Raoul Wallenberg St., Tel Aviv |
| Phone: | 972-3-5445141 |
| Fax: | 972-3-5445142 |

Company Executives
Anat Levy

Founding Partner

Anat Levy – Law Offices

View Profile

Anat Levy

Efrat Rogel

Attorney

Anat Levy – Law Offices

About Anat Levy – Law Offices
Anat Levy Law Offices is a boutique firm specializing in all aspects of real estate for over 25 years. The firm is reputed for its professionalism, and its uncompromising, responsible and top-tier legal services, as well as for meeting its clients' objectives in the best possible way. The firm is respected for its professional integrity, reliability and its personal and highly available services. Its success rates are unusually high. Adv. Levy's worldview is centered on the strong belief in excellence, and both she and her team espouse learning and professional advancement as a way of life. The firm is headed by Adv. Anat Levy, who is directly involved in every case. It provides legal services in its areas of expertise, including planning and zoning, registration procedures, real estate law, real estate taxation, administrative law, Supreme Court petitions, local council law, managing legal and real estate proceedings, property disputes, dissolving partnerships, eviction orders, expropriations, claims related to land appreciation taxes and claims for diminishing land value as a result of plans, mediation and arbitration processes, environmental issues and inheritance and wills.
The firm has experience dealing with precedent-setting cases, providing counsel on complex real estate transactions, planning and registration processes and legal disputes in the fields of civil and administrative law.
The firm also specializes in the field of infrastructure planning and construction. Furthermore, the firm provides counsel to property owners when initiating municipal building plans as well as to class action objections to such plans. As a mediator, Adv. Levy believes in the mediation process as a method of resolving disputes. She also serves as an arbitrator on behalf of the Israeli Bar's Arbitration Institute.
The firm's clients include municipalities, local councils, government entities, public companies, leading Israeli firms, institutions, private companies, entrepreneurs, contractors, coop associations, municipalities and private clients.
Professional Excellence and Integrity
The firm strongly believes in offering the best possible service to its clients and providing counsel that will enable them to meet their objectives. The experience that the firm has accrued over the years enables the handling of complex legal cases in a creative manner, providing legal services through a multi-layered prism by creating added value.
Areas of Expertise
Real Estate – The firm represents sellers and buyers of second-hand and new apartments, land and commercial properties, combination deals, urban renewal projects, options transactions, demolish-and-rebuild gentrification projects ('Pinui-Binui'), collective buying transactions, and buying/selling agricultural land. Among her accomplishments, Adv. Levy provided counsel to the Givat Amal Aleph project, which was the first Pinui-Binui project in Israel. Furthermore, the firm handles combination deals, providing counsel both for entrepreneurs and for home owners for 'Tama 38' urban renewal projects.
Planning and Zoning – The firm provides counsel for municipal building plans and for rezoning, guid-ing private individuals and/or groups contesting zoning plans. The firm is experienced in appearing before the planning authorities. Moreover, the firm handles the legal procedures related to zoning, including administrative petitions, Supreme Court petitions, appeals to regional and national appeals committees, and administrative appeals. The firm also specializes in representing clients in registration and criminal claims related to building infringements and/or violations of the Business Registration Law or related to unauthorized uses. In addition, the firm handles claims related to expropriations, appeals and objections related to betterment taxes, and claims pursuant to Clause 197 of the Planning and Building Law.
Local Authorities – The firm is highly experienced in this field, having represented such clients as the City of Ramat Gan, in addition to private clients in legal proceedings against local councils, including administrative petitions, Supreme Court petitions and reducing municipal taxes and development fees.
Infrastructure Planning – The firm is involved in the planning of infrastructure and registration pro-cesses related to such plans, and represents clients in various proceedings to prevent the approval of infrastructure plans such as roads, railroad tracks, etc.
Commercial and Private Rental Contracts – The firm prepares rental contracts for companies and private clients, and represents them in legal proceedings involving the violation of said contracts. The firm also handles eviction orders when contracts are violated.
Property Disputes – The firm specializes in this field, including claims to liquidate partnerships, neighbor disputes related to building permits, border disputes, disputes over real estate deals and building transactions, eviction claims, ownership disputes, and claims related to ownership and usage and disputes in apartment buildings.
Real Estate and Municipal Taxation – The firm offers its clients preliminary counsel and helps with tax planning, in order to minimize tax liabilities.
The Legal Team
Adv. Anat Levy - An LL.B. graduate of the Hebrew University (89) and an LL.M. graduate of Tel Aviv University in partnership with Berkeley University in San Francisco (07). Adv. Levy is a known authority in her fields of expertise, and she teaches a course in "Complex Real Estate Transactions" at the Sapir College Law School. She is also frequently invited to lecture at professional training seminars and conferences. Adv. Levy served as a representative of the Israeli Bar during discussions on the proposed reform in the planning and building law, and she is a member of the Israel Bar Association's Planning and Building Forum.
Adv. Efrat Rogel - A graduate of the Law and Business Administration Faculty, IDC Herzliya; and an M.B.A. graduate, College of Management Academic Studies. Adv. Rogel handles complex real estate transactions, commercial and private rental deals, planning and zoning proceedings and civil cases in the field of real estate and planning. She oversees all the subjects handled by the firm, contributing her knowledge and professional excellence, which provide added value to all her activities.

Company Rankings