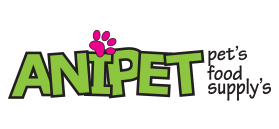 Anipet
Pet food and supplies

Company's Profile

Company Executives
Executives
Oded Shilon Co-CEO
Eran Shilon Co-CEO
Ben Efrati Co-CEO

About Anipet
Anipet, Israel's biggest, leading pet food and supplies store chain, established in 2008, heralds a new age in the field of pet equipment. A chain with nationwide distribution, with stores in different commercial centers, Anipet offers its customers a variety of products and performs deliveries throughout Israel. The chain, with 270 employees, consists at present of 40 branches spread throughout Israel, from Kiryat Shmona to Eilat. All Anipet branches are owned by the chain, without concessionaires or outside investors, except for the company's owners. Anipet was established by three partners, Oded Shilon, Eran Shilon and Ben Efrati, who joined forces on the basis of their shared love of animals and their desire to benefit them, in addition to their business synergy. Anipet's economic operating turnover is over ILS 120 million per year. Anipet currently represent over 40 international brands from 22 different countries around the world. The chain's customers are private customers, and Anipet mainly performs retail sale, together with specific wholesale. Anipet employs a unique, uniform branding language, expressed in all levels of the company's operations, from the employees' shirts to the stores' design, vehicle and truck branding as well as the company's website and Facebook page.
A New Age for Pets
Anipet brings a new and innovative message to the world of pets and their owners. The chain offers its customers the largest, widest variety of products, so you can find almost all pet products under one roof.
Anipet sells over 5,000 diverse and different items intended for pets, including food, toys, snacks, doghouses, clothing, straps, leashes, collars, gadgets, and more. Anipet strives to hold and offer to its customers the full range of the product catalogs of the world's leading manufacturers, in addition to popular products designed for animals.
Professional Expertise as a Service
Anipet cares about its customers and their pets, and therefore puts great efforts in its customers' interests in this field. Following a survey conducted by Anipet, the chain found that customers arriving at the chain's stores is also looking for knowledge and professional guidance, in addition their shopping needs. The survey demonstrated that people come to Anipet to consult, receive tips and expand their knowledge on all matters relating to raising their pets.
The professional expertise of Anipet and its employees, and the vast professional knowledge that they offer to their customer, established much enthusiasm and loyalty among its customers.
Variety of Products at Attractive Prices
Beyond the large range of products that the chain offers to its customers, Anipet's innovation is expressed in its prices, which are significantly lower than its competitors. The price difference, compared to an average shop, may even exceed 50%. The significant price reduction is made possible thanks to the fact that the store independently imports most of its products, so that the customer saves the high cost of distribution. In order to even further decrease costs, Anipet operates large logistics centers, and completes its product inventory on a day-to-day basis.
Anipet maintains a nationwide distribution system, which consists of dozens of delivery vehicles and trucks, and thereby improves the end customer's experience while reducing costs. Anipet's owners believe that they are already changing the rules of the game in Israel, so that customers pay less and receives a higher value for their money. Anipet's many stores, spread throughout Israel, are open for long hours, the deliveries offered by the chain to its customers are free, and the chain even gives a gift on every pet food order. Anipet allows its customers to place orders by phone and by the website, for the convenience of its satisfied customers.
Online Too! Israel's Leading Direct Sales Website
In the retail world, which is rapidly changing and developing, the most effective tool is the combination of an advanced website, an on-line team and advanced online service, together with physical nationwide distribution and an effective, internal delivery service (owned and controlled by the company). Therefore, Anipet concentrates a large part of its operations online, and a large part of the company's sales are performed through this channel. The chain's online activity is added to its marketing budget, which is invested in this channel alone. The website is Israel's leading direct sales website in its field in several criteria, including exposure, sales and annual growth.
Contribution to the Community
Anipet, which was established out of values of care and love for pets, which guide all of its operations, considers animal welfare an utmost value at all times, and therefore consistently supports organizations that care for stray animals, whether by organizing dog and cat adoption affairs or by reducing prices for people feeding unfortunate stray animals.

Photo Gallery