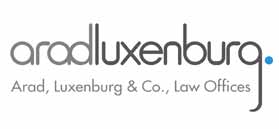 Arad Luxenburg & Co., Law Offices
Real-estate, connercial-civil law and litigation

Company's Profile
| | |
| --- | --- |
| Established: | 1998 |
| Line of Business: | Real-estate, connercial-civil law and litigation |
| Address: | Triangle Tower, 28th floor, Azrieli Center, Tel Aviv |
| Phone: | 972-8-9393100 |
| Fax: | 972-8-9393101 |

Company Executives
Meir Arad

Founding Partner

Arad Luxenburg & Co., Law Offices

Alon Luxenburg

Founding Partner

Arad Luxenburg & Co., Law Offices

Rafi Haimovich

Associate

Arad Luxenburg & Co., Law Offices

Israel Berger

Associate

Arad Luxenburg & Co., Law Offices

Shalom Sahar

Associate

Arad Luxenburg & Co., Law Offices

About Arad Luxenburg & Co., Law Offices
Arad Luxenburg is a unique boutique law firm focusing on real estate, corporate and commercial law and providing its clients with first-rate professional services in a friendly environment. The firm offers its clients professional excellence and personal attention across a wide spectrum of business legal services, and has earned a reputation for closing deals quickly and efficiently.
The firm takes a creative and original approach to complex commercial, business and legal issues, and possesses both intimate knowledge of local markets and a clear understanding of global business. The firm's clients receive invaluable assistance with all their local and international business dealings and transactions, providing strategic and tactical advice throughout the negotiations process. The firm's lawyers also help clients identify exciting new business opportunities.
Clients include some of the most successful businesspeople and corporations in Israel. They range from national and multinational corporations, to financial institutions, low-tech and high-tech industries, private corporations and individual entrepreneurs and investors.
Arad Luxenburg prides itself on retaining a home-firm feel and providing personal attention to clients across the board. The legal staff consists of talented, hardworking and experienced professionals who aim to help clients achieve all their objectives with a minimum of fuss.
The firm's lawyers are alumni of first-rate universities in Israel, the U.K and the Netherlands and hold advanced degrees in international, commercial and corporate law. All the lawyers are members of the Israeli Bar Association. The combination of warm personal relationships, top-notch legal expertise, sound business advice and proven entrepreneurial skills make it possible to assure that clients enjoy a superior edge in the world of business.
Areas of Expertise
Real Estate Law – The firm has extensive experience and an excellent reputation handling all types of real estate projects and providing counsel for high-yield assets, commercial centers, residential buildings, office towers, etc. Moreover, the firm is a leader in the area of urban renewal in Central Israel, including planning, construction and taxation issues related to projects of this sort. Thanks to the firm's extensive cumulative experience representing both contractors and homeowners involved with urban renewal projects, its lawyers excel at finding creative solutions that enable successful completion of projects where initially it may seem impossible to reach an agreement amenable to both sides.
Commercial-Civil Law – The firm has extensive experience with commercial transactions of all types, and is especially skilled in understanding clients' commercial needs and providing a thorough solution which is creative and practical, taking into account all of the commercial and legal issues.
Litigation – The firm represents clients in commercial and business disputes in all the courts of law, as well as disputes related to real estate cases. Each case is handled in a personal manner by one of the partners and an additional lawyer.
The Legal Team
Meir Arad - Partner: A co-founder of the firm and its legal Managing Partner, Adv. Arad leads the firm's litigation and corporate/commercial practice and in addition oversees all the legal work carried out by the firm. Adv. Arad has interdisciplinary knowledge and experience of more than 20 years in various fields of commercial and corporate practice, including commercial agreements, shareholder agreements, mergers and acquisitions, joint ventures and partnerships, as well as other commercial agreements such as distribution, franchising, licensing and agency. Adv. Arad also manages the firm's litigation practice. He represents many leading international companies both in corporate matters and commercial litigation cases, and is valued for his ability to study in depth each industry he deals with, including its business elements, and for getting the deal done with minimal fuss.
Adv. Arad is a graduate of the Faculty of Law of the University of East London in London, UK and the International Law Faculty of Utrecht University in the Netherlands.
Alon Luxenburg - Partner: Adv. Luxenburg, a co-founder of the firm, serves as its operational Managing Partner and is a Senior Partner in the firm's Real Estate and Urban Renewal Department. Adv. Luxenburg is recognized as a leading deal-maker and is valued by clients and colleagues alike for his well-rounded and thorough advice, deal making capabilities and exemplary ability to combine legal and business skills. Adv. Luxenburg is a graduate of the Faculty of Law of the University of East London in London, UK and the International Law Faculty of Utrecht University in the Netherlands.
Rafi Haimovich - Associate: Adv. Haimovich has a law degree (LL.B) from the Hebrew University of Jerusalem, and a B.A. in Semitic Languages from Tel Aviv University. He has more than 25 years of experience in the field of business litigation, including a wide variety of corporate and commercial issues.
In addition, Adv. Haimovich is active in the firm's Real Estate practice and manages Urban Renewal contracts on behalf of construction companies represented by the firm. Adv. Haimovich is an extremely thorough and knowledgeable lawyer. He has earned a reputation for leaving no stone unturned in complex deals and litigation cases.
Shalom Sahar - Associate: Adv. Sahar specializes in business and commercial law with particular experience in real estate transactions, including urban renewal deals. Adv. Sahar has experience of more than 20 years as a lawyer and he successfully represents entities and individuals alike in all their business and commercial legal affairs. Adv. Sahar graduated in 1995 and holds an LL.B. degree from the College of Management in Israel. He joined the Israeli Bar Association in 1996.
Israel Berger - Associate: Adv. Berger is a Real Estate lawyer experienced in the area of urban renewal deals as well as other real estate transactions. He also manages the registration of titles in the Land Registry and the registration of other property, including registration of common houses according to the relevant Israeli legislation.
Adv. Berger holds a B.A. in Middle East Studies from Bar Ilan University, an LL.B. From the Uno Academic College and an MBA from Derby University, U.K.

Company Rankings