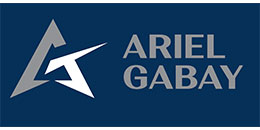 Ariel Gabay Infrastructures Ltd.
Subterranean Civil Engineering Works

Company's Profile
| | |
| --- | --- |
| Established: | 1970's |
| Line of Business: | Subterranean Civil Engineering Works |
| Address: | 21 Ben Zvi St., Rishon LeZion 7563321 |
| Phone: | 972-3-5377710 |
| Fax: | 972-3-5377715 |

Company Executives
Eli Gabay

CEO

Ariel Gabay Infrastructures Ltd.

Ravit Gabay

VP, Business Development

Ariel Gabay Infrastructures Ltd.

Eran David

VP, Engineering

Ariel Gabay Infrastructures Ltd.

About Ariel Gabay Infrastructures Ltd.
Ariel Gabay is a group of family-owned companies, including some of the longstanding and leading companies in the field of underground civil engineering works, which was founded about 50 years ago by Mr. Ezra Gabay, and is currently managed by the second generation and in cooperation with first-class professionals. The company specializes in executing some of Israel's most complex and largest infrastructures works, including shoring, foundations, ground anchoring, groundwater handling etc. Ariel Gabay Group has proven capabilities in executing complex projects in difficult conditions, and in finding a variety of solutions to various complex engineering situations. These capabilities evolved during Ariel Gabay's numerous years of experience and they enable it to continue and develop innovative and trailblazing work methods.
Diverse Growth Drivers and Prominent Clients
The Ariel Gabay Group benefits from diverse growth driver that include, among others, vast experience in contracting and development projects, while cooperating with local and international companies. Furthermore, the group constantly works to expand and renew its areas of operations while creating value engineering options in its operations and providing engineering solutions that serve as a significant competitive advantage in the market. The company is also distinct in its effective streamlining initiatives, the maximization of its capabilities and the integrated and efficient solution to its clients. The clientele includes some of Israel's largest companies and organizations, such as Amot, Ashtrom, BIG Shopping Centers, Hajaj Group, Nitsba Group, Gav Yam, Electra Construction, Danya Cebus, Tidhar, the Ministry of Defense, Almond Tree Real Estate, AFI Residences, Shapir and more. The company is ISO9000 certified and had an annual turnover of about NIS 400 million in 2019-2020.
Peripheral Equipment and Highly Skilled Human Capital
The company owns diverse and extensive peripheral equipment, with some of the most advanced tools of their kind in Israel and globally. The scope of the equipment enables the group to execute several projects simultaneously all across Israel. The company has a professional and skilled workforce that works in full cooperation with the planning, operations and engineering departments.
The Methods of Execution
Slurry: Ariel Gabay leads the execution in the slurry method, customizing a specific method of execution for each project in accordance with its various characteristics. The slurry method is used for shoring underground cellars, casing excavations for various purposes such as digging underground railway tunnels, and lining infrastructure shafts. The method is also used for the foundations of high-rise buildings or in cases that require resistance to significant loads. The slurry elements are executed in several methods: hydraulic pumps for excavators, slurry through mechanical digging cranes and hydromills.
Jet Grouting: This method is used for a wide variety of engineering solutions and applications of soil strengthening in order to increase resistance to vertical or horizontal loads, inject walls and floors for basement digging, reducing the vertical and horizontal soil permeability, stabilizing slopes, soil injections for preventing foundation sinking, seismic reinforcement of buildings and tunneling in the "umbrella" method. The company's prominent projects in this method were executed in reinforcing the foundations of Hagana Bridge in Tel Aviv, the Qishle Hotel in Jaffa, restoration of the Caesaria Port, soil strengthening and sinkhole filling in Dead Sea Factory area, reinforcing dozens of structures for the purpose of adding stories and more.
Removable Anchors and Polymer Anchors: Ariel Gabay Group is the only group in Israel with proved experience in executing removable anchors which are recognized by the Israeli planning institutes.
Piles: The group is a leader in CFA drilling with the most advanced equipment on the market and also in bentonite drilling for various purposes in diameters of up to 4 meters and depths of up to 95 meters.
Selected Projects
Our company executed works in the following projects:
• Infinity Summayl Tel Aviv
• Sorek, Desalination Plant
• Construction of the underground barrier on the Gaza border
• ICL Group offices – Beer Sheva
• Amot Campus Holon
• Microsoft Building Herzliya
• Hatzi Hinam Holon
• Check Post - Haifa
• Yisrotel, Little Tel Aviv
• Park Ofer, Petach Tikva
• Adgar Tower, 33 Efal, Petach Tikva
• Herzliya Hills
• Icon Tower – Ramat Gan
• Sarona Tower, Tel Aviv
• Landmark Towers, Tel Aviv
• Toha 1 Tower, Tel Aviv
• Toha 2 Tower, Tel Aviv
• Ha'Arba'ah Towers, Tel Aviv
• Recital Towers, Tel Aviv
• Braun 42 Tower, Eilat
• W Hotel, Eilat
• HaTmarim Av. Commercial Center, Eilat
• Semel South Towers, Tel Aviv
• Petach Tikva Rogovin Shlomo Sixt
• Lot 1 Givatayim
• 136 Herzl, Tel Aviv
And many more projects all over the country.