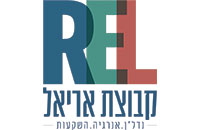 Ariel K.L. Entrepreneurship and Business Development Ltd.
Real Estate, Urban Renewal, Renewable Energy, and Investments

Company's Profile
| | |
| --- | --- |
| Established: | 2012 |
| Line of Business: | Real Estate, Urban Renewal, Renewable Energy, and Investments |
| Address: | 40 Tuval St., Diamond Exchange District, Ramat Gan |
| Phone: | 972-3-6227070 |
| Fax: | 972-3-6246336 |

Company Executives
Tuvia Lewkowicz

Chairman

Ariel K.L. Entrepreneurship and Business Development Ltd.

Avihay Peretz

Business Development Director

Ariel K.L. Entrepreneurship and Business Development Ltd.

Ohad Mordechai

Architect

Ariel K.L. Entrepreneurship and Business Development Ltd.

Dudi Shimon

CPA

Ariel K.L. Entrepreneurship and Business Development Ltd.

About Ariel K.L. Entrepreneurship and Business Development Ltd.
Ariel Group (Ariel K.L. Entrepreneurship and Business Development LTD) is a company that focuses on real estate, urban renewable energy, and investments. The group was founded about a decade ago by businessmen Tuvia Lewkowicz and Philip Goodman. Lebkowitz is a successful entrepreneur in the field of high-tech, real estate, and energy, and has extensive experience in carrying out various projects from the initiation stage to the execution stage. His vision partner is Philip Goodman who runs the American Goodman Family Enterprise Foundation, which controls hundreds of properties in New York and owns companies in a variety of fields including medicine, high-tech, and more. The Goodman family also owns the Sands Capital LLC Fund, which finances U.S. real estate ventures. The two came together thanks to their common values and a sense of Zionism. Philip, a veteran businessman in the United States, met Tuvia and decided to expand his business to Israel as well. Ariel Group is therefore devoted to achieving the Zionist dream in all aspects, be it an investment, business, or social endeavor.
Financial Strength and Quality Human Capital
The group believes that good values and people are the ones who lead it to success. The group's values include Zionism, credibility, and integrity. The company employs experienced personnel who have expertise in a various types of projects, and it has a proven track record of financial strength. This combination of quality human capital and financial strength is the group's formula for fulfilling its ambitions. In addition, the group is dynamic, entrepreneurial, and creative. With these features, the company advances in its planning, construction, real estate improvement phases, green energy projects, and investment portfolios.
Group Divisions
Ariel Residential - Ariel Residential is the group's real estate execution division and is responsible for initiating projects and urban renewal. In addition to initiating complex projects, the division handles detailed planning, infrastructure construction, and project management to ensure quality standards are met. Ariel Residential Headquarters has 12 employees with extensive experience in the field of real estate and in the promotion of complex projects. Its construction volume is about 200 housing units per year.
Ariel Urban Renewal - A dedicated division that specializes in initiating and building urban renewal projects in the center of the country and in the periphery. The division was formed with a vision and understanding that the future of construction in Israeli cities lies in urban renewal. "Ariel Urban Renewal" aspires to meet the construction needs in an urban environment that is densely populated and built up. All this is done with professionalism and unmatched quality, and with maximum attention to respecting the unique characteristics of the tenants and the existing construction environment.
Ariel Real Estate - a division that specializes in purchasing and improving land. The activity involves the acquisition, promotion of registration, planning, and licensing of land for residence, commerce and industry.
Ariel Energy - a division that specializes in initiating and investing in the field of renewable energy. The company initiates photovoltaic projects, wind turbines, and investments in innovative technologies in Israel and around the world.
Group Management
Tuvia Lewkowicz, Chairman - Tuvia is an entrepreneur in the high-tech and real estate fields in Israel and has a wealth of experience initiating, managing, and executing complex projects and motivating teams. Tuvia has led Ariel to impressive success in all areas of the group's operations over the past decade.
Dudi Shimon, CPA - Dudi has international experience in the field of finance and infrastructure. Prior to joining the company, he served as a director in the economic consulting department of Deloitte in Israel, where he established and managed a project finance department. Prior to that, he spent two years in the corporate finance department at Deloitte UK in London. He holds an MBA in Business Administration from Tel Aviv University.
Ohad Mordechai, Architect - Ohad joined the group after years of serving as a project manager at the Danya Cebus Group while leading the company's projects in the field of luxury housing. In his current position, Ohad manages the company's engineering department and leads various projects.
Selected Projects
Western Bloc projects - Gush Maarava projects
Construction projects in the rural area of 260 housing units:
• Alei Zahav Project - A rural residential project of 100 housing units located in the town of Alei Zahav between Elkana and Ariel, near Road 5. Alei Zahav is an example of a collaborative community living in Israel, where residents benefit from a rich social and cultural life. Located on a mountainside on the outskirts of the existing settlement, Ariel Residential's project poses unique challenges in planning, development, and construction, in which it is achieving great success.
• Paduel project - a residential project of 160 units located in the community locality - Toranei Paduel in the Western Samaria bloc, near Road 5. Most of the residents are professionals employed throughout the central area. The residents have access to a variety of services, including a daycare center, a school, a grocery store, and more. The community is characterized by age diversity that extends from the founding generation, through the middle generation to young couples who have just married. The project is located at the entrance to the locality, which serves as a corridor connecting all its parts. The population of the new neighborhood will lead to the renewal of the community. Planning and executing the project required a high level of professionalism, especially in the master plan approval stage.
• Meizad Project - A residential neighborhood for the ultra-Orthodox sector of 800 housing units, in the locality of Meizad. Located in Gush Etzion, about 30 minutes from Jerusalem, Meizad offers its residents a wide range of community services, including synagogues, a yeshiva, and Kollel, mikvahs, a Beit Midrash, kindergartens and daycare centers, and more. "Ramot Meizad" is an important project in the development of the municipality, offering quality housing and apartments to ultra-orthodox families.
• Efrat Project - A project of 300 housing units in an urban area. As part of the group's activities, Ariel Group promotes building permits in Efrat, located near Jerusalem.
This major development is a new neighborhood in the urban area with a volume of approximately 300 housing units. A city with close to 12,000 residents, Efrat offers a wide range of community services to its residents and nearby areas. There are a variety of populations in the settlement, from secular to traditional to religious, and there is also a large Anglo-Saxon community, and the entire settlement covers an area of 6,000 dunams.

Photo Gallery