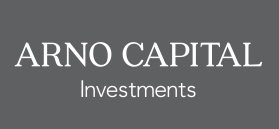 Arno Capital Investments
Finance Solutions for Real Estate Ventures in Israel

Company's Profile
| | |
| --- | --- |
| Established: | 2013 |
| Line of Business: | Finance Solutions for Real Estate Ventures in Israel |
| Address: | 5 HaHilazon St., Granit House, Ramat Gan 5252269 |
| Phone: | 972-3-7176699 |
| Fax: | 972-3-7163590 |

Company Executives
Dana Sander

CEO and Owner

Arno Capital Investments

Dror Nagel

Chairman

Arno Capital Investments

Sinai Beck

Business Development Officer

Arno Capital Investments

Amir Paryente

CFO

Arno Capital Investments

About Arno Capital Investments
Arno Capital Investments is a leading investment company that provides diverse real estate project financing solutions in Israel. The company offers customized financing solutions for land acquisition, asset-swap, urban renewal and government-price-capped transactions.
The main financing solutions that the company offers are senior credit (a substitute for bank credit) for accompanying the construction process, mezzanine loans and credit against real estate collaterals.
Israel's largest public fund in the real estate finance industry
Arno Capital Investments started operating in late 2013, on the back of growing difficulties of small and medium real-estate entrepreneurs to receive credit from the banking system. In its early years, the company's operating model was based on limited private partnerships financing model, until it received the Israeli Securities Authorities' approval to raise funds from the public in accordance with a prospectus. Following this approval, Arno Capital Investments established the public fund Arno Real Estate, and over the past couple of years this fund became the company's flagship fund. The REIT is registered in the TASE's Nesher (non-marketable securities) systems, and is highly accessible to investors for monitoring their investments, through accounts both in the various members of the stock exchange and in banks.
A Collateralized Debt Fund
Arno Capital Investments provides closed-end financing, i.e. a strict financial support with hard limits for every investment and clear criteria for receiving the funds (similar to the customary financing model of the banking system). In order to protect the investors' funds, Arno Real Estate operates as a pure debt fund and backs its loans with mortgages and bank accounts pledges of the projects` companies. The company's current portfolio amounts to about NIS 420M (of which NIS 250M in the framework of Arno Real Estate).
Accompanying and Supporting the Developers
As aforementioned, Arno Capital Investments is a pure debt fund, without participation in the developers' profits, which provides tailored financing and enables equity extraction during the project after the sales goals have been met. Developers which contract with Arno Capital benefit from professional service from a company that lives and breathes its projects, and understands the constraints and unexpected events that charctherize the real estate field.
An Executive Team with Real Estate Expertise
The company's executive team consists of accountants, lawyers and senior financial advisors with extensive experience in managing real estate ventures. The team's cumulative know-how and experience, and Arno's experts capability to achieve a profound understanding of each project and its entrepreneurial, financial, planning and legal requirements and characteristics, create substantial added value for the developer in the professional planning and management of each project.
In addition to the company's executive team, the operations are supervised by the fund's chairman, Mr. Dror Nagel, and the external directors Mr. Moshe Gaon, Mr. Amit Berger and the independent director Mr. Shlomi Nakash (who served as Ayalon's Head of Non-Marketable Credit).
Executive Management
Dana Sander, CEO and Owner: The company's founder and manager, who has 14 years of experience in the financial establishment and capital markets. She served, inter alia, as the Business Development Officer of Harel Finance, and led the development and issuances of financial investment vehicles.
Dana has an M.B.A. with a specialization in finance and financial engineering from the Hebrew University, and an LL.B. and a B.A., Business Administration with a specialization in finance from IDC Herzliya.
Dror Nagel, Chairman: Dror has extensive experience in real estate and finance. He formerly served as the CEO of Azorim and Phoenix Investments. In addition to his current role, he serves as Chairman of the Investment Committee of the Makefet and KGM pension funds. He has a B.A., Economics and an M.B.A., both from the Hebrew University. He also has a portfolio management and investment consulting license (suspended).
Sinai Beck, Business Development Officer: Sinai has longstanding experience in marketing and business development in the insurance and financial advisory industries. He served as Chief Marketing and Business Development Officer of Obelisk Financial Support (nowadays part of the BDO – Ziv Haft Group), where he was in charge of analyzing and constructing finance plans for medium and large companies, and raising bank and non-bank credit for its clients. He has a B.A., Strategy from Bar Ilan University, and he actively volunteers in the "HaShomer HaHadash" NGO, which helps farmers in Jezreel Valley protect themselves against theft.
Amir Paryente, CFO: Amir has a lot of professional experience with capital market companies as well as investment houses.
He previously served as the CFO of Inbal Group Finances Ltd. And held various positions in EY - Kost Forer Gabbay & Kasierer accounting firm, focusing on the financial aspects – investment houses, stock market members, structured products, financial funds, and alternative funds.
Amir is also highly experienced in the assembly and analysis of business plans, managing cash flows, implementing control procedures, SOX procedures, and meeting regulation requirements. Amir holds a BA, Finance and Economics from Bar Ilan University.