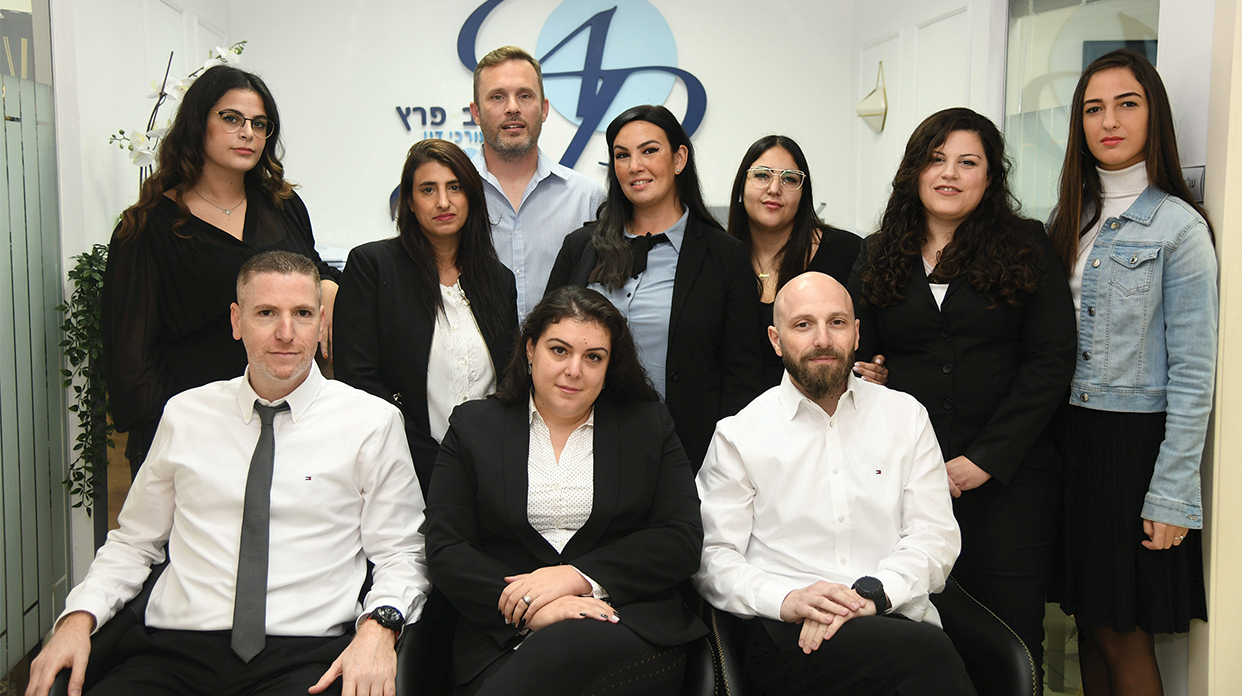 Company's Profile
| | |
| --- | --- |
| Established: | 2009 |
| Line of Business: | Civil-Commercial Law |
| Address: | 16 HaBonim St., PO Box 8205, Poleg Industrial Zone, Netanya |
| Phone: | 972-9-3731000 |
| Fax: | 972-9-3731001 |

Company Executives
Adv. Shay Shmuel Peretz

Founding Partner

Arviv Peretz, Law Firm

Adv. Arik Arviv

Founding Partner

Arviv Peretz, Law Firm

About Arviv Peretz, Law Firm
Arviv - Peretz, Law Firm is a boutique firm which specializes in civil-commercial law. The firm was founded in 2009 by its two partners, Adv. Shay Shmuel Peretz and Adv. Arik Arviv and it currently includes 7 lawyers. Since its establishment, the firm's mission was to provide its clients with a broad spectrum of legal services, at the highest level of quality, while building trustful relationships, and emphasizing the complete discreteness. During its 13 years of operations, the firm has accumulated numerous achievements in the representation of both private and business clients. As a boutique firm by definition, the firm is characterized by a warm and familial atmosphere which is expressed both in the attitude to the clients and in the friendly and fertile relationships between the firm's team members.
Commercial Orientation and In-Depth Business-Economic Understanding
The firm serves as the legal counselor of numerous businesses, big and small, and accordingly has a commercial orientation and the required understanding of economic and business processes in general and of the specific client in particular. The firm's team utilizes all of the data, experience and legal proficiency in its possession in order to provide solutions that are customized for the needs, values and business environment of the client company.
Professional Training and Remaining Abreast of the Latest Rulings
The firm's team often participates in professional trainings in its practice areas and remains constantly abreast of the latest judgments and rulings of the courts. This modus operandi leads to a tremendous legal proficiency of the firm's lawyers, which streamlines the service and leads to the desired achievements and results. Furthermore, the firm jointly brainstorms on every case thus enabling each of the lawyers to contribute from their experience and knowledge to the construction of a winning legal argument.
The Firm's Founders
Adv. Shay Shmuel Peretz: Adv. Peretz has 14 years of experience in the legal profession, and he started his career as a civil-commercial intern in the legal department of the IEC, and was later also appointed as an associate in said department. In 2009, he decided to open an independent firm, a journey which he undertook with his partner, Adv. Arik Arviv. Over the years, Adv. Peretz has gained extensive experience in representing businesses and private clients in commercial transactions and projects, including in the real estate field. These includes, inter alia, sale/purchase transactions for apartments from contractors or second-hand apartments, representation of contractors, initiators and residents in Pinui-Binui and Tama 38 projects, and more. In addition, Adv. Peretz specializes in banking and insolvency, and he represents and counsels clients in the framework of legal proceedings vis-à-vis banks, formulation of debt restructuring, etc. By education, he has an LL.B. and an M.B.A. (cum laude).
Adv. Arik Arviv: Adv. Arviv also benefits from a cumulative experience of 14 years in the legal profession, and he started his career in the civil-commercial practice of leading law firms. After accumulating vast knowledge and experience, including successfully handling thousands of cases, he founded the joint firm with Adv. Peretz, which they lead in force. Adv. Arviv is considered to be a supreme litigator who represents the firm's clients in civil and commercial matters before all of the courts, including the magistrate, district and Supreme Courts, the various tribunals, in arbitrations and meditations, before the Land Registration Inspectors and more. Adv. Arviv's clientele includes business and private clients who use his expertise for torts and monetary claims and in business disputes in the firm's practice areas. In addition, he counsels and supports the clients in the execution of commercial transactions, the formulation of public tenders and franchising agreements and in proceedings in matters of corporate law, capital markets, anti-trust, contracts law, IP, partnerships law, finance and collaterals and more. In addition, he serves as a mediator in civil and commercial disputes. By education, he has an LL.M.
Main Practice Areas
Ongoing Counsel for Companies and Businesses: The firm provides legal counsel and support from A to Z to companies, associations and partnerships. This service includes, inter alia, support in the business establishment and incorporation process, drafting of founders' agreements, drafting of civil and business contracts, formulation of partnership agreements, registration of companies, drafting and facilitation of contracts vis-à-vis suppliers and subcontractors, formulation of work procedures and drafting of employment agreements, representation in legal proceedings when necessary etc.
Real Estate and Urban Renewal: The firm provides clients, both developers and apartment owners, with comprehensive legal service and facilitation, from the legal checks concerning the property's status, through the planning and taxation aspects and up to the negotiations, the contracts signing and the registration of the clients' rights in the appropriate land registrar. The firm has substantial expertise in the urban renewal segment, and it has been accompanying dozens of complex Tama 38/1, Tama 38/2 and Pinui-Binui Projects, all while emphasizing the protection of the client's interests and rights.
Torts and Insurance: The firm specializes in the full broad spectrum of torts and insurance. To date, the firm's team has managed thousands of claims vis-à-vis various entities and in courts across Israel and it has extensive experience in representing plaintiffs and defendants in the fields of bodily harm, property damage, workplace accidents, libel, personal accidents in education institutes, road accidents and more.
Labor Law: The firm provides comprehensive solutions for a wide range of labor law issues, both for employees and for employers. The services for employers include drafting of agreements, participation in pre-termination hearings, representation in the labor courts, negotiations with employees before termination, customization of workers benefits to the needs of the organization and more. On the flip side, the firm represents employees and workers in a wide variety of lawsuits, including misconduct which is related to social benefits such as pension payments, deterioration of work terms, pregnant women rights, forced non-paid vacation, payment delays, unlawful termination and more.