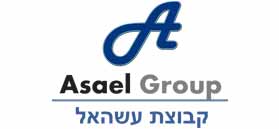 Asael Group
Initiation, planning and execution of public buildings, residences and all types of urban renewal

Company's Profile
| | |
| --- | --- |
| Established: | 1987 |
| Line of Business: | Initiation, planning and execution of public buildings, residences and all types of urban renewal |
| Address: | 14 Bazelet St., Zur Yigal (Ofek House) |
| Phone: | 972-9-8916663 |
| Fax: | 972-9-89166640 |

Company Executives
Shimon Asael

Founder & Chairman

Asael Group

Aviad Asael

Senior VP

Asael Group

Gilad Asael

Head of Urban Renewal

Asael Group

Meirav Shoham-Naki

General Counsel

Asael Group

About Asael Group
Asael Group has been specializing for more than 30 years in the initiation, planning and execution of public buildings, residential buildings and urban renewal projects in more than 20 cities across Israel.
The company was founded in 1987 by Mr. Shimon Asael and has been prospering for more than 30 years.
Our company initiated and executed thousands of apartments, dozens of public buildings and numerous urban renewal projects throughout Israel.
Urban renewal – Tama 38
Asael Group initiates numerous Tama 38 projects in many cities in Israel. These projects are aimed at improving the living quality of the residents in the building and its surroundings, all without out-of-pocket expenses of the residents.
The group accompanies the residents from the introduction stage up to the project's completion, faithfully and loyally, from receiving the legally required permits to close engineering supervision, with the support of bank letter of credit and in accordance with all of the strict quality standards. Thus the residents receive a two-fold benefit – both an upgrade of their life and environment quality and an increase in the value of their properties. The projects are supported by leading professional with an expertise in Tama 38 – architects, engineers, advisors and lawyers.
Nowadays the company specializes in the planning and execution of dozens of urban renewal project from Haifa's suburbs ("Krayot") in the north to Mazkeret Batya including: buildings in Holon, Tel-Aviv, Krayot, Rishon LeZion, and Bat Yam, Pinui-Binui projects in Or Yehuda and Ramat Gan and more. During its years of operation the group gained knowledge, extensive experience, reputation and great trust from residents, entrepreneurs, investors, land owners, architects, public officers and satisfied customers, owing to its high-quality and meticulous work, while complying with the required schedules and high standards.
The group is equipped with longstanding experience and know-how in complex projects that require planning, logistics, resources, and architectural and engineering infrastructures.
The important foundation of our success is the Group's strong financial base.
Our customer benefit from the highest level of service, whereas honesty, reliability and integrity constitute an inseparable part of our world view.

Facebook Updates

Photo Gallery