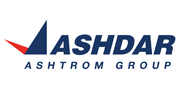 Ashdar Building Co. Ltd.
Initiation, development and marketing of residential neighborhoods, luxury towers and urban renewal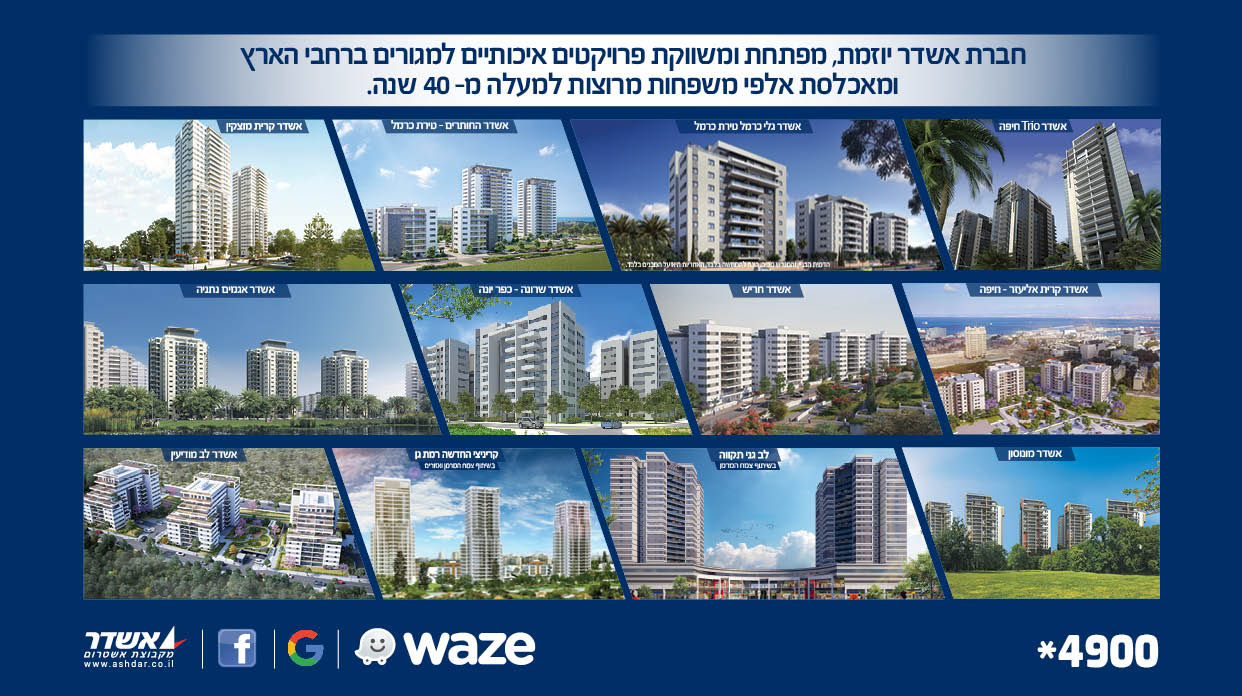 Company's Profile
Established:
1972
Line of Business:
Initiation, development and marketing of residential neighborhoods, luxury towers and urban renewal
Address:
ATTORNEYS M. Piron & Co., Lawyers and Notaries ACCOUNTANTS Kost Forer Gabbay & Kasierer ADVERTISING AGENCY Inbar Merhav
57 Yigal Allon St., Tel Aviv-Jaffa 6789116
Phone:
972-3-6374200, *4900

Company Executives
Gil Gueron

Chairman of the Board of Directors

Ashdar Building Co. Ltd.

Arnon Fridman

General Manager

Ashdar Building Co. Ltd.

Or Arieli

CFO

Ashdar Building Co. Ltd.

Amnon Mechrez

VP Engineering

Ashdar Building Co. Ltd.

Rachel Brizel

VP Marketing & Sales

Ashdar Building Co. Ltd.

Tamar Herzig-Peled

VP Business Development

Ashdar Building Co. Ltd.

Yehoshua Kislev

VP Special Projects

Ashdar Building Co. Ltd.

Omer Guggenheim

VP Manager of Ashdar Boutique

Ashdar Building Co. Ltd.

About Ashdar Building Co. Ltd.
Ashdar Building Co. Ltd., part of the Ashtrom Group, under the management of Arnon Fridman, is one of Israel's leading companies in entrepreneurial residential construction. The Company, whose bonds are traded on the TASE, is active in the initiation, development, and marketing of high-quality residential projects throughout Israel. Ashdar sells hundreds of apartments annually and has a backlog of thousands of residential units at various planning stages. The Company is currently involved in the initiation, planning, and construction of residential projects encompassing over 10,000 additional apartments.
An Innovative Residence Concept
Ashdar specializes in constructing residential projects with a special emphasis on apartment planning and landscaping. As part of its innovationality, Ashdar has promoted Pinui-Binui (Demolition and Construction) projects and is one of Israel's pioneers in plan approval through the developer's schemes. The Company has contracts with apartment owners in urban renewal projects in dozens of localities throughout Israel.
Vision
Ashdar aspires to continue as a leader in its field and provide services in a high-quality living environment. The Company's business strategy is to expand its scope of operations to around 1,000 apartments per annum with revenues amounting to approx. NIS 1.5 billion while focusing on the construction of residential projects in high-demand areas throughout Israel.
Ashdar Boutique
In the past decade, Ashdar has been operating through "Ashdar Boutique" in the initiation, planning, construction and marketing of Tama 38 [NOP] 38 projects. The Company has more than 40 projects in various planning and execution stages in Ra'anana, Ramat HaSharon, Tel-Aviv, Ramat-Gan, Givatayim, Kiryat Ono and other locations.
Selected Projects
Ashdar Trio, Haifa: Located on the Carmel ridge, next to Haifa University, the project includes 300 apartments in three 20-21-stories towers. The project includes a leisure and spa area with a semi-Olympic pool, coffee bar, business lounge, classrooms and treatment rooms, for the benefit of the residents.
Ashdar Galei Carmel, Tirat HaCarmel: A new residential neighborhood in Tirat HaCarmel, including 250 luxurious apartments. Currently, the three buildings of 8-9 stories contain 4 and 5-room apartments, garden apartments, and spacious penthouses.
Ashdar Agamim, Netanya: Located at Agamim Neighborhood, Ashdar is building 581 apartments in twelve 4-16 stories' buildings. The project includes 4 and 5-room spacious apartments, penthouses, mini-penthouses and garden apartments.
Ashdar Sharona, Kfar-Yona: The project includes 318 apartments in seven 9-stories buildings. The project is located in the Sharona neighborhood, including a vast park, country club, educational institutions, a commercial center and various public buildings. The neighborhood will benefit from good access to highways 6, 4, and 2.
Ashdar Monoson: In Neve Monoson-Yehud, Ashdar's upscale project is under construction in a Pinui-Binui model, located at the center of Ono Valley near Savion Junction. The project includes 620 apartments in 16 buildings with 4 and 5-room apartments, garden apartments, and penthouses.
New Krinitzi, Ramat Gan: Ashdar, in collaboration with partners, is building the "New Krinitzi" project, which includes 476 apartments in four 20-25 stories luxury towers, planned to an especially high standard with modern apartment interiors and luxurious lobbies, and the provision of a 40-dunam public park.
Lev Ganei Tikva: Following the trend in Israel and globally of mixed residential and commercial use, Ashdar and Zemach Hammerman are building a project with a meticulous architectural design in Ganei Tikva. The project includes 250 apartments in two 22-23-stories towers with 4, 5 and 6-room apartments, mini-penthouses and luxury penthouses.
Ashdar Kiryat Motzkin: During 2017, the Company began marketing and building 226 apartments in two towers, as part of Mehir LaMishtaken.
Ashdar Harish: At the heart of HaPrachim Quarter of Harish, Ashdar is building 340 apartments in eleven residential buildings. The project includes 4 and 5-room apartments, garden apartments and penthouses, attracting young couples, families and home upgraders.
Ashdar Kiryat Eliezer, Haifa: A project under the Mehir LaMishtaken program, including four 9 -stories towers each. The project is part of four residential areas in a green environment and close to Bat Galim train station, a commercial center, and the beach.
Selected Future Projects
In the coming year, Ashdar intends to market a Mehir LaMishtaken project in Tirat HaCarmel, as well as a Target Price project in Modi'in. The Company is to proceed with a few luxurious urban renewal projects in Ramat Aviv and Ramat Gan.
Ashdar recently won the tender for the construction of about 800 residential units, with additional units in "HaKala", Kiryat Ono.
The units will be sold both as part of the "Mehir LaMishtaken" project and as free sale units.
Ashdar has been offering high-quality residential solutions for more than 40 years, during which it provided housing for tens of thousands of families throughout Israel, and will continue to regard itself as a leading housing provider for many years to come.

Photo Gallery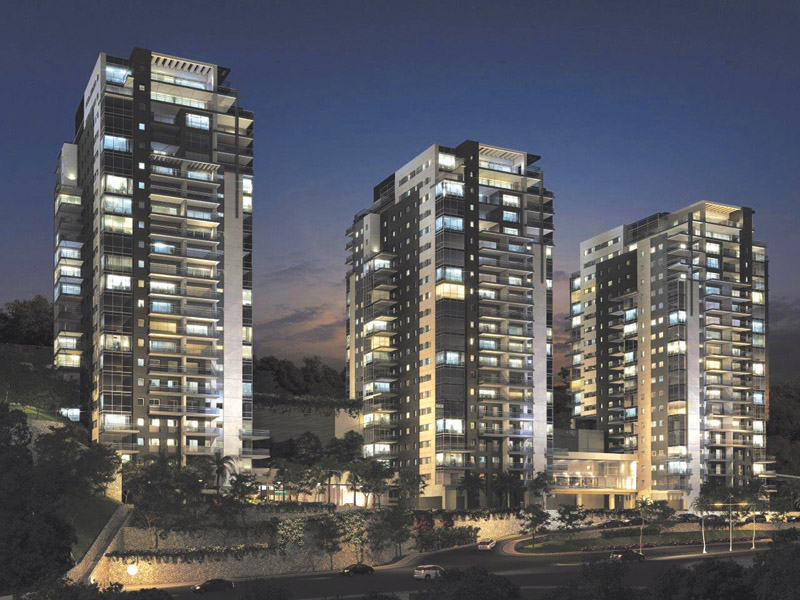 pic | Ashdar Trio in Haifa
pr photo

Company Rankings