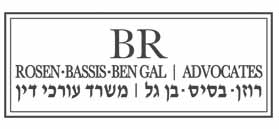 BR Rosen Bassis Ben-Gal, Advocates
Real Estate Law and Taxation

Company's Profile
| | |
| --- | --- |
| Established: | 1973 |
| Line of Business: | Real Estate Law and Taxation |
| Address: | 94 Yigal Alon St., Alon Tower 1st Floor, Tel Aviv |
| Phone: | 972-3-6868800 |
| Fax: | 972-3-6868801 |

Company Executives
Jakob Rosen

Partner

BR Rosen Bassis Ben-Gal, Advocates

Itai Bassis

Partner

BR Rosen Bassis Ben-Gal, Advocates

View Profile

Itai Bassis

Roy Rosen

Partner

BR Rosen Bassis Ben-Gal, Advocates

Guy Ben-Gal

Partner

BR Rosen Bassis Ben-Gal, Advocates

About BR Rosen Bassis Ben-Gal, Advocates
Rosen Bassis Ben-Gal was founded in 1973. We continuously strive to remain at the top of the field of municipal taxation by combining legal expertise and an innovative commercial approach to technology. The firm guides and advises its clients on all aspects of Real Estate Laws, regulations, taxes and other aspects of transactions in the field, including any accompanying matters such as urban renewal (TAMA 38), labor and commercial law.
The firm represents various municipalities, businesses and large organizations in cases related to taxation, construction, including planning, zoning, building, contract, and property law.
45 Years of Professional Excellence
The firm's extensive experience and client-oriented approach distinguish it from others. For nearly half a century we have been successfully advising, guiding and representing our clients, helping them grow and expand and closely familiarizing ourselves with decision makers and relevant entities in order to remain at the front lines of the field. Due to our wide-ranging experience and proficiency, we can prevent or circumnavigate potential complications and protect our clients' interests.
The firm boasts numerous achievements in class action suits, including some which have resulted in a nation-wide consumer movement, promoting personal and public safety. Today, the firm successfully represents municipalities and companies in class actions regarding municipal taxes and other matters.
Local Authorities
The firm specializes in local authority law, especially in the various types of municipal taxes, including general municipal taxes, fees and levies, municipal zoning fees, planning, and building law, commercial and land taxes. Our firm both advises the local authority on these matters as well as provides them with litigation services when required. The firm offers external legal services on a range of issues related to local authorities, such as preparing legal opinions in order to increase the assessment base for commercial municipal taxes, bids and written and oral opinions related to development fees and levies and other municipal fees. The firm acts as an external legal advisor on municipal taxation for over 40 local authorities in Israel, including the municipalities of Tel Aviv, Givatayim, Bat Yam, Ramat Hasharon, Holon, Ashkelon, Ashdod, Kfar Saba, Eilat, Givat Shmuel and Afula, and the local authorities of Mevasseret Zion, Tel Mond, Kiryat Ekron, Hatzor HaGlilit, etc. The firm handles cases worth hundreds of millions of shekels each year, often with groundbreaking rulings and setting precedents in the field.
Real Estate
The firm caters to a range of real estate transactions, representing both buyers and sellers as well as large real estate projects involving local authority land, privately owned land or land owned by the Israel Land Authority. The firm offers legal counsel in the field of real estate taxes, planning, building, urban renewal (TAMA 38), sales, local authority and agricultural tenders and inheritance and wills, and offers legal representation for property-related matters.
The Firm's Clients
Amongst the firm's clients are some of the largest entities in the Israeli economy (including construction companies), to whom the firm provides legal services and advise in the fields of commercial and Real Estate law. In Municipal law taxation, the firm currently exclusively represents local authorities and municipalities. In cases related to labor law, the firm represents large organizations, in both private and joint legal cases. In real estate, the firm handles all aspects of a wide range of real estate transactions, and in effect guide the client throughout the process from its inception to completion.
The Partners
Adv. Jacob Rosen - Adv. Jacob Rosen has over 45 years of experience and is an expert in all aspects of property law, contracts, real estate, planning and construction regulations and condominiums. As a legal advisor, he participated in the construction of thousands of houses and buildings in large-scale projects throughout the country and handled countless cases of property and taxation. He also represented municipal authorities vis-à-vis the tax authorities, appeals committees, local and district planning and building committees, various public committees and administrative petitions regarding planning and building. Furthermore, for many years Adv. Rosen served as the external legal counsel for the City of Be'er Sheva and external legal counsel for the Israel Land Authority Southern District, to which he was appointed by the Attorney General of Israel. In this capacity, he represented the Israel Land Authority–State of Israel in large lawsuits against entities such as quarries and hotels, trespassers and debt fugitive.
Adv. Itai Bassis - Adv. Itai Bassis is the head of the firm's litigation department and has extensive experience in legal matters concerning local authorities, mainly in municipal taxation, as well as managing proceedings and appearing before all courts of law and in appeals committees. Adv. Bassis represents numerous local authorities in courts, appeals committees, and other venues, including magistrates' courts, district courts, the Supreme Court and appeals committees in various local councils, on subjects related to municipal taxes and development fees within the local council. This includes representing clients and handling cases as part of municipal tax appeal proceedings, administrative appeals and petitions to administrative courts and other legal proceedings.
Adv. Roy Rosen - Adv. Roy Rosen is an expert in local council law, specifically municipal taxes, and fees, including the various land taxes. Furthermore, Adv. Rosen is a certified mediator. He represents numerous local councils in law courts, appeals committees, and other venues, including magistrates' court, district courts, the Supreme Court and appeals committees in the various local councils. In addition, Adv. Rosen is involved with complex real estate transactions in which the firm represents various clients.
Adv. Guy Ben-Gal - Adv. Guy Ben-Gal represents local councils on matters of municipal taxation. He also represents municipalities and handles cases related to tax appeals proceedings, administrative appeals and petitions to administrative courts, and other legal proceedings. Adv. Ben-Gal is the current external legal advisor and personal counsel for numerous municipalities, including Kfar Saba, Ashkelon, Ashdod, Bnei Brak, Ramat Hasharon, Ofaqim, Eilat and many others.

Company Rankings