Ben-Yacov Law Firm
Real Estate, Family Offices, Investments and Commercial-International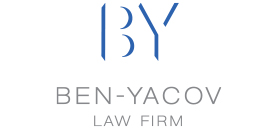 Company's Profile
| | |
| --- | --- |
| Established: | 1983 |
| Line of Business: | Real Estate, Family Offices, Investments and Commercial-International |
| Address: | 40 Tuval St., Ramat Gan, Israel, 5252247 |
| Phone: | 972-3-6128878 |
| Fax: | 972-3-6128606 |

Company Executives
Ami Ben-Yacov

Founding and Managing Partner

Ben-Yacov Law Firm

Idan Ben-Yacov

Associate

Ben-Yacov Law Firm

About Ben-Yacov Law Firm
Ben-Yacov, Law Firm is a leading boutique firm that specializes in real estate, family offices, HNW (High Net Worth) individuals & families investments and international and Israeli commercial law, with an emphasis on FinTech, M&A, Hi-Tech, IP protection, trusts and compliance. The multidisciplinary understanding of the firm's team, in combination with the comprehensive strategy that it builds for each of its clients, create the added value from which the firm's clients benefit. The firm offers a combination of vast experience and deep knowledge in a variety of legal and financial fields and of creativity, innovation and out-of-the-box thinking. Its clientele includes leading Israeli and international corporations, businesspersons, high-net-worth families, leading real estate projects owners and developers and more. Ben-Yacov, Law Firm carefully maintains high availability with commitment and devotion to all of its clients, in order to provide them with optimal legal services and assist them in achieving their goals with great success.
Boutique Firm in a Growth Momentum
This boutique firm, which has been recording an accelerated growth momentum over the past two years, accumulated longstanding experience and deep familiarity with the relevant legal practice areas, and it meticulously maintains the thorough and comprehensive service and the professional excellence for which it has been renowned for many years.
The firm's unique strength stems from its position as a boutique firm by size that nevertheless has a significant scale of operations, and which works vis-à-vis Israel's largest law firms in highly-publicized real estate project at the heart of Israel's top-demand areas. A significant share of the transactions that the firm facilitates are large scale and complex transactions that require a particular specialization and broad familiarity, with both the legal aspects and the clients.
The firm provides its clients with comprehensive, consigliere and personal service, both in its practice areas and in non-legal fields, since the clients choose it to provide them with end-to-end support in the full spectrum of their business operations. Remarkable number of the firm's clients, some of whom have been its clients for decades, are members of the second, third and even fourth generation of joint activities. The clients' satisfaction led many of the clients who initially turned to the firm for professional counsel to also expand the responsibility and trust that they extend to the firm to their private matters, from the business aspect of their operations to the family aspect, and vice versa. The personal attention that all of the clients benefit from, led the firm to handle, beyond the legal counsel, various issues such as family problems, that require trust and a deep personal and professional familiarity.
Practice Areas
Real Estate and Properties
The firm handles complex large-scale real estate projects and transactions in Israel and abroad including in asset-swap ("combination") transactions, finance agreements, mechanisms for allocating rights between landowners and more, with a particular and longstanding specialization in multiple-owner projects. This complex and sensitive field requires skill, creativity, experience and comprehensive knowledge from a macro perspective, alongside with knowledge and understanding in adjacent fields such as engineering, appraisal and architecture. The firm was the first firm in Israel to handle projects and groups of multiple rights owners, while protecting their interests, which are sometimes conflicting with the interests of court-appointed officers, for example Hagush Hagdol ("The Big Block") project in Tel-Aviv that the firm has been accompanying for more than 30 years including the representation of the largest group of right holders in the project. The firm meticulously maintains a strategic, business-oriented and development-oriented planning approach, with a broad macro perspective, that prioritizes the interests of its clients, and it also handles planning, building and permits proceedings, purchasing groups, urban renewal, investments in yielding properties and commercial real estate and office buildings.
Notable Projects
• "HaGush HaGadol", Tel Aviv;
• Kikar HaMedina, Tel Aviv;
• H-500, Holon;
• Zoning Plan 3388B (which is located between "HaGush HaGadol" and Azorei Hen in Tel Aviv);
• Zoning Plan 3700 in Tel Aviv;
• Hof HaTchelet, Herzliya Marina.
Family Wealth Management
The firm implements a legal and business strategy on the basis of the complete trust it receives from its clients, which include second, third and even fourth generation members of high-net-worth families, who benefit from a comprehensive service that includes trust management and inter-generational transfers of family wealth. Adv. Ami Ben-Yacov in a renowned authority in this field in light of his deep understanding in business and legal fields, including investments and asset ownership and management in Israel and abroad, risk diversification and yield generation in the inheritance and estate field, planning and executing inter-generational transfers of wealth, assets, businesses, etc., assisting with domestic and international tax planning, establishing and managing trusts and foreign companies, drafting wills, family trusts and nuptial agreements, while maintaining confidentiality and the highest standards at all times.
Commercial Law
The firm accompanies its clients in diverse transactions, while applying an entrepreneurship-business approach and creativity, and provides first-class comprehensive and thorough service for the purpose of achieving their goals. The firm's clientele includes companies, international corporations, businesspersons and entrepreneurs from various fields, including technology, media, traditional industry, hotels, telecommunication, real estate, Hi-Tech, FinTech, mobile, electronics, forex and textiles.
International Commercial Law
The firm accompanies its clients while providing creative legal and business solutions in light of its deep understanding of international law, its familiarity with global markets, its vast network of connections and its proven successes in the context of complex business and legal issues. The firm's clientele includes well-known multinational corporations and Israeli and foreign companies. The firm has accompanied investments, complex transactions and large-scale projects in a variety of sectors, including energy, Hi-Tech, cyber, forex, FinTech, media, electronics, mobile and media, infrastructures, real estate, traditional industries, banking and fashion.
On the legal side, which is an integral part of the business guidance we provide to our clients, our legal services include diversified issues such as compliance and AML (anti-money laundering), formation of trusts and acting as trust protectors, foreign companies and business structures, IP protection, M&A, a large variety of agreements such as financing, franchising, licensing, distribution, investments and development, international taxation, information security and privacy, which are only a selection of the services the firm provides to our clients.

Facebook Updates

Company Rankings