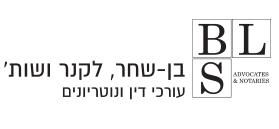 Ben Shahar, Lekner & Co.
Commercial Litigation, Real Estate, Liquidations and Receiverships.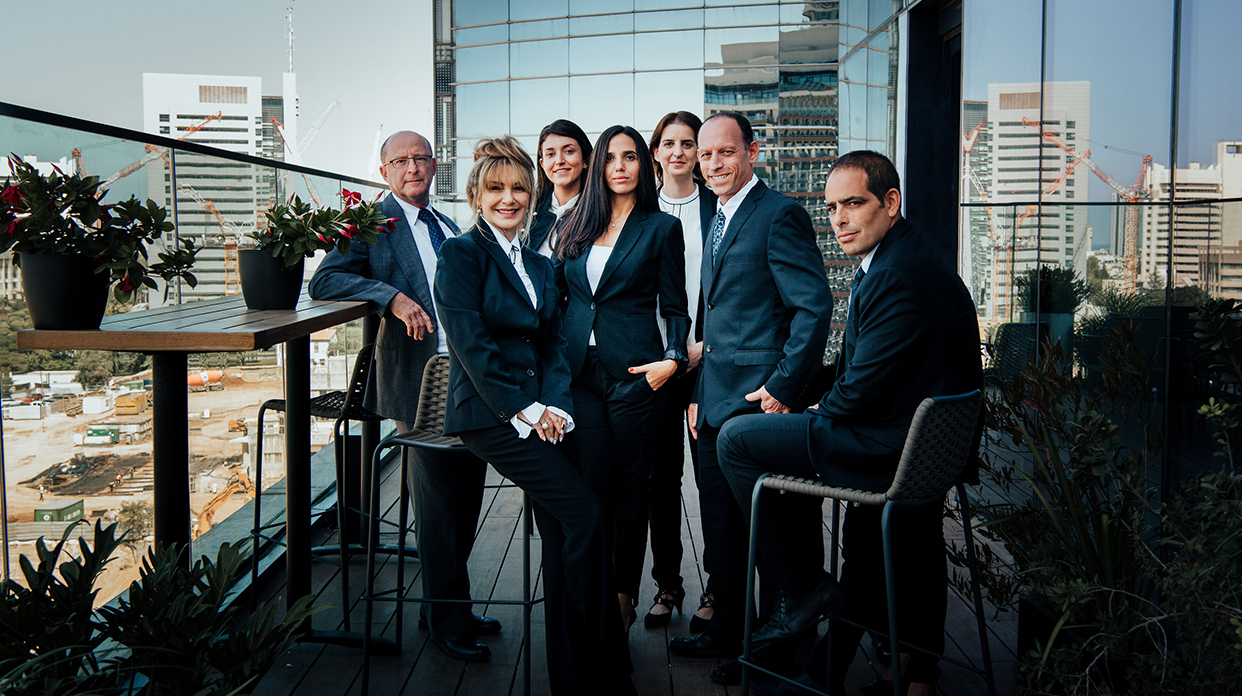 Company's Profile
| | |
| --- | --- |
| Established: | 1967 |
| Line of Business: | Commercial Litigation, Real Estate, Liquidations and Receiverships. |
| Address: | 28 Ha'Arba'A St., Northern Tower, 5th floor, Tel Aviv |
| Phone: | 972-3-6883383 |
| Fax: | 972-3-6883382 |

Company Executives
Bruria Lekner

Partner

Ben Shahar, Lekner & Co.

Rafi Shaham

Partner

Ben Shahar, Lekner & Co.

About Ben Shahar, Lekner & Co.
Ben Shahar, Lekner & Co., Advocates and Notaries specializes in commercial litigation and real estate. The firm, which was founded over four decades ago, is recognized for the professional excellence of its partners and department heads, who are amongst Israel's leading experts in their respective fields.
The firm provides top-tier legal counseling, tailored to the needs of each client. The clients benefit from the added value of legal services that are provided directly by the firm's partners, with a dedicated, efficient, and creative response through the firm's professional team.
The firm also provides pro bono legal services to private and public entities, which work to accomplish national, social, and cultural goals.
Practice Areas
Commercial Litigation - The firm has been practicing commercial litigation for over 30 years, and it specializes in commercial disputes, including disputes between banks and their commercial clients, disputes between business partners, shareholders, disputes regarding tenders, disputes between mall owners and management companies and their tenants, real estate developers, contractors and sub-contractors, entrepreneurs and various authorities, and other financial disputes. The firm's clientele includes private and public entities and leading companies including large commercial banks, the largest mall groups in Israel, Moshavim, governmental companies, public companies, contracting companies and private real estate developers.
Real Estate - The firm specializes in urban renewal, and represents both initiators and property owners in Pinui-Binui, Tama 38/1 and Tama 38/2 projects, and handles Pinui-Binui projects with hundreds of apartments in Haifa, Givat Shmuel and Tel Aviv, and Tama 38/2 projects in Herzliya, Ramat Gan, Givatayim, Ra'anana, and more. The firm services developers in residential, offices and commerce construction projects, and real-estate companies that hold shopping malls, commercial centers and industrial parks, and is one of the first firms in Israel to have acquired proficiency in this field and to create the nowadays-customary contractual framework. The firm handles the contracting of private and commercial entities vis-à-vis the ILA, in the preparation of the set of standards agreements that currently exists in the ILA, and it represents the ILA in precedential legal proceedings.
The firm accompanies governmental and municipal companies in the development and construction of residential projects and tourism infrastructures.
Real Estate Receiverships - The firm specializes in receivership proceedings for real estate projects. The firm's team has been appointed by the courts, at the request of Israel's larger banks, to serve as receivers and managers of complex commercial projects, which it successfully managed while appreciating, fully utilizing and maximizing the economic potential of each project.
Adv. Bruria Lekner, The Head of the Firm
Adv. Bruria Lekner, who is one of Israel's top litigators, specializes in complex commercial litigation of disputes between partners and owners of controlling interests, and in managing real-estate disputes, in banking disputes and in extensive financial disputes between partners in business ventures.
Her clientele includes Israel's major banks and large public entities, including leading financial institutes, government companies, public companies, municipal companies, Moshavim, shopping malls, construction companies and real estate initiators.
Adv. Lekner counsels the executive management and boards of government companies on the initiation of transactions and commercial contracting, supports RFT procedures and in corporate governance issues and served as a professional director in governmental and public company from more than 25 years. In some of the companies Adv. Lekner served as Chairperson of the Audit Committee.
In the framework of her public offices, she served as the ombudswoman of the Israel Bar Association (2008-2014), as a member of the Administrative Courts Council under an appointment by the Ministry of Justice and as a member of the Communication and Law Center of Bar Ilan University, and currently serves as a member of the National Council and as President of the Gender Equality Forum of the Israel Bar. She served as a director on behalf of the State in the boards of the IEC, Israel National Roads Company and the Energy Reserves Development Company, and as an external director of BVR Systems Ltd., Leader and Leader Holdings and Investments, Tau Returns and Benz Hotels Ltd., and as a director on behalf of the State in the board of the Israeli Diamond Institute Ltd. She is a member of the Governmental Companies Authority's "Team of Directors" and KPMG Directors Forum.
Adv. Lekner lectures at Tel Aviv University and Bar Ilan University, The Technion, as well as various professional forums, on topics of corporate governance and the responsibilities of officers and directors in companies in corporate crises.
Adv. Rafi Shaham, Managing Partner
Adv. Shaham specializes in all aspects pertaining to real estate in all stages of real estate transactions: real estate sales and purchase agreements, accompanying entrepreneurs in all stages of the projects, as of the purchase of the land and up to completion of registering, urban renewal projects (evacuation and construction and TAMA 38), combination agreements and "exchange" agreements, financing and banking accompaniment agreements for residents construction projects, real estate taxation and urban taxation, planning and construction law, agreements with local authorities, managing liaisons with Israel Land Authority, and more.
Adv. Shaham specializes in facilitating large-scope commercial projects and in managing receiverships for distressed real estate projects. He has extensive knowledge on the legal-commercial aspects of real estate projects. Adv. Shaham was appointed by the courts to serve as the receiver of troubled real estate projects, and managed numerous commercial projects, industrial facilities, hotels and real estate projects. He specializes in counseling companies which own shopping malls and commercial centers and their management companies, and advises shopping malls in lawsuits against tenants and in legal proceedings against municipalities on matters of city tax and betterment charges. Adv. Shaham was selected by the ILA to prepare the standard agreements between purchasers of lots and the development and management companies on behalf of the ILA, and the RFT for selecting the ILA's supervision company.
Community Outreach
Adv. Lekner founded the Jurists' Forum of the Israel Women Lobby, and has been serving as chairperson of the forum since the inception of its activity. The forum was founded with the aim of serving as a home for women in the legal professions in Israel. Young and senior legal practitioners from various legal fields work together to promote women from the legal professions to positions of power and leadership, to implement proper legal gender discourse, and to create a network of mutual support, on the basis of synergy and continuity of knowledge, experience and strength. As the head of a firm and senior litigator in the commercial-economic fields, Adv. Lekner also works in other social arenas, including the Israel Bar, in order to spread proper gender thinking and to promote equality, with the aim of turning the Israeli society into a more egalitarian and just society, which sees the removal of barriers for promoting women to positions of influence and leadership as a major social interest.