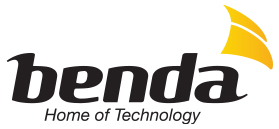 Benda Magnetic
Importing Computer and Communication Equipment, Lifestyle Products, Sport Products and Housewares

Company's Profile
| | |
| --- | --- |
| Established: | 1987 |
| Line of Business: | Importing Computer and Communication Equipment, Lifestyle Products, Sport Products and Housewares |
| Address: | 13 HaMesik St., Emek Hefer Industrial Park |
| Phone: | 972-732-660699 |
| Fax: | 972-732-864959 |

Company Executives
Ariel Amor

CEO

Benda Magnetic

Mordechai Ben David

President

Benda Magnetic

About Benda Magnetic
The Israeli Amazon. This is how one can call the Israeli importing giant, Benda Magnetic. The prospering group's name has been associated mainly with IT, gaming and communication equipment during its 40 years of operations, but over the past two years it has been expanding into new content worlds with a renewing and dynamic products offering that includes lifestyle products, housewares, sport and leisure products and much more.
Strategic Logistic Channels for the Entire Market
In light of the enormously varied product offering of Benda Magnetic, it currently serves as a strategic logistic channel that provides,with the support of its 230 employees, marketing, branding and logistics services to about 6,000 points of sale across Israel. It can be claimed that there isn't a single household in Israel that doesn't have at least one or even several products that were imported by Benda Magnetic, and accordingly that company has a highly respected status in the Israeli business arena. The company's center is located in the Emek Heffer Industrial Park and covers an area of 8,000 sq.m., of which 2,600 sq.m. are dedicated to the company's headquarters and 4,000 sq.m. to the 18-meter-high storage area. The company's logistics center currently holds about 4,000 pallets and in light of the company's expansion it is currently planning the construction of a new automated logistics center which would hold 24,000 pallets.
The company has leased another area located in Caesarea and is spread over 2,600 meters, which contains 3,000 transit pallets, while the new logistics center, planned for Beit Yehoshua, which will hold 24,000 pallets, is being constructed.
Product Categories
The company's products offering is enormous and currently includes five categories: peripheral computer equipment, gaming, communications and security systems, cellular, leisure and home products.
Benda Magnetic is a the official representative of most of the products that it imports, and it brands include, among others: Logitech, DJI, TPLINK, Philips, Silver Line, WD, Sandisk, Xbox, Crosair, Aoc, Roidmi, Razer, Miracase, Lenovo, Dahua, and VIVO.
Points of Sale
The company's PoS are divided into three main operating segments: the private market, the organized market and integrators, institutions and organizations.
The company's PoS include, among other, photography stores, computer stores, electronics stores, mobile devices stores, gaming stores, office suppliers stores, marketing chains, food chains and more. The company is present everywhere owing to the customized solutions that it successfully provides to any Pos, big and small, private and public. This widespread coverage is one of the company's greatest advantages, and it certain products it has a market share of more than 50% of the total imported market.
In-House Logistics Center
The vast majority of the company's logistics center is semi-automatic and comprises a storage management system that interfaces with ERP systems, with the plan for the future logistics center to be almost completely autonomous. The company's logistics is conducted in-house by a team of about 80 employees, including warehouse workers and pickers, controllers and transportation professionals. The company also employs category managers, product managers, accountants, bookkeepers and salespersons. Overall, the company employs around 230 employees, a number which is expected to grow dramatically when the company would enter its new huge logistics center within several years.
The Company's Strengths
Benda Magnetic's competitive advantage comes from its triple strength, which includes the capability to import any consumer product, a sophisticated and independent logistics system, and a stable and diverse customer base.
The company's strength stems from several significant advantages which differentiate it from other players in the market. There is no limit to the products that the company can import, and in the same way it imports peripheral computer equipment, it is able to import kayaks, sups, boats and inflatable hot tubs, and in fact any consumer product which may be imported to Israel. The company has an in-house logistics organization which covers 6,000 points of sale from north to south, financial strength for inventory financing and consumer credit, customer service of the highest level in Israel, and the representation of world-leading brands. The combination of these factors turns Benda into one of the strongest importers in the Israeli economy.
The Company's Vision
The company's vision focuses on entering additional content worlds that are relevant to the future logistics system, while expanding the logistics activities for additional partners, and continuing leadin the categories where it is specializes, while expanding the variety of products and equipment. Thus, the company aims to become an Israeli "Amazon" of sort, while meticulously developing autonomous logistics capabilities, importing high-quality and reliable products, and providing an uncompromising service level and professional support for its end-users.

Photo Gallery