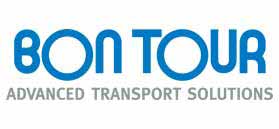 Bon Tour Ltd.
Transport Service

Company's Profile
| | |
| --- | --- |
| Established: | 1988 |
| Line of Business: | Transport Service |
| Address: | 5 Haplada St., Or Yehuda 6021807 |
| Phone: | 972-3-5333779 |
| Fax: | 972-3-7353703 |

Company Executives
Shai Katz Chairman
Eran Katz CEO
Sagi Katz VP Planning Operations
Ofer Peleg CFO

About Bon Tour Ltd.
Bon Tour Ltd. is Israel's leading transportation service company, with 500 vehicles prepared to serve tens of thousands of clients daily. The company was established in 1988 and has since been providing safe, efficient, advanced transportation solutions to government ministries, governmental and public companies, private companies, schools, tourists and the private clients.
The company's fields of activity include: employees' transportation, school transportation, schools', incoming, interior and private tourism transportation and transportation to and from the airport.
The company's executives, staff and drivers are meticulous about driving safety, high service values and providing advanced technological solutions to its clients. All these render the company's differentiation in the transportation market, and to its choice as the preferred transportation company by a variety of selected clients.
Due to its financial sturdiness and the management's efforts, Bon Tour achieves notable accomplishments in growth, profitability and service.
Investing in Technological Transportation Solutions
The company views advanced technology as an ultimate value that provides quality, safe and efficient service, personally tailored to its clients.
Over the years, the company invested many resources in developing technological systems that are implemented both in the vehicle fleet as well as in work procedures:
Localization, Control and Indication Systems
The company implements in its transportation vehicles control and supervision systems, which transmit data regarding the situation of the vehicle, its location and the driver's performance.
The systems provide the driver with indication signals to improve and enhance safety during the drive as well as directions to the best driving route, and more. In addition, the company installs in its vehicles systems designed to prevent deviation from course, as well as to prevent forgetting children in the car.
Computerized Systems at the Customer's Location
The company's customers enjoy designated reservation software designated for their individual needs, which enables them to receive online updates.
The system provides information and indexes pertaining to the location of the vehicles, arrival time at their destination, and in addition provides computerized reports and data regarding travel time, routes characterization and more. This enhances employee transportation efficiency to and from work.
Investing in Human Resource
As a progressive prominent transportation company, the company recruits the finest drivers, employees and managers, who are provided with a home, a pleasant work environment, various benefits and one of the field's highest salaries.
The company's drivers' recruitment programs include choosing quality drivers who are trained by the company, undergo practical examinations, tests, practical training and accompaniment by professional transportation advisors. Select drivers are awarded excellence marks and encouraging monetary rewards.
Business Strategy
The growth in the company's activities is based on the acquisition of transportation companies' activities and on organic growth, based on the organizational structure of its branches.
Since 2008, Bon Tour has completed the acquisition of the operations of 8 transportation companies', and has set up new branches, thereby expanding its services throughout the country, with branches in Tiberias, Modi'in, Or Yehuda, Ben Gurion Airport and Hadera. Furthermore, the company acquired the ownership of Israel Experts and Tourbus transportation companies in addition to its ownership of Metropoline Company, which the company co-owns together with AEL Group.
Contribution to the Community
Bon Tour considers community contribution as an important value and an inseparable part of proper corporate and organizational culture. The social involvement includes donations to major foundations and the employees volunteering for various groups. The company purchases and gives festive goods on Purim in hospitals and donates buses to valuable social activities.
Environmentalism
Bon Tour emphasizes its contribution to the environment and operates vehicles in accord with European standards pertaining to polluting emission of Euro 5 and Euro 6 standards. Using Euro 6 standard means using "Urea" fuel additive in buses and minibuses, which renders a decrease of poisonous nitrogen oxide from diesel vehicles.

Facebook Updates
You may also like
DUN'S 100

Construction & Real Estate Sector

In 2015-2016, several regulatory steps were taken by the government and the banks in order to affect the industry's supply and demand. For example, demand-curtailing steps were taken aimed both at young couples (an increase of the mortgages interest rates by the banks) and at investors (governmental increase of investment apartments purchasing tax and taxation of third apartments). From the supply aspect – the "Mehir La'Mishtaken" (government price-capped) program was expanded, and the marketing of tens of thousands of reduced-price apartments for eligible candidates has begun.

Construction & Real Estate Sector

Real Estate

Humans at the Center of Things

Humans at the Center of Things