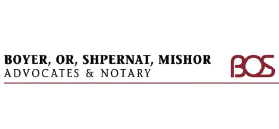 Boyer, Or, Shpernat, Mishor & Co. – Advocates & Notary
Real Estate, Commercial Law, Collection and Execution, Torts

Company's Profile
| | |
| --- | --- |
| Established: | 2003 |
| Line of Business: | Real Estate, Commercial Law, Collection and Execution, Torts |
| Address: | 1 Karlibach, Tel Aviv |
| Phone: | 972-3-6910022 |
| Fax: | 972-3-6910044 |

Company Executives
Adv. Yaakov M Boyer

Partner

Boyer, Or, Shpernat, Mishor & Co. – Advocates & Notary

View Profile

Yaakov M Boyer

Adv. Shmuel (Shmulik) Or

Partner

Boyer, Or, Shpernat, Mishor & Co. – Advocates & Notary

Adv. Tal Shpernat

Partner

Boyer, Or, Shpernat, Mishor & Co. – Advocates & Notary

View Profile

Tal Shpernat

Adv. Ariel Mishor

Partner

Boyer, Or, Shpernat, Mishor & Co. – Advocates & Notary

About Boyer, Or, Shpernat, Mishor & Co. – Advocates & Notary
Boyer, Or, Shpernat, Mishor (BOS) is a leading commercial law firm, with an accumulated experience spanning several decades. The firm currently includes 11 lawyers, of which 4 are partners, and is considered to be a boutique firm that provides its clients with warm and personal attention, alongside first-class legal and professional capabilities. The firm's headquarters is located in Tel Aviv and another office operates in Be'er Sheva, under the management of Adv. Ariel Mishor.
The Firm's Values
As part of the firm's professional creed, its partners take care to personally and individually handle every case and work with every client, until the successful conclusion of the legal proceedings while guaranteeing a satisfactory result. This personal and close involvement differentiates the firm and guarantees that the client receives a comprehensive, creative and multi-disciplinary solution. The firm believes in teamwork and the cooperation and cross-fertilization between its partners and lawyers. This professional synergy, with an emphasis on multi-disciplinary cooperation and the longstanding accumulated experience that each of the partners brings to the table, brings out the firm's legal and business strength in the form of professional teamwork alongside legal creativity.
The Firm's Executive Team
Adv. Yaakov M. Boyer – Partner
Adv. Boyer is one of Israel's most senior lawyers and throughout the years he has been leading large-scale and prominent cases, transactions and arbitrations.
He leads the firm's real estate, local authorities, and planning and zoning department and has vast experience in litigation, facilitation, and advisory in the fields of real estate, planning and zoning, local authorities, bankruptcy laws, public tender law and inheritance, estates and marital status law. Furthermore, he served for many years as an external legal advisor for numerous local authorities, and he currently serves as vice-chairman of the National Internship Committee, and a member and presiding judge of the Disciplinary Court, of the Israel Bar Association. He has an LL.B. from Bar Ilan University.
Adv. Shmuel (Shmulik) Or – Partner
Adv. Or leads the firm's banking and collection departments. He has longstanding experience in representing the Israeli banking system while representing some of Israel's largest banks in diverse topics, including precedential issues. Furthermore, he has a particular specialization in banking, credit and guarantees law, and he has been counseling and supporting some of the leading entities in the Israeli economy in these fields. Adv. Or is renown in the banking system as a lawyer with great integrity, and in combination with his longstanding professional experience, he has been appointed as receiver and special manager of various entities by the court system. In addition, he has vast litigation experience, with an emphasis on bankruptcy proceedings. He has an LL.B. from Tel Aviv University.
Adv. Tal Shpernat - Partner
Adv. Shpernat leads the firm's corporations and commercial law department. He accumulated vast experience in commercial law as a senior lawyer in the capital markets department of one of Israel's largest law firms and participated in some of the largest and most publicized M&A transaction in the Israeli economy, and also in writing prospectuses for TASE issuances and facilitation of privatization processes.
His extensive experience and the in-depth understanding of business processes he possesses have turned him, over the years, to a close advisor who supports many of his clients both in their business and legal decisions. He has an LL.B. and an LL.M. (Commercial Law) from Tel Aviv University.
Adv. Ariel Mishor – Partner
Adv. Mishor leads the firm's torts and the insurance department. He has particular expertise in handling bodily harm cases, including road accidents, workplace accidents, medical malpractice, insurance law, and National Insurance. He represents clients vis-à-vis a variety of entities and authorities including insurance companies, National Insurance Institute, and before the various courts. Adv. Mishor has vast experience in negotiating vis-à-vis insurance companies. In addition to his training and experience as a lawyer, he is also a certified optometrist, providing him with extensive para-medical knowledge on bodily harm. He has an LL.B. from Ramat Gan College and he graduated from the Optometry College in Tel Aviv.
Practice Areas
Real Estate, planning and zoning: the firm is considered to be one of the prominent real estate and planning and zoning firms in Israel and it supports private clients, and large commercial corporations and municipal authorities. The firm specializes in complex real estate transaction and it provides comprehensive service from the preparation to and the reviewing of the transaction, through the drafting of agreements (sale, leasing, asset-exchange, management), and up to reporting to the authorities and registering the rights (including multi-occupancy house order and AoA). The firm is a founding member of the Israeli Green Building Council and serves as its General Counsel.
Commercial Law: Commercial and Corporations law is one of the firm's cornerstones and the department's lawyers specialize in a broad spectrum of legal and business services to companies, with an emphasis on a creative advisory that is customized to the client's business requirements. The firm provides comprehensive commercial law services to private companies, cooperatives, start-ups, foreign investors and associations from negotiations to the transaction's completion. A substantial part of the department's clients are factories and businesses which are owned by Kibbutzim.
Collection and Execution: The firm has been very successfully representing HaPoalim Bank (for more than 20 years) and Discount Bank (for more than 10 years) in retail debt collection proceedings. The operations include representation of the banks in insolvency proceedings, the liquidation of collaterals and debt restructuring.
Torts: The firm specializes in torts and represents plaintiffs who sustained bodily harm as a result of road accidents, workplace accidents, negligence by local authorities and more. The legal work includes the case preparation, representation in medical committees, support, and counsel in the preparation of medical opinions and court representation.