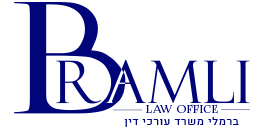 Bramli Law Office
Military Law

Company's Profile
| | |
| --- | --- |
| Established: | 2016 |
| Line of Business: | Military Law |
| Address: | 7 Oppenheimer St., "Lev HaMada" Building, HaMada Park, Rehovot |
| Phone: | 972-8-9476753 |
| Fax: | 972-8-9135050 |

Company Executives
Adv. Limor Bramli

Founding Partner

Bramli Law Office

View Profile

Limor Bramli

Adv. Ofir Bramli

Managing Partner

Bramli Law Office

View Profile

Ofir Bramli

About Bramli Law Office
Bramli, Law Office (BLO) is a law company that was established in 2016, by Advocates Limor and Ofir Bramli. The firm is a boutique firm that specializes in military law – representation of conscripts, soldiers, career soldiers and IDF-Employed civilians, before the military authorities and the military courts. The firm handles military law exclusively, and in particular – criminal aspect, representing in cases where the offences were committed in the army and are investigated by the Investigative Military Police. The experience that the firm's attorneys bring to the table, as former military law officers, Military Advocate General (MAG) prosecutors, and Investigative Military Police (IMP) officers, integrates these elements – as to provide a comprehensive legal solution for soldiers who turn to the firm for service. Soldiers who were caught in crimes during their military service are not interrogated by the police, rather by the investigative military police, and they are judged by military courts that have authorities that are equivalent to those of district courts. Military law is considered to be a legal niche, which includes rules that are unique for the military legal system as well as military procedures and orders. Therefore, the number of Israeli lawyers who have legal expertise and practice this area is relatively limited. The firm handles only military-criminal cases in the military courts, from the clear perspective that lawyers who practice this unique niche must specialize in it and become highly professional "just as an ophthalmologist won't administer to a client with back problems, we believe that the norm in law firms must be the same".
The Partners
Adv. Limor Bramli, Founding Partner: Following her honorable discharge from her IDF service as a senior MAG prosecutor, she founded Bramli, Law Office. In the framework of her role as senior prosecutor, she handled complex cases of weapon trafficking, drug use and trafficking by soldiers, severe sexual harassment and draft evasion and desertion offences. Limor has an LL.B. and an LL.M.
Adv. Ofir Bramli, Managing Partner: Ofir Bramli was honorably discharged from the IMP at the rank of a captain (res.). In his service, Ofir served as an investigator in the IMP Yoav Base, investigations officer in IMP Be'er Sheva, Team Leader in the IMP Urim, Investigation Officer in the IMP's Central Investigations Unit, head of fraud investigations in the military fraud investigations unit and in his last role he was head of the IMP Yoav base. During his military service, alongside with the management of complex investigation cases and commanding an IMP base, Ofir studied law and business administration. Afterwards, he interned in the criminal department of the tax authorities and finally joined BLO. Ofir has an LL.B. and an M.B.A.
Advocates Bramli also expand the firm's areas of operations into additional niches of military law, beyond criminal law, towards disciplinary cases and other internal military affairs.
The Practice Areas: Drug Offences, Sexual Harassment in the Army and Reckless Use of Firearms
As lawyers who support soldiers in IMP interrogations on a daily basis and represent them in the military courts, Advocates Bramli are renown amongst IDF soldiers as representors of soldiers in criminal proceedings. Adv. Ofir Bramli tells that they encounter a very wide variety of offences that are committed by soldiers, from every socio-economic segment of Israeli society. "The most common offences of soldiers are drug offences: drug use and possession during service, an area where the army is much stricter than civil authorities, and also more severe drug offences such as trafficking, serving as middleperson in transactions and even importing". Alongside drug offences, BLO also encounters military sexual harassment or assault, between commanders and subordinates and between soldiers, property crime – theft of military properties such as food, fuel or equipment, forgery of sick leave documents, firearm theft, smuggling of weapons such as rifles or grenades, outside of the base. There are also, of course, the "classic" military offences such as pillaging, inappropriate behavior of fighters during military operations, such as demanding money in checkpoints, and bodily harm offences such as unintentional discharge due to playing with weapons and training accidents.
The Company's Vision – To Provide a Supportive Shoulder for the Soldiers and Their Families While Caring for their Future as Civilians
The nature of the work in the firm, which accompanies the soldiers 24 hours a day, alongside with the type of clients that the firm handles: Youths who just graduated from their high-school, who handle criminal trouble and an intricate military-legal system, led Advocates Bramli to formulate the firm's vision, which determines that the service it provides isn't only legal, but also includes support and guidance for these young soldiers and their families. "We encounter complex cases, of good kids, who don't understand the meaning of an IMP investigation and the extent of the legal trouble they are facing" says Adv. Limor Bramli "these soldiers usually come from completely normative families and their parents suddenly have to face unfamiliar situations such as arrest hearings and visiting their children in prison, nightmarish situations". In light of the high sensitivity in handling military cases, the firm's vision is to provide, beyond the close legal facilitation, a supportive shoulder for the soldier's family, and for this purpose the firm emphasizes the importance of being a very empathetic lawyer with creative legal thinking, that would prevent blemishing the soldiers with a criminal records that would follow them in their civilian life after their discharge. In case the soldier in indicted in the military proceedings, this indictment entails a criminal record in their civilian life, for up to 17 years ahead. For this reason, Advocates Bramli greatly emphasize the management of cases as to minimize and even expunge the criminal record. Not every offence that is investigated by the IMP ends up as a criminal case in the military court, in some of the cases that the firm handles, it manages to "minimize the damage" and have the soldier judged on a disciplinary basis before their commanders in the unit and not before a military court. While this doesn't mean that the punishment would be less severe, the great advantage of such a situation is that a disciplinary indictment-doesn't lead to a criminal record. In such cases of non-judicial punishment hearings, the legal proceeding is different. The lawyers represent the defendant in writing, and in fact write a legal opinion to the judging commander, on the basis of the case's evidence. The commander would decide whether to indict and order the arrest of the defending soldier or to acquit them in accordance with the opinion their lawyers presented.

Company Rankings