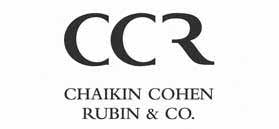 Chaikin Cohen Rubin & Co. – CPA
Accounting, Taxation Financial Audit and Risk Management, Internal Audit, Investigative Audit, Information Systems Audits, SOX Implementation, Business Consulting, Trusteeship

Company's Profile
| | |
| --- | --- |
| Established: | 1982 |
| Line of Business: | Accounting, Taxation Financial Audit and Risk Management, Internal Audit, Investigative Audit, Information Systems Audits, SOX Implementation, Business Consulting, Trusteeship |
| Address: | Kiryat Atidim, Building 4, P.O.B. 58143, Tel Aviv 6158002 |
| Phone: | 972-3-6489858 |
| Fax: | 972-3-6489946 |

Company Executives
Ilan Chaikin

Senior Partner

Chaikin Cohen Rubin & Co. – CPA

Cohen Moshe

Senior Partner

Chaikin Cohen Rubin & Co. – CPA
Partners
Dov Guttman
Danny Aviram
Vered Israelovitch
Adi Yarimi
Ravit Shtrozer

About Chaikin Cohen Rubin & Co. – CPA
Chaikin Cohen Rubin & Co. is a leading Israeli accounting firm consisting of 7 partners and a professional staff of about 60 accountants, which holds a reputation for professional excellence and expertise.
The Firm, which was established in 1982, provides its clients with a comprehensive range of professional services, including financial report audits, tax planning, services to the high-tech sector, business risks management including internal audit, support in applying and implementing internal enforcement programs, information systems audits, SOX and I-SOX consultancy and implementation services, utilization of government incentives, economic consulting, valuations, raising capital, trusteeships and assistance to governmental bodies.
The Firm is PCAOB-registered and consequently is allowed to serve as the external auditor of public companies listed on US stock exchanges. The firm also acts as an internal auditor for many public companies traded in Israel and abroad.
Professional Services
Financial Report Audits: The Firm provides accounting services to a wide range of clients, from start-ups to large international and domestic corporations, government entities, cooperative associations, kibbutzim and private and public companies involved in such fields as high-tech and communications, commerce, pharmaceuticals, biotech, industry, construction, tourism, and financial services.
Tax Management: The Firm provides tax consultancy in areas such as international tax planning, corporate taxation, utilizing benefits according to the Investment Encouragement Laws, tax planning for mergers and acquisitions, obtaining pre-rulings from the various tax authorities, consultancy and opinions on transfer pricing, real estate taxation, and personal tax planning.
Services to the High-Tech Sector: These services include financial report audit, consulting and guidance on complex transactions, obtaining government incentives and R&D grants, employee equity award plans, valuations, and business plans.
Internal Audits: internal audit services are provided as part of the Internal Audit Law and the Companies Law, assisting the organization's management to achieve its goals and targets, improve operational efficiency, reduce exposure to fraud and embezzlements and assess the level of supervision and compliance to relevant laws and regulations in the business environment which the company operates. Internal audit services cover a wide range of topics, ranging from operational areas to IT or compliance, by utilizing the variety of expertise held by the firm's experienced staff in the various areas of activity.
Chaikin Cohen Rubin & Co. serves as the internal auditor of many publicly traded companies in Israel, NASDAQ, and private companies, in the fields of high-tech, industrial, commercial and real estate, tourism and finance, as well as government entities and large public organizations that engage in education, healthcare and culture. The firm also provides outsourced internal audit services to large audit units enriching and increasing the range of professional topics of these units. The internal audits are performed by the Firm's accountants, skilled in extensive and varied professional knowledge and internal auditors, who are authorized by the international US Institute of Internal Auditors' CIA (Certified Internal Auditors).
Risk Management: Implementation of general risk assessment surveys in public and global companies by a team including accountants, industrial engineers, and IT managers and experts.
SOX and I-SOX Implementation Support: As part of implementation of statutory requirements for companies listed on the US stock exchange (SOX) and the Tel Aviv Stock Exchange (I-SOX), the processes that affect company's financial reporting are mapped and documented, and the degree of internal control effectiveness against exposures is evaluated for each sub-procedure. In addition, assistance is provided in conducting internal tests in the companies.
Consultancy and Internal Audit Services for Compliance with Data Privacy Protection Regulations:
For internal audit clients, evaluation of design and effective implementation of processes to comply with the regulatory requirements of the Data privacy protection regulations in Israel and Europe. For non-internal audit clients, consultancy and full process implementation.
Information Systems Audits: Audits of the organization's information systems operations and its reliability. Examination of information security, systems maintenance, and development processes. The audits are performed by accountants, engineers, and holders of the Certified Information Systems Auditor (CISA) certification, and other experts in the field of cyber and BMS (Building Management Systems).
Preventing Fraud and Forensic Audits: Surveys aimed at exposing fraud and embezzlement risks, providing recommendations of procedures and means for the prevention of fraud and embezzlement, conducting fraud investigations and quantifying damage incurred.
Business Consulting
Government Incentives: Provision of assistance to companies in the utilization of investment benefits awarded under the "Approved Enterprise" status, and in obtaining R&D grants from the Office of the Chief Scientist and bi-national funds and European Union programs.
Economic Consulting: Consulting on economic matters, such as pricing, financing, business plans, and valuations, including purchase price allocation (PPA) to assets in mergers and acquisitions.
Pre-acquisition Due Diligence: The Firm undertakes due diligence and analyzes the financial stability of companies targeted for acquisition, both for its clients and for investment houses and underwriters.
Assistance to Governmental Entities in Audits and Other Services: The Firm assists government ministries (the Ministries of Defense, Economy, and Immigrant Absorption) in auditing the financial reports on companies applying for grants and financing; assists in price audits of companies that supply security equipment to the security forces; and provides professional consultancy in legislation procedures.
Trusteeships: The Firm provides consulting and trustee services including employees equity awards plans, bond issues, and trusteeships for mergers & acquisitions. The firm has experience as a trustee in employee option plans according to income tax ordinance clause 102 for multinational companies in cooperation with financial organizations overseas.

Company Rankings