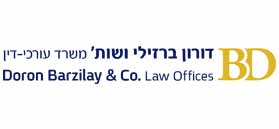 Doron Barzilay & Co.
Civil Taxation, Criminal Taxation, White-Collar offences, Commercial Law, International law, and Class Actions

Company's Profile
| | |
| --- | --- |
| Established: | 2007 |
| Line of Business: | Civil Taxation, Criminal Taxation, White-Collar offences, Commercial Law, International law, and Class Actions |
| Address: | 3 HaYetsira St., S.A.P House, Ramat Gan |
| Phone: | 972-3-6086880 |
| Fax: | 972-3-6086881 |

Company Executives
Doron Barzilay

Owner and Founder

Doron Barzilay & Co.

View Profile

Doron Barzilay

Nomi Einy Feldman

Partner

Doron Barzilay & Co.

View Profile

Nomi Einy Feldman

About Doron Barzilay & Co.
Doron Barzilay & Co. Law Offices is a leading boutique firm that specializes in civil and criminal taxation, white-collar offences, commercial law, entrepreneurial support for projects and civil litigation.
Adv. Doron Barzilay is one of Israel's most senior legal practitioners and is ranked at the top of the tax and white-collar offences rankings.
For more than two decades, Adv. Barzilay has been leading a successful legal practice for numerous clients, and his achievements are renowned and proven time and time again, in all of Israel's judicial and administrative tribunals. Adv. Barzilay, who served as the President of the Israeli Bar Association between 2011-2015, is highly esteemed by Israel's legal community, and is renowned as an authority in his field, owing both to his private practice and to his public activities.
Excellence, Innovation and Personal Service
The firm provides its clients with far-seeing and inspired legal services, which provide a solution for the complexity of tax laws in Israel and abroad, alongside professional, responsible and active management of the clients' cases, two aspects that serve as pillars in the firm's work.
The firm adheres to the values of up-to-date knowledge and in-depth familiarity, which enable optimal planning with consideration to the Israel tax policy with its frequent reforms and changes. The firm professional and interdisciplinary knowledge enjoins its diverse experience and its familiarity with the tax authority's working procedures and thus maximizes the value for the clients.
These values of the firm, in combination with Adv. Barzilay's public activities, lead to the extensive reputation from which the firm benefits. Adv. Barzilay serves in a long list of public offices, including the aforementioned term as President of the Israeli Bar Association.
Commercial, International and Litigation Departments
Adv. Nomi Einy Feldman, Partner, CEO and head of its commercial, international and litigation departments, serves in several public offices including as a member of the Central Council of the Israeli Bar Association and as the Chairman of Israel Bar Association's International Foreign Affairs Relations and more.
The commercial and International departments, under the leadership of Adv. Einy Feldman, handles a broad spectrum of both private and public international law, and commercial law topics, including representation in complex transactions and international commercial contracts and disputes, as well as specialized in administrative law, planning and zoning and NPOs, etc. The department is especially proficient in internet and e-commerce law. The firm's clientele includes leading businesspersons, public officials, professionals such as physicians' accountants and attorneys, leading music and arts figures, NGOs, Rabbinical courts sportsmen and leading public companies.
Civil Taxation, Tax Planning and Advisory Department
The department specializes in a wide variety of tax issues, and provides its clients with creative and professional solutions, while maximizing the financial performance of businesses, companies, institutes and individuals.
The firm's civil department has extensive experience and significant achievements in pre-rulings concerning various topics and the formulation of professional opinions, which were fully accepted by the tax authorities and assisted the firm's clients in their correspondence with them.
The department specializes, inter alia, in income tax, encouragement of capital investments laws, voluntary disclosures, international taxation, real-estate tax and indirect tax. The civil taxation department is very knowledgeable and proficient in the reforms-intensive Israeli tax environment, and this enables the department to provide comprehensive planning and optimized tax policies. The combination between legal expertise, economic and accounting understanding enables the provision of tax solutions that are tailored for each client's specific profile and unique business operations. A great emphasis is placed on the creation of fast solutions through agreements with the tax authorities, including voluntary disclosure proceedings, that would guarantee continuity, certainty and stability for the clients.
The department's clientele includes holding companies, voluntary associations, construction companies, insurance companies, food companies and caterers, high-tech and bio-tech companies, industrial companies and private clients, etc.
Criminal Taxation and White-Collar Offences Department
The department serves as the cutting edge in the representation of all types of tax cases and is considered to be one of the leading in its field in Israel.
The department's attorneys have extensive experience in the representation of clients in a wide variety of offences, including all aspects of criminal tax, including income tax and VAT matters, breaches of the Anti-Money-Laundering Law, and seizures and forfeitures under them. The department represents in Israel's largest and most fundamental and publicized cases.
In addition, the department is an expert in the representation of suspects and defendants in fraud, breach of trust, theft, bribery, negligence, securities, money laundering, tax, antitrust, and defense-related offences, and in extradition proceedings, environmental offences, parole committees, monetary sanctions committees and more.
The firm's attorneys are very experienced in the representation of public officials and publicized topics as well as in legal handling of complex issues. In addition, the department specializes in all types of administrative enforcement and law.
Adv. Doron Barzilay, Owner and Founder
Adv. Barzilay benefits from an extensive personal and professional reputation. He interned in the Legal Department of the Ministry of Finance's Income Tax Department and later served as assistant to the General Counsel of Tax Authority's Legal Department, and was a referent of the authority in Israel's most publicized tax cases. In 2007 he started an independent journey and founded the firm.
Between 2005-2011 he was chairman of the National Young Lawyers Committee of the Israeli Bar Association and chairman of the union of the Ministry of Finance's Legal Function, Income Tax Department. During this period, he also served as chairman of The Tel Aviv District of the Israeli Bar Association and a member of its National and Central Council. Additionally, Adv. Barzilay serves as a director in several boards. Adv. Barzilay regularly lectures before the Tax Authority's staff, judges, accountants, lawyers, and represents the underprivileged in special pro-bono cases.