Dr. Levitas Aviva
Pediatric cardiology, fetal heart echo, and pediatric MRI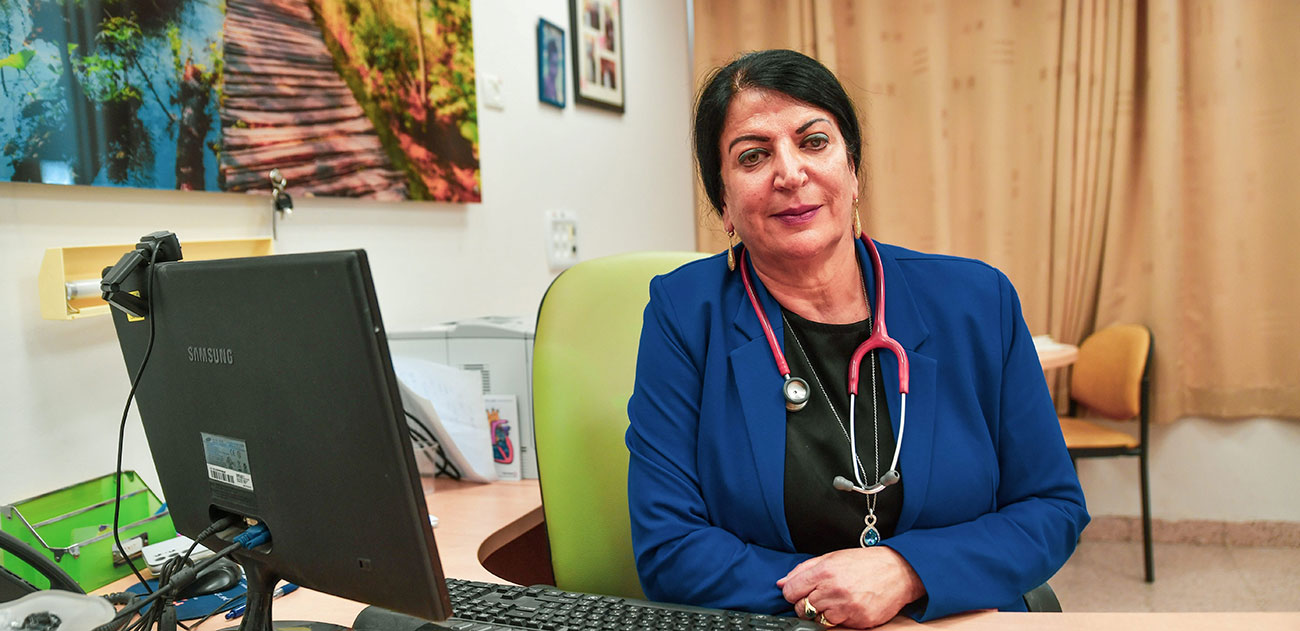 Company's Profile
| | |
| --- | --- |
| Line of Business: | Pediatric cardiology, fetal heart echo, and pediatric MRI |
| Address: | Soroka Hospital, Beer Sheva |
| Phone: | 972-54-2365205 |

Company Executives
Dr. Aviva Levitas

Dr. Levitas Aviva

About Dr. Levitas Aviva
Dr. Levitas Aviva lives in Omer, married to Prof. Eliyahu Levitas, director of Soroka's IVF unit, and they share three children.
Dr. Levitas Aviva is the director of the Pediatric Cardiology Institute at Soroka Medical Center.
She has been practicing medicine for over 35 years and has spent her entire professional career at Soroka Hospital, starting from her pediatric residency. Her residency included studying pediatric cardiology in Baltimore, USA. After completing her studies, she returned to Israel, passed the certification exams, and started working at the Pediatric Heart Institute in Soroka. In 2010, she received training in cardiac MRI and fetal heart echo and in children in Stanford, California, and in 2015, she received further training in cardiac MRI in Toronto. Dr. Levitas has climbed the professional ladder at Soroka Hospital over the years and is now a senior physician at the clinic and runs the Institute of Pediatric Cardiology.
Making the Highest Quality Medicine Accessible to the Residents of the Southern Periphery
At the age of two, Dr. Levitas and her parents immigrated to Israel from Morocco. She and her brother have always been encouraged by their parents to learn and excel but also to be human and compassionate. In her view, this combination defines the field of medicine in which she is engaged: diagnosing any baby, sometimes even before he is born, and treating children with difficult cardiac conditions, who may recover after being diagnosed and treated. Because of her desire to provide the best medical care to all residents of the southern periphery, she has worked exclusively at Soroka Hospital all her life. Under her leadership, the institute has managed to treat a variety of congenital and acquired diseases of all types and species over the years.
Academic and Research Activities
Dr. Levitas also serves as a senior lecturer at Ben-Gurion University's Faculty of Medicine, where she teaches students pediatric cardiology and pediatrics. Her involvement with the medical school at the university extends to helping teenagers with their final projects. The university awarded Dr. Levitas a special certificate of appreciation for her dedication to the faculty and for being a respected and beloved lecturer. Additionally, Dr. Levitas publishes studies and articles from her areas of expertise in international medical journals. She has also published an article about the characterization of diseases and cardiac genetic mutations. A study like this helps physicians worldwide with prenatal counseling and prevents childbirth with malformations and heart disease. During the past year, she has also participated in the "Doctor's Word" program on Channel 11 in an episode that highlighted the negative impact of energy drinks on the heart, particularly among teens.
Learning and Constantly Evolving
Dr. Levitas places great importance on professional advancement and continuing education. She is open to original ideas and innovative technologies and passes on the broad knowledge she has acquired. Couples and families from all over the nation come to her for consultations, and she also provides expert opinions for the Ministry of Health in her areas of expertise.

Company Rankings