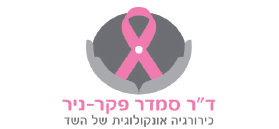 Dr. Peker Nir Smadar
Manager of the Oncologic Breast Surgery Clinic in the Assuta Ramat HaHayal Medical Center, Tel Aviv


Company's Profile
Line of Business:
Manager of the Oncologic Breast Surgery Clinic in the Assuta Ramat HaHayal Medical Center, Tel Aviv
Address:
Assuta Ramat HaHayal
12 HaBarzel St., 1st floor inside the Breast Institute
Borochov Friendly Center
54 Borochov, 2nd floor, Givatayim
Phone:
972-52-2254041
Fax:
972-73-2641514

Company Executives
Dr. Smadar Peker Nir

Oncologic Breast Surgery

Dr. Peker Nir Smadar

About Dr. Peker Nir Smadar
Dr. Smadar Peker-Nir is a leading breast surgeon, manager of the Oncological Breast Surgery Clinic in the medical center Assuta Ramat HaHayal, Tel Aviv. Dr. Peker-Nir specializes in general surgery and she diagnoses and assesses malignant and benign breast tumors, operates and conducts follow-ups.
Dr. Peker-Nir did her residency in the General Surgery Department of the Ichilov Hospital and afterwards she served as a senior physician in the breast unit of the hospital's surgery department and as a surgeon in Assuta Ramat HaHayal. Nowadays she treats benign and malignant breast pathologies and conducts the full range of the latest breast surgeries including combined reconstructive surgeries and intraoperative radiation therapy.
From General Surgery to Breast Surgery
Dr. Peker-Nir started her medicine career as a paramedic and a medical organization officer. She managed a clinic in a base near Ramallah and afterwards served as an instructor for medical teams in the field units training base. After she completed her MD studies, she interned for one year in the Tel Aviv Medical Center (Ichilov) and afterwards did a residency in general surgery in the Ichilov Hospital, a department where she discovered the breast surgery world. During these years, she accumulated vast and deep knowledge on all aspects of breast surgeries: lumpectomies, mastectomies, and lymph node surgery, and combined surgeries that include mastectomy and restorative surgery and oncoplastic surgeries for conserving the most possible aesthetical and natural look.
In her work, Dr. Peker-Nir integrates several different medical disciplines – surgery, oncology, imaging and plastic surgery, and the integrated treatment that she provides, together with the special personal relationship with her patients, leads to optimal and beneficial results.
Early Detection Saves Lives
Dr. Peker-Nir believes that "Early Detection Saves Lives" and champions several care principles that she applies to all of her patients: personal attention to each and every patient while creating a personal trust relationship, protecting the health and safety of the patient as an absolute value, surgical aesthetics, an attentive ear and a supportive shoulder for the patients and their families, and high availability in urgent cases.
Membership in Breast Surgery Associations and Organizations
Beyond her ongoing work, Dr. Peker-Nir is a member of various professional unions and societies, including the Medical Union's Breast Surgery Unit Committee, the Israeli Breast Diseases Association, the Israeli Oncologic Surgery Association, the Breast Surgery Society and the European Society of Breast Cancer Specialists.
In Memory of Her Beloved Grandmother
One of Dr. Peker-Nir major life milestones was the untimely death of her beloved and admired grandmother Stella Bida (née Lehana) of blessed memory, who lost all of her family in the holocaust, immigrated to Israel in the Aliyat Ha'Noar in 1942, married in Israel and founded a family. At the age of 45, Stella was informed that she has breast cancer and underwent a mastectomy followed by a second mastectomy. She managed to hide her illness from the people around her for many years, during which she volunteered and helped women who developed breast cancer after her, and passed away when she was just 64. Dr. Peker-Nir believes that early detection might have prolonged her grandmother's life, and her choice of breast surgery is therefore a touching act of closure.

Company Rankings