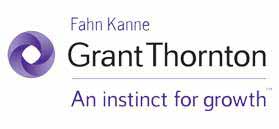 Fahn Kanne & Co. Grant Thornton Israel
Accounting, Taxation, Internal & Investigative Auditing, Advisory Services

Company's Profile
Established:
1955
Line of Business:
Accounting, Taxation, Internal & Investigative Auditing, Advisory Services
Address:
Head Office
Fahn Kanne House
32 Hamasger St., Tel Aviv 6721118
P.O.B. 36172 Tel Aviv 6136101
Phone:
972-3-7106666
Fax:
972-3-7106660

Company Executives
Mickey Blumenthal

Co-Managing Partner

Fahn Kanne & Co. Grant Thornton Israel

View Profile

Mickey Blumenthal

Izhar Kanne

Co-Managing Partner

Fahn Kanne & Co. Grant Thornton Israel

Joseph Ginossar

CEO Fahn Kanne Control Management Ltd.

Fahn Kanne & Co. Grant Thornton Israel

View Profile

Joseph Ginossar

Shlomi Bartov

CEO Fahn Kanne Consulting Ltd.

Fahn Kanne & Co. Grant Thornton Israel

Yigal Rofhe

Partner, Taxation Department Manager

Fahn Kanne & Co. Grant Thornton Israel

View Profile

Yigal Rofhe

About Fahn Kanne & Co. Grant Thornton Israel
Fahn Kanne & Co. is one of Israel's leading CPA firms, ranked among the sixth largest firms in the country. The firm is large from the standpoint of its ability to provide high quality professional services in a wide variety of disciplines, but it is not so large as to prevent it from providing those services with a personal touch. The firm consists of partners and managers with rich experience in both the practical aspects of the profession and in the academic world, and it has a staff of over 300 employees. The firm accompanies publicly traded companies on the Tel Aviv Stock Exchange and foreign exchanges, as well as multinationals, private companies, local authorities, government ministries and not-for-profit organizations. The head office is located in Tel Aviv, with branches in Haifa and Jerusalem which handle accounting services rendered to a broad variety of companies and organizations operating in those areas.
International Presence
Fahn Kanne & Co. Grant Thornton Israel is the Israeli member firm of Grant Thornton, an international organization that consolidates accounting firms around the globe which render independent auditing services and consulting services in the fields of control and economics.
Grant Thornton is one of the world's leading organizations of independent assurance, tax and advisory firms. These firms help dynamic organizations unlock their potential for growth by providing meaningful, forward looking advice. More than 56,000 Grant Thornton people, across over 140 countries, are focused on making a difference to clients, colleagues and the communities in which we live and work.
Professional Services
Auditing and Accounting – Financial statements are an important management tool that contributes to the analytical capabilities of a company and its ability to properly evaluate the performance of the organization. The firm operates under this approach and incorporates international capabilities, a broad business vision and high partner involvement in handling the audit of its clients. The department renders services in accordance with Israeli accounting standards, International Financial Reporting Standards (IFRS) and US GAAP.
The firm accompanies the fundraising process for companies traded on Israeli and foreign stock exchanges and has a good reputation among underwriters, authorities and institutional entities.
Business Risk, Forensic and Investigation Services – Fahn Kanne Control Management Ltd. specializes in control and risk management services. The firm has a staff of about 80 professionals, and has developed a variety of services, as follows: Internal auditing that incorporates expertise in hi-tech companies, real estate and companies operating abroad; control services including SOX; risk assessments; computerized payroll control; occupational safety and health; services in the field of information systems, including information security, Data leakage prevention, DRP, project management, system development, etc.; investigative forensic auditing which includes investigative accounting and preventative investigative accounting.
Economic and Business Consulting Services – Fahn Kanne Consulting Ltd. deals with business and economic consulting services, including valuations, fair value estimations for financial reporting purposes, transaction advisory services, mergers & acquisitions, legal opinions for use in litigation, business risk management, the government sector, infrastructures, project financing, and recovery and rehabilitation of companies. The firm also specializes in finance, banking and insurance and has special expertise in the debt market and in compiling and operating models for use in valuations of financial instruments.
Tax and International Taxation Department – Provides comprehensive tax consulting services in all areas of taxation and it has vast experience in handling complex tax issues and in accompanying transactions and investment activity in Israel and abroad.
Technology and Life Sciences Department – Specializes in supporting companies (including startups) in technology, biotechnology, biomedicine, cleantech, Internet, information systems, etc.
Incentives Department – Specializing in financing of companies from state funds designated for incentives such as: the News Authority, the European Union, bi-national funds and more. The department's services include, inter alia, building an optimal financing strategy, and writing and reviewing requests.
We have experience with companies in various stages of development and in many fields such as software, medical equipment, printing, energy, water, command and control systems and more.
Not for Profit Department – Provides professional support tailored to the complex challenges facing nonprofit organizations.
Trust, Management and Supervision Department – Services include support and supervision of monetary transfers and allocations, trustee and supervision services and management of employee stock option plans.
Accompaniment of tenders – Halevi Duek of the Fahn Kanne & Co. - Grant Thornton Israel group is a veteran Jerusalem-based consulting firm with experience in the area of tenders and with know-how regarding accompaniment of projects dealing with conversion to natural gas.
Diamond Department – Reshef Bezalel, Amir & Co. (Reshef), has merged with Fahn Kanne & Co. Grant Thornton Israel. Reshef is an accounting firm, specializing in the diamond industry and handling a significant part of that industry.
Corporate debt financing department – The department provides accompaniment in connection with recruitment of credit from banks or financial institutions for companies, entrepreneurs, business organizations and public sector entities.
Goodvision – Corporate Responsibility Consultants of the Fahn Kanne Group renders the full scale of corporate responsibility accompaniment services, corporate governance, assurance and it has extensive experience in preparing ethical codes and plans.
Some of our clients include: Mayer's Car and Trucks Ltd., Leader Capital Markets & Finance Ltd., Ituran Location and Control Ltd., Meshulam Levinstein Contracting and Engineering Ltd, ORT Israel, Eternity, Israel Ministry of Environmental Protection, The Coca Cola company, Gazit Globe, The Government Companies Authority, Israel Airports Authority, Bank Hapoalim, Avis-UMI Team, Ironsource, DBSI Team, and others.

Company Rankings