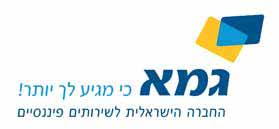 Gama Management & Clearing Ltd.
Credit Card Voucher Financing, Management and Clearance, Factoring Services, Receivables, Notes Management and Discounting, Insurance Services, Import Financing

Company's Profile
| | |
| --- | --- |
| Established: | 1998 |
| Line of Business: | Credit Card Voucher Financing, Management and Clearance, Factoring Services, Receivables, Notes Management and Discounting, Insurance Services, Import Financing |
| Address: | Vita Towers, 11 Ben Gurion St., Bnei Braq 5126015 |
| Phone: | 972-3-6162939 |
| Fax: | 972-3-6162941 |

Company Executives
Eli Unger

Chairman

Gama Management & Clearing Ltd.
Leading Executives
Ariel Genut, CEO
Yaron Soifer V.P. Marketing and Sales

About Gama Management & Clearing Ltd.
Gama is Israel's largest and leading financial services for credit cards company, and it offers credit card voucher clearing services, as well as acquiring services (Payment Facilitator) and credit card reconciliations. In addition, Gama offers management and financing services for receivables, invoices and notes – import financing, cheque clearing, equipment financing, factoring, and real-estate-backed financing. Gama, part of the Phoenix Group (49% held), was founded in 1998 and its rank as Aa3 Stable by Moody's indicates its resilience and stability. Gama also complies with PCI strict security standard. Gama specializes in providing financial services to about 9,000 businesses, large companies, leading retail chains and SMBs from all sectors of the Israeli economy. Its annual turnover is around NIS 29B.
Gama's financial strength enables its customers to benefit from excellent terms, with a professional, personal and fast service. Gama became Israel's leading and largest company in this field, due to the variety of its products, its adherence to advanced technologies, its high service orientation and its high-quality human capital. Gama attributes its success to its ability to customize an efficient and convenient tailored credit structure for each customer, with the best terms, quickly, as a one-stop-shop, for a variety of services, which provides it with a sound-base from which it can succeed and evolve. Gama's services enable businesses to improve their capital structure – by writing off various receivables from the financial statements, increasing and diversifying their finance sources, all – with complete control over their credit charges and costs.
Areas of Operation
• Acquiring (payment facilitator), managing, financing and clearing credit card vouchers of all Israeli credit card companies, up to 36 installments • Financing working capital and business expansion • Managing, financing and clearing receivables, cheques and bills • Direct and automatic reconciliations to the business accounting software, including registry of journal ledgers • Factoring services for prepayment of invoices from companies and businesses • Import financing • Real-estate-backed financing.
Credit Card Vouchers Management, Financing and Clearing Services
Gama provides credit card vouchers management, acquiring (payment facilitator), financing and clearance services, and offers immediate payment of credit card deferred payment transactions of up to 36 installments of all credit card brands. The clearance service enables businesses to improve their cashflows, with complete control and supervision over credit card transactions charges and credits. The company provides innovative credit vouchers financing systems, which enable its customers both to set the parameters of the financing service, according to their specific needs, to get detailed reports and to receive ledger entries directly into the business' accounting software. The vouchers clearance service enables businesses and public companies to write-off receivables from their financial statements, by IFRS.
Credit Card Reconciliations
Gama's unique systems provide its customers with a great advantage, by making complete control and tracking of all aspects of credit cards in the business simple and convenient. When a company receives financial services from Gama, it can receive complete credit card transaction reconciliations directly into its bookkeeping systems daily, thus completely solving the issue of making reconciliations vis-à-vis the credit card companies.
Factoring and Invoice Financing Services
• Purchasing commercial receivables and converting them to immediate cash • Non-recourse financing advances of 85%, except for cases of commercial default.
The types of factoring offered: • Local factoring – advancements of receipt payout • Reverse Factoring (supplier financing) – advancement of receipts for suppliers • Imports/exports factoring – financing import and export transactions.
Cheque Clearance
Enables businesses to receive immediate payment against a post-dated cheque. Cheque clearance generates an additional source for improving cashflows.
Advantages: Cashflow improvement • Control and warnings concerning the cheque providers: immediate alerts in case of a warning concerning a client • Management of all future cheque deposits.
Imports Financing
Many businesses import merchandise and face difficulties in meeting the payment terms of foreign suppliers since usually the importer is required to pay immediately upon purchasing the goods. This can often create a substantial gap to be financed. Gama offers up to 150 days of credit for this purpose.
Equipment Financing
Gama enables its customers to purchase supplies with up to 100% financing, over an installment period of up to 5 years. The service is offered both to importers of equipment that wish to spread their customers' payments over several years, and to companies that purchase equipment for their use. Spreading the equipment purchase payments enables the business to match its equipment costs and the revenues that it will generate. Gama offers attractive financing terms, outside of the business bank credit lines, and enables maximizing equipment's utility and profitability.
Real Estate Backed Financing
Gama provides tailor-made, quick and attractive terms credit for any purpose against real-estate collaterals. Gama's fast responses, lack of bureaucratic hurdles, high level of customization and strong financial back enables its customers to respond to business opportunities and turn them quickly into excellent transactions.
Commitment to Excellence
Gama, with its executives and employees, sees the customer as the key factor in its operations and is committed to providing the best service possible while capitalizing on its economies of scale, its strong equity base and the high volume of its financial activities.
Technological Innovation
Gama draws on its exclusive and innovative IT, software and control systems. The company provides businesses with online information vis-à-vis transactions, transmission dates, payment dates, and bank account deposits. Gama's website is updated online, immediately displaying information on the client's position around the clock, allowing for control, management, and follow-up on all transactions executed. Through Gama's website, the client can analyze costs and transaction volumes by payment spread and date of bank deposits.
Managerial Reliability
The expertise, professionalism, and experience of Gama's managers, who have served in senior positions in banks, financial and capital markets, have combined to make Gama into Israel's largest and leading company in its field. Today, the company employs around 120 managers and employees, with representatives located nationwide, to recruit clients and provide service.