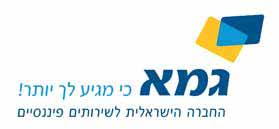 Gama Management & Clearing Ltd.
Credit Card Voucher Financing, Management and Clearance, Factoring Services, Receivables, Notes Management and Discounting, Insurance Services, Import Financing

Company's Profile
| | |
| --- | --- |
| Established: | 1998 |
| Line of Business: | Credit Card Voucher Financing, Management and Clearance, Factoring Services, Receivables, Notes Management and Discounting, Insurance Services, Import Financing |
| Address: | Vita Towers, 11 Ben Gurion St., Bnei Braq 5126015 |
| Phone: | 972-3-6162939 |
| Fax: | 972-3-6162940 |

Company Executives
Eli Unger

Chairman

Gama Management & Clearing Ltd.
Leading Executives
Ariel Genut, CEO
Yaron Soifer V.P. Marketing and Sales

About Gama Management & Clearing Ltd.
Gama is Israel's largest company for credit card clearance, financial and factoring services, as well as management and financing of receivables, invoices, and notes (49% of the company's shares are held by the Phoenix Group). Gama serves thousands of businesses, leading companies, and marketing chains, in all sectors of the Israeli economy. The volume of credit services that it provides exceeds NIS 20 billion per annum. The company specializes in the optimization and processing of various credit products, and their tailoring to the unique businesses financial needs. By using Gama's services and credit, a company may improve its capital structure or write-off its uncollectible receivables from the balance sheet, thus increasing its financing sources. This is matched by full control over credit charges and costs. Gama, which started operations in 1998, benefits from a strong equity base and the best professionals in the field, allowing it to offer its top level financial services and for the most attractive financing costs in the long term. All these factors have contributed to making Gama the largest and leading Israeli company in its field.
Services Available
Managing, financing and clearing credit vouchers for all credit companies in Israel, up to 36 payments
Factoring services to early-collect on businesses' invoices
Loans for working capital improvement and for businesses' expansion
Managing, financing and clearance of cheques, receivables, and notes
Direct and automatic processing to bookkeeping software programs, including accounting entries
Import Financing
Equipment Financing
Loans underwritten by realty and securities
Card Voucher Management, Funding, and Clearance Services
Gama provides credit voucher management, financing and clearance services, and offers immediate payment for credit card deferred payment transactions, up to 36 payments. Businesses can therefore reap the benefits of significant improvements in their cash flows, with full control and supervision over credit card charges and credits. The company offers its clients innovative systems in the field of credit card financing, including automated accounting entries directly to the business's bookkeeping software.
Credit Card Reconciliations
Gama's unique systems empower its customer base with great advantages in the marketplace, and makes credit card control and supervision simpler and more convenient. When a company uses Gama for its credit card financial services, it receives daily credit card transaction reconciliations directly into its bookkeeping and operations systems, thereby avoiding any reconciliation problems. In addition, Gama enables businesses and public companies to write-off various receivables/customer balances from their balance sheets, including according to International Financial Reporting Standards.
Factoring Services and Invoice Financing
Purchasing commercial receivables and converting them from future receivables to immediate cash
Non-recourse financing advances of 70% to 80%, except for commercial defaults
Type of Factoring Services offered by Gama
Local factoring – advancement of receipt payout
Reverse factoring (suppliers' financing) – advancement of receipts for suppliers
Import-Export factoring – financing of import-export deals.

Cheque Clearance
A financial service that allows the business to receive cash for a check. Discounting the check comes with the right to return to the supplier and generates another source of funding, to improve cash flow.
Advantages of this service:
Cash flow improvement
An alert and control system on cheque signatories – should there be a warning attached to a client, the business is notified immediately
Management of all future deposits of cheques for the business
All under the same roof: credit card clearance, factoring, and cheque clearance.
Import Financing
Many businesses are engaged in the goods importing. Importers are often required to pay suppliers in cash or by wire transfers when purchasing these commodities. Many importers experience difficulties with meeting foreign suppliers' payment terms. Gama can help finance this often heavy financial burden.
Equipment Financing
Gama's equipment funding service allows businesses to acquire the necessary equipment for development and pay for it in installments across up to several years. The ability to pay equipment costs in installments allows the recipient to run them parallel to revenue resulting from the equipment. The course of funding for equipment is through loans on lucrative terms granted to the business in a designated manner. The loan is divided across a period of several years and is external to the business banking obligo, allowing it to maximize the benefits from its equipment/machinery and increase its profitability.
Loans Underwritten by Realty and Securities
If, on the one hand, you have a business opportunity for a great deal, just standing there waiting to be funded, and on the other hand you have a property with zero yield, Gama can offer you a property backed finance . In a competitive and dynamic market factors such as response speed, lack of bureaucratic obstacles, and a strong financial back have a meaning, expressed by savings in time and money. Gama – Israel's leading non-bank finance company, stands by your side and creates the cheap and quick credit for you. Gama will use the property as a security, dividing the loan into up to 60 installments with a lucrative interest rate.
A Commitment to Excellence
Gama, its managers and employees consider their clients to be central to company operations, and are committed to offering the best service possible, while capitalizing on its economies of scale, its strong equity base and the volume of its financial activities.
Technological Innovations
Gama draws on its exclusive and innovative IT, software and control systems. The company provides businesses with online information vis-à-vis transactions, transmission dates, payment dates, and bank account deposits. Gama's website is updated online, immediately displaying information on the client's position around the clock, allowing for control, management, and follow-up on all transactions executed. Through its website, the client can analyze costs and transaction volumes by payment spread and date of bank deposits.
Dependable Management
The expertise, professionalism and experience of Gama's managers, who have served in senior positions in banks, and financial and capital markets, have strived to make Gama into Israel's largest and leading company in its field. Today, the company employs 100 managers and employees, with representatives located nationwide, to recruit clients and provide service.