Company's Profile
Established:
2004
Line of Business:
Civil-Commercial Law
Address:
144 Menachem Begin Rd.,
Midtown Tower, Tel Aviv
Phone:
972-3-6090545
Fax:
972-3-6090546

Company Executives
Adv. Gilad Berman

Founding Partner

Gilad Berman, Law Office

View Profile

Gilad Berman

Adv. Orna Berman

Managing Partner

Gilad Berman, Law Office

Adv. Oshrat Horbet

Associate

Gilad Berman, Law Office

Adv. Ori Blas Shalom

Associate

Gilad Berman, Law Office

Adv. Nava Hershkovitz

Associate

Gilad Berman, Law Office

Adv. Daria Gaon

Associate

Gilad Berman, Law Office

Adv. Daniel Ben Zur Becher

Associate

Gilad Berman, Law Office

About Gilad Berman, Law Office
Gilad Berman, Law Office is one of Israel's leading civil-commercial law firms. The firm was founded in 2004 by Adv. Gilad Berman, after many years of experience in the firm's practice areas. The firm includes four departments: Insurance - torts, commercial, real estate and collection. Its team includes about 7 lawyers and 4 administrators and collectors. The firm is located in the Midtown building near the courts' complex and provides nationwide legal services. The firm represents insurance companies, local authorities, construction companies, public and private corporations, and private and international clients. The firm's employees provide professional service and personal attention for every client, with an emphasis on their legal and commercial needs.
The Firm's Departments
Insurance and Tort: specializes in handling all types of insurance - tort claims: property, fire, flood, car, bodily harm, road accidents, travelers policies, loss of earning capacity, life insurance, product liability, construction defects, maritime and aviation insurance. The firm provides ongoing counsel on insurance matters and risk assessments for companies and also provides consulting in activities of sales and acquisitions of insurance agencies and agent cases. The legal service includes appearances before courts across Israel and in mediation and arbitration proceedings.
Commercial Law: Specializes in preparing commercial agreements, sales and acquisitions of companies and businesses, mergers, international agreements, ongoing commercial support and consulting for boards of directors, corporations and private clients. The department handles legal disputes, including commercial litigation, as well as maritime and cargo claims. The firm has a prominent advantage in light of its international experience and work relationships with foreign law firms and service providers, enabling a comprehensive solution for the clients' needs.
Real Estate: The department specializes in representing developers, constructors, house committees and private clients in land and properties sale/purchase agreements, contracting agreements, apartment, lots and commercial properties sale agreements, and in severance of real estate co-ownership claims.
Debt Collection: The department specializes in representing debtors and creditors, collection through the Execution Chamber and legal representation in insolvency cases of companies and individuals. The firm serves as a reviewer of debt claims on behalf of the Official Receiver of the State of Israel.
The Firm's Executive Team
Adv. Gilad Berman, Founding Partner
Has 22 years of experience in the legal profession, a certified notary, certified to prepare lasting power of attorney and certified mediator. Specializes in civil litigation, insurance law, maritime law, real estate, commercial law and international law. Serves as a civil-law arbitrator and mediator. Lectures in universities, workshops, seminars and academic institutes and active in the National Disciplinary Court of the ILA.
He is a member of the international organizations Eurojuris and IR Global and serves a variety of roles in these organizations. By education he holds an LL.B. from Cardiff University, Wales, an LL.M. from Bar Ilan University, and an E.M.B.A. from the College of Management and NYU.
Adv. Orna Berman, Managing Partner
Has 22 years of experience in the legal profession. Before she joined the firm, she accumulated many years of experience in leading Israeli insurance companies, and also headed the Mandatory Insurance Bodily Harm Department of one of Israel's oldest insurance companies. She specializes in tort, insurance law, all types of bodily harm, life and severe illness insurances, disability and work incapacitation, medical malpractice and National Insurance claims.
She counsels the European Union in her areas of expertise and is a member of international law organizations. By education she holds an LL.B. from Cardiff University, Wales, and an LL.M. from Bar Ilan University.
Complex Cases
The firm's lawyers represent clients in high-value cases, in complex disputes, and appear often before courts of all levels, with careful attention to a professional appearance that optimally represents the clients. The firm has a track record with numerous legal achievements throughout all of its years of operations. The firm cooperates with a broad spectrum of experts from the fields of medicine, appraisal, insurance, engineering, hydrology, fire investigations, actuaries, PIs, accountants and economists, and also leading law firms abroad.
Community Outreach
The firm champions the value of community service and in this framework it represents in pro bono cases and also in legal aid cases of the Ministry of Justice.

Photo Gallery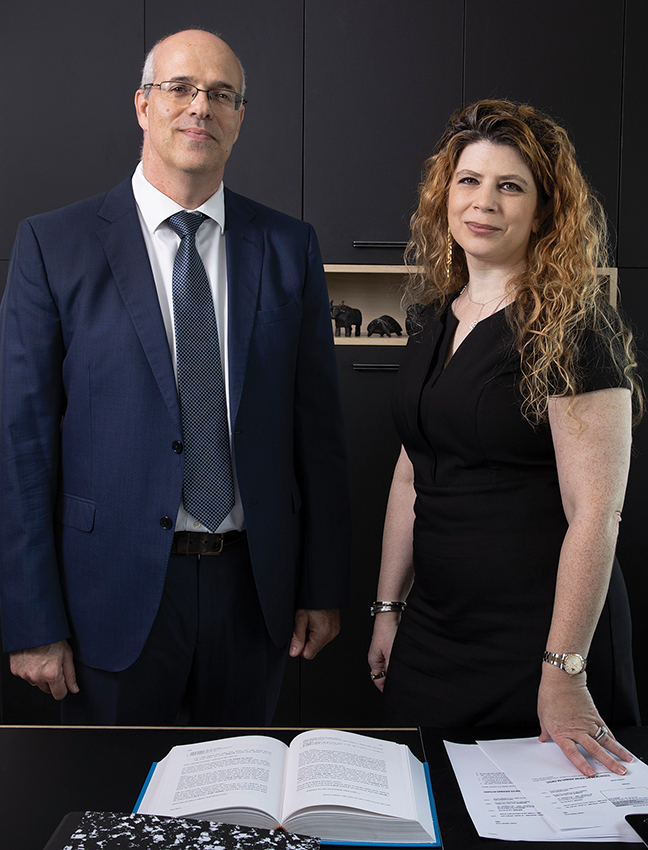 Company Rankings