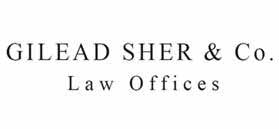 Gilead Sher & Co., Law Offices
Law firm engaged in all aspects of commercial, civil, corporate and administrative law

Company's Profile
Established:
1989
Line of Business:
Law firm engaged in all aspects of commercial, civil, corporate and administrative law
Address:
Tel Aviv Branch (head office):
Azrieli 1, Round Tower, 17th floor, Tel-Aviv 6701101
Nazareth Branch:
1 Hermon St., Nazareth 1750222
Phone:
972-3-6015000
Fax:
972-3-6015001

Company Executives
Gilead Sher

Founder & Head of Offices

Gilead Sher & Co., Law Offices

View Profile

Gilead Sher

Rimon Talhami

Managing Partner

Gilead Sher & Co., Law Offices

View Profile

Rimon Talhami

Noa Klau-Levin

Partner

Gilead Sher & Co., Law Offices

View Profile

Noa Klau-Levin

Rinat Laniado

Partner

Gilead Sher & Co., Law Offices

Georgett Zaher

Partner

Gilead Sher & Co., Law Offices
Additional Partners
Nathan Lerer

ADR
Liora Kahana-Gam

About Gilead Sher & Co., Law Offices
Gilead Sher and Co., Law Offices (est. 1989): Commercial and corporate law firm with extensive experience in complex transactions and negotiation strategies, on behalf of private and public sector clients. The team is available at all times to advise its clients in Israel and abroad in a wide-spectrum of areas. The firm's lawyers provide expertise in the areas of business administration, public policy, media, commercial and corporate law, real estate, international transactions, hi-tech and bio-tech, planning and zoning, capital markets, project financing, labor law, intellectual property and litigation, including arbitration and mediation. The firm employs 16 lawyers, 5 of whom are partners. Its main offices are in Tel Aviv and another branch is in Nazareth. The team offers personal involvement and uncompromising professionalism. Attorney Sher, the head of the firm, specializes in international, business and political negotiations, commercial law, constitutional and administrative law and litigation, and conflict resolution. Attorney Sher was Head of the Prime Minister's Bureau during Ehud Barak's term, led the Israeli negotiating team with the Palestinians in 1999-2001 in the Sharm-El-Sheikh Agreement, the Camp David summit, and the Taba Talks and participated in the delegation to the Interim Agreement negotiations under the Rabin Government. Attorney Sher is active in the political-security field and in regional peace initiatives.
Areas of Expertise
Commercial and Corporate (including international) – The firm provides business advice to corporations, shareholders, and executives in all stages of corporate evolution including diverse forms of investment. It advises in early incorporation stages to more mature and complex transactions. The firm guides clients through the milestones such as IPOs, Mergers and Acquisitions, joint ventures, IP transfers and raising capital.
International Transactions – The firm represents foreign clients doing business in Israel. It offers assistance in negotiations and agreements with international entities, whether as shareholders, partners, suppliers and/or customers.
Real Estate – The firm provides counseling with commercial and residential real estate, representing developers, contractors, construction companies, investors and tenants in many projects. The firm handles issues arising from land use and zoning ordinances, title searches and registrations and foreign investments.
Commercial Litigation – The firm is involved in high profile litigation in Israel, including representing the State in multi-million dollar mutual claims with the concessionaire of the light rail; KKL (Jewish National Fund) in claims of tens of millions of NIS to rehabilitate fire damages caused in violent regional conflicts; construction company in arbitration exceeding NIS 100 million, and governmental entities in class action lawsuits.
Technology and High-Tech – The firm provides legal counseling to technology and start-up companies, investors, entrepreneurs, venture funds and incubators. Corporate clients receive ongoing counseling required for day-to-day management and our involvement in an array of agreements, including Technology Agreements and Investment Agreements.
Arbitration and Mediation – The firm represents its clients in the judicial and administrative forums and alternative dispute resolution processes, such as arbitration and mediation, in local and international frameworks. Adv. Sher was nominated as one of the six leading Israeli practitioners in arbitration in the 2016 edition of the Expert Guides on Commercial Arbitration for a second consecutive year.
Administrative-Constitutional Law – The firm represents individuals, organizations and entities in the High Court of Justice and in administrative petitions, including constitutional, regulatory and standardization procedures.
Media, Foreign Press – The firm specializes in legal work vis à vis journalists and media. It represents the Foreign Press Association in Israel, which represents all the media and journalists operating in Israel and the Middle East.
Among the Firm's Clients
In the past and/or currently, our clients include: •Ministries of the Prime Minister, Finance and Transportation • Municipalities – Jerusalem, Tel Aviv, Beer Sheva, Rishon Lezion, Ashdod, Rahat, Nazareth • G4S Israel • Campenon Bernard SGE • The Foreign Press Association and others • Elezra Group • B.S.T. • Veolia • Netivei Ayalon • Halamish • Israeli Military Industries • KKL-JNF • Hospitals –Kaplan, Meir, Sheba, Hadassah • Israel Nature and Parks Authority • Shenkar Engineering. Design. Art. (PBC) • LAVOIX • Israel Institute for Hygiene and Occupational Safety • INSS • Lehavot Production and Protection • Reut Institute • Milpower Source Inc. and Enercon Ltd. • hi-tech and biotech companies • various authors, poets, and artists • Mayor of Nazareth • Chernobyl Liquidators Association • Palmach Association • Sikkuy • Minister of Finance, Palestinian Authority • Albar car Fleet • Hachshara Insurance Company • Pninat Afridar • Africa Israel Residences • Sonol Israel • Fair Fund • Almog Psagot Enterprise & Investment Ltd. • Tractors & Equipment (I.T.I.) Ltd. • B. H Yaminson Real Estate, Development & Investment • Epstein & Sons.
Community Involvement
The firm was awarded citations of merit for its pro bono and community activity.
Publications
Attorney Sher authored or edited the following: "The Israeli-Palestinian Peace Negotiations, 1999-2001: Within Reach", 2006. Co-edited the book "Negotiating in Times of Conflict" (with Dr. Anat Kurz), 2015. "The Battle for Home", 2016. Co-editor "Spoilers and Coping with Spoilers in the Arab-Israeli Conflict" (with Prof. Galia Golan), to be published in 2017.
Special Activities
During Fall Semester 2016, Attorney Sher served as a lecturer at Harvard Law School. In the past, Attorney Sher was a guest lecturer at the Wharton School (U. Penn) and a visiting professor in public policy and conflict resolution in the MA program at Tel Aviv University. Attorney Sher heads the INSS center for applied negotiations (CAN) and serves as chairman of the executive board and the board of trustees of Sapir Academic College. Attorney Sher serves as a director of Direct Insurance Financial Investments Ltd.

Company Rankings