HIGH GROUP
Initiation, residential, commercial and office real estate

Company's Profile
| | |
| --- | --- |
| Established: | 2010 |
| Line of Business: | Development & construction of residential, commercial and office real estate |
| Address: | 7A HaShalom Road, Tel Aviv |
| Phone: | 972-3-9495967 |
| Fax: | 972-3-9494300 |

Company Executives
Hay Nahmias

CEO

HIGH GROUP

CPA Sapir Avraham

CFO

HIGH GROUP

Adv. Michael Yifrach

Legal Counsel

HIGH GROUP

Oshra Avraham

Director of Planning

HIGH GROUP

View Profile

Oshra Avraham

Assaf Abramovitch

V.P. Marketing

HIGH GROUP

Adi Gill

Purchasing and Logistics Manager

HIGH GROUP

Galit Lugassi

Marketing and Customer Relations Manager

HIGH GROUP

About HIGH GROUP
HIGH-GROUP was founded in 2010, brings together several companies from the construction industry. The Company Specializes in the construc-tion of residential, commercial and office properties throughout Israel. Hay Nahmias Residential and Investments serves as the arm of the real estate department at HIGH-GROUP. HIGH-GROUP. The combination and synergy that forms between the companies within HIGH-GROUP and their expertise at all the construction segments together with complete and comprehensive solution provide its customers an added value in all of its projects.
High Group's construction ranges more than 2,000 apartments, commercial centers and office buildings in verity projects.
All the group's projects are accompanied by the best architects, planners, designers, and by the industry-leading landscapers, safety and traffic advisors.
The group offers its customers a one-stop-shop buying experience which provides all of the construction industry's solutions and services under one roof.
The group's major execution subsidiaries are Yaad Engineering, which has a classification of C5 Un-limited, that provides it with professional execution capabilities, combined with economic strength and stability. In addition, HIGH-GROUP includes other execution companies that spe-cialize in finishing work, as well as real estate complementary services companies, which employs the best engineers in Israel.
One of HIGH-GROUP's prominent subsidiaries is High-Cranes Ltd, which rents advanced cranes to its customers throughout Israel. High-Cranes Ltd provides its cranes for all the projects of the group's subsidiaries.
The group benefits from economic resilience and financial strength and is supported by Israel's leading banks and financiers.
Top Projects
HIGH MUL HAYAM, Eilat
project includes two stylish boutique buildings on Sheshet HaYamim Ave. in Eilat's most in-demand neighborhood, Shahamon. The project offers apartments with 3, 4 and 5 bed-rooms, mini-penthouses and penthouses with private pool, great location, breathtaking panoramic view of Eilat's Bay, brilliant architectural design that is seen throughout the entire apartment.
ALMOGIM ,Eilat
Currently undergoing renewal, Almogim is the neighborhood's main street, planned to be an mix of retail stores, cafes, hotels and residential buildings. The project includes three stylish and spacious buildings with 2 and 3 bedroom apartments, penthouses, and luxurious garden apartments, all planned meticulously.
TURMUS BOUTIQUE, Eilat
Six garden/roof apartments with a pool, overlooking the Red Sea from the cliffside, with a breathtaking construction and design quality that convey an exclusive residential experience.
HIGH AL HAYAM, Eilat
In the desirable Shahamon neighborhood on Derech Hatavlinim Street, overlooking the Red Sea and Eilat's Bay from a nature reserve, a real estate masterpiece with a brilliant archi-tectural design is being planned. The project offers three boutique buildings featuring apartments with 2-5 bedrooms, garden apartments, mini-penthouses, and luxurious penthouses with private pool right by the sea.
HIGH MUL HAYAM, Ashqelon
project includes two stylish high-end and spacious towers on David Ben Gurion Ave. in Ashqelon. The towers include 4 and 5 bedroom apartments, luxurious penthouses and large garden apartments, planned meticulously to the last detail. All of these join a high-end tenant club, external spa and private park for tenants. The project overlooks one of Israel's most beautiful beaches and is located close to educational, health, recreational and cultural centers.
HIGH AL HAYAM - Ir-Yamim, Ashqelon
A luxurious project that is planned for construction in Ashqelon's Ir-Yamin neighborhood, offering 73 apartments in two stylish and advanced buildings, located moments away from the sea and overlooking a breathtaking view.
HIGH at INFILLIM, Ashqelon
An extensive and diverse project that offers 216 apartments in 8 buildings and 49 cottage apartments as part of "Mechir Lamishtaken". It is one of the largest and most prominent projects in the area in light of its scope, features and smart architectural design.
HIGH KOKHAV HATSAFON, Ashqelon
Three boutique buildings in Kohav-Hazafon neighborhood, 2 and 4 bedroom apartments, garden apartments, mini-penthouses and luxurious penthouses built according to an ad-vanced and innovative construction standard as part of "Mechir Lamishtaken".
High at IR HAYAYIN, Ashqelon
As part of the construction trend in Ashqelon, our company is constructing numerous projects in the complex:
In the northern area, a project with 680 apartments will be constructed as part of "Mechir Lamishtak¬en" program, alongside free marketed apartments in 11 stylish buildings built according to a highest standards. In another lot close by, our company currently plans to build 3 residential buildings and an extensive and stylish commercial area. Further¬more, two additional towers, featuring smart archi¬tectural design, are expected to be built.
HIGH - CENTER, Ashqelon
The project offers office space and commercial floor, stretching over 7,000 sqm. in what would become a vibrant commercial and occupational area on David Ben Gurion Ave., facing the sea and the Ashqelon National Park. The commercial project welcomes company owners, entrepreneurs and freelancers to benefit from a renewing working environment located on the main street and with an eternal view, easy access and private parking for office owners. The offices can be partitioned per custom and allow for Open Space design.
HIGH MUL HAMITZPE, Harish
An expansive complex that includes nine buildings and is planned for construction on a mountainside overlooking Mitzpe Ilan. The project draws much attention due to its location and spectacular, green and pastoral view on one side, with access to the city's main street and the developing Main Business Center on the other. These are all joined by industrial construction technology and smart use of topography conditions, allowing for maximum use of the area to benefit the tenants, e.g., all parking is underground and the surface level is reserved for spacious yards and open spaces for tenants. The project plan includes construction of 243 residential units over a total of approx. 45,000 sqm. of constructed area.
Narkissim - Rishon Lezion
The project is a residential building with 16 floors, constructed on top of a commercial area. The project offers 59 apartments with 3, 4, 5, 6 bedrooms and an area of 79-185 sqm apartments. It also offers garden apartments, mini-penthouses and penthouses with a brilliant and meticulous architectural design and maximum use of space. Tenants will also enjoy a tenant club, stroller room, underground parking and a stylish lobby.
HIGH VILLAGE Eilat
The project offers 74 villas in detached structures with a private swimming pool, 6 bedroom, 150 sqm interior + 120 sqm. Garden, 2 parking spaces, 3 bathrooms and 4 toilets for fami-lies who want to experience the summer in the southernmost Shahamon neighborhood, which has an exclusive view of Eilat's mountains and the Red Sea.

Photo Gallery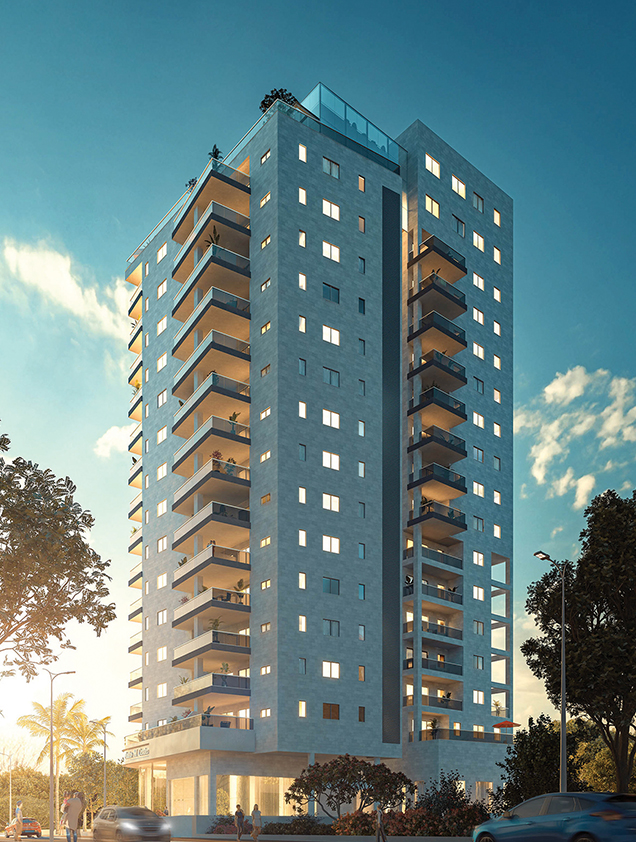 NARKISSIM, Rishon LeZion
PR Photo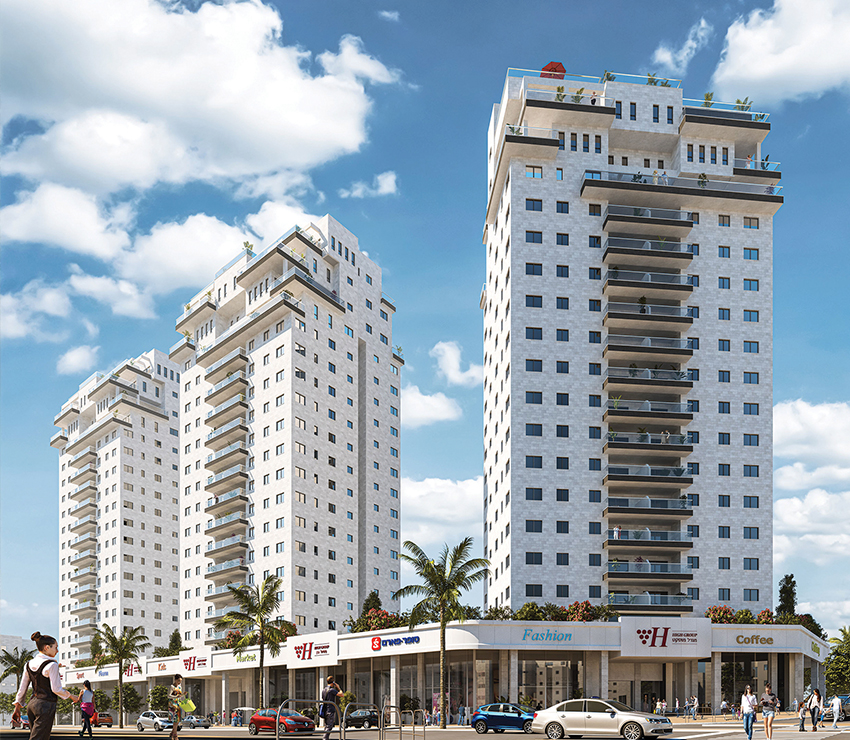 HIGH SEA & WINE, Ashqelon
PR Photo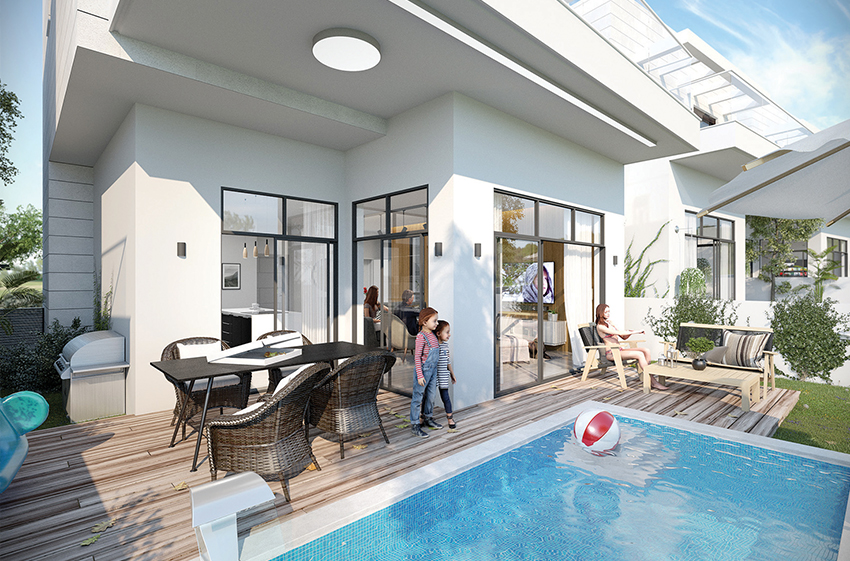 HIGH VILLAGE, Eilat
PR Photo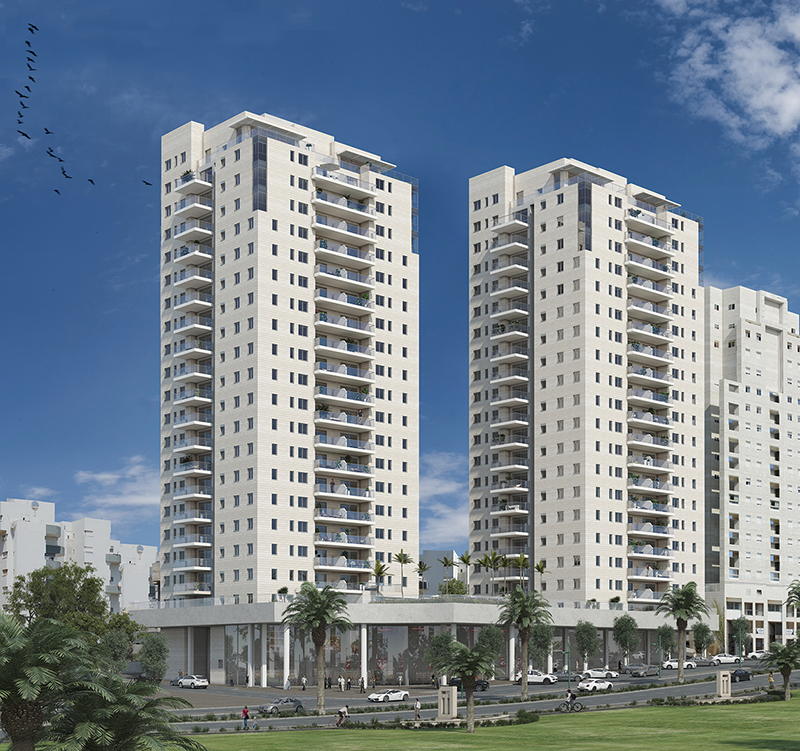 HIGH MUL HAYAM, Ashkelon
pr photo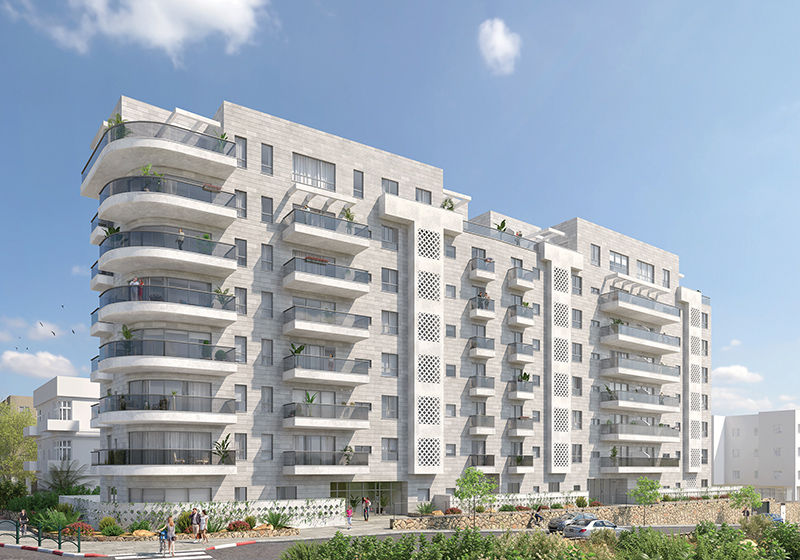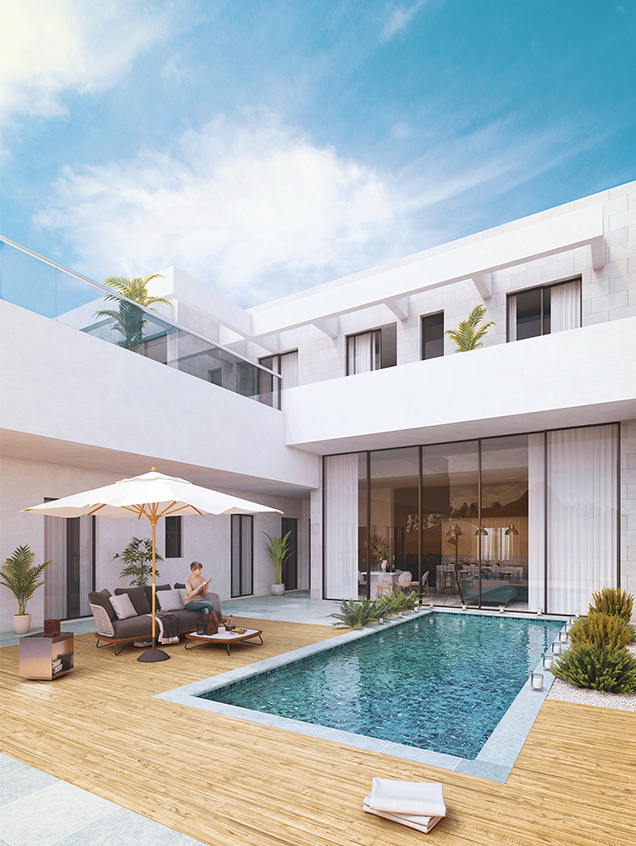 TURMUS BOUTIQUE, Eilat
PR Photo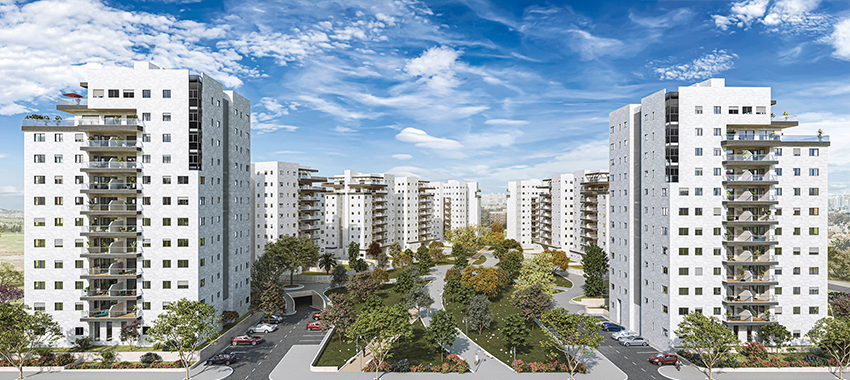 HIGH IR HAYAYIN, Ashqelon
PR Photo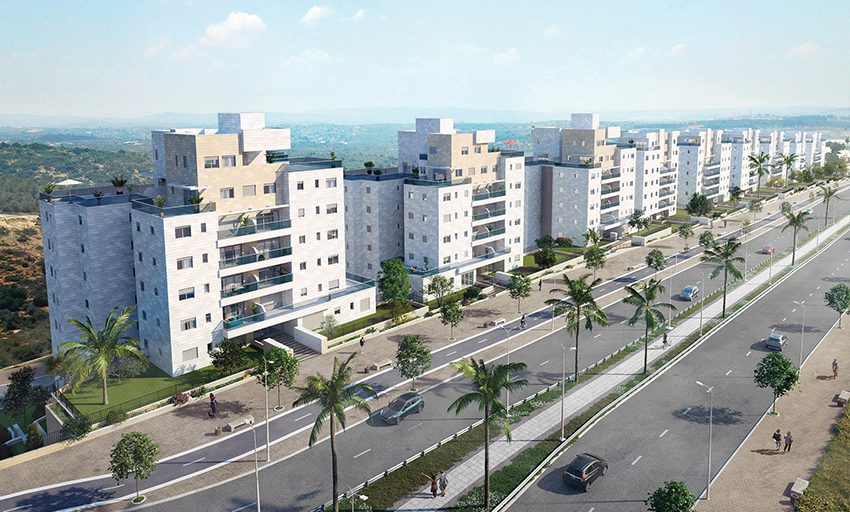 HIGH in OR HAMIZRAJ, Harish
PR Photo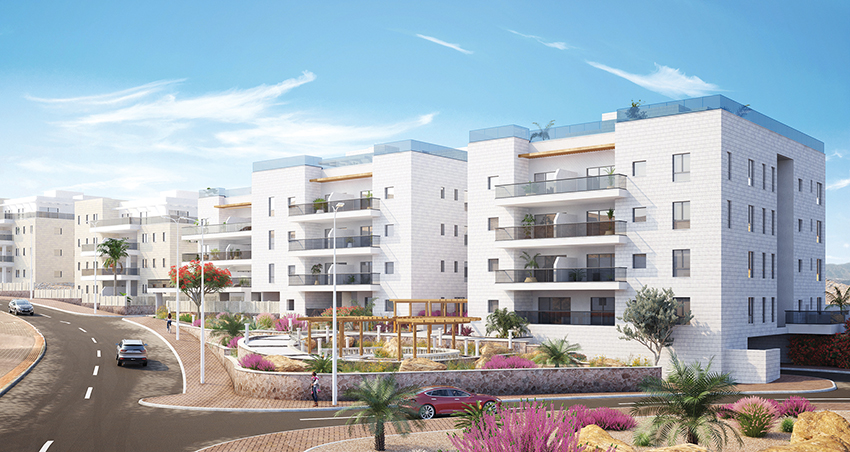 HIGH AL HAYAM, Eilat
PR Photo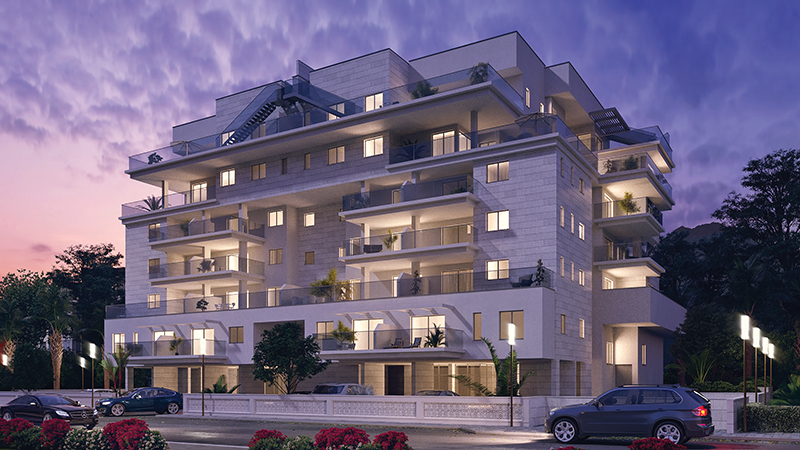 HIGH MUL HAYAM", Eilat
PR Photo