HaMashbir 365 - HaMashbir Department Stores Ltd.
Department stores - retail chain

Company's Profile
| | |
| --- | --- |
| Established: | 2003 |
| Line of Business: | Department stores - retail chain |
| Address: | 4 Hatzoran St., Poleg Industrial Zone, Netanya |
| Phone: | 972-9-8926711 |
| Fax: | 972-9-8926696 |

Company Executives
Rami Shavit

Group CEO

HaMashbir 365 - HaMashbir Department Stores Ltd.
Other Senior Executives
Dvora Yitzhaki Chairperson of the Board
Adi Blumenfeld Deputy CEO Marketing, Advertising Club and Finance
Nissim Hasan Deputy CEO for Operations and Sales
Ronen Laviv VP Club 365
Ibrahim Magzal VP Sales
Itzik Peer VP Information Systems
Anat Yona CFO
Adv. Yoav Gross Legal Counsel

About HaMashbir 365 - HaMashbir Department Stores Ltd.
Hamashbir LaZarchan Israel Ltd. was founded in 1947 for the purpose of operating the HaMashbir LaZarchan chain of department stores. In 2003, its activities were bought by the Shavit Group (2003) Ltd. In 2007, the company's stocks were issued on the Tel Aviv Stock Exchange and it became a publicly-held company.
HaMashbir Department Stores Ltd.
HaMashbir Department Stores runs the only chain of department stores in Israel, and is one of the leading companies in Israel's commercial retail sector.
The chain comprises 37 branches located in shopping malls and other central locations throughout the country. Their total commercial space covers about 100,000 square meters. Thanks to its professional and skilled staff of 1,700 employees and 1,800 additional sales associates, the company's overall revenues for 2017 totaled NIS 1 billion.
The chain offers a wide selection of quality products in the fields of cosmetics; women's, men's and children's fashion; lingerie; footwear; houseware; electric appliances and jewelry. The stores carry leading international brands alongside high-quality local products, providing a shopping experience similar to international department stores.
In 2018, the chain expanded its range of international fashion brands, in the field of women's fashion, the chain offers exclusivity: Truco, Pont Roma, Morgan, Promod.
In the field of men's fashion alongside Israeli brands such as: Bagir , Polo Beverly Hills, E.V.G, F.V, the chain also offers a French international brand Devred. In the field of children's fashion, the chain offers exclusive international brands: French brand Okaidi and Italian brand OVS. In the field of footwear, the chain offers a wide range of brands: Lady Comfort, Rockfort, Geox, Fly Foot, Hush Puppis, Caterpillar, Blundstone.In 2017, Hamashbir marked the sports sector as a strategy for its activity and expanded the commercial areas of the departments significantly, bringing in a full range of leading brands in the field, such as: Adidas, Nike, Under Armour, Brooks, New Balance, Puma, Diadora, Arena, Saucony, Skechers, and Kappa. Today, it is the leader in both footwear and sports apparel, alongside complementary products such as sports accessories, treadmills, caps, weights, sport socks, wide range of water bottles, sport gloves, binocolars, and more.
Club 365
The Club 365 customer club, owned by HaMashbir Department Stores Ltd., was founded in 2013.
The company's principal asset is the database of Club 365 members, which consists of over 700,000 households and over 1 million card holders (some households have more than one club card). The Club 365 customer loyalty program is one of the leading customer clubs in Israel in its field. It offers members a plethora of benefits throughout the stores 365 days a year.
Furthermore, Club 365 offers a range of benefits in all the companies that are part of the holding company's coalition, including HaMashbir LaZarchan, New-Pharm, Yenot Bitan, Kishrey Teufa, Sonol, Tzomet Books and Shlomo Sixt – in addition to discounts and benefits related to entertainment and family attractions, and discounts in a range of restaurants throughout the country.
For more information, please visit: www.Mashbir.co.il
Club 365 Finance
Club 365 Finance is jointly owned by HaMashbir 365 and Yenot Bitan Holdings. Club 365 Finance is the financial arm of HaMashbir 365, and its purpose is to promote and develop platforms for marketing financial products to Club 365 members, using the retail space of coalition members and the Club 365 database. In June 2012, HaMashbir 365 and Club 365 Finance signed an agreement with CAL-Israel Credit Cards Ltd. The credit card company, which includes 300,000 card holders, provides the Family 365 card holders with a loyalty program that accrues 3% cash-back with every purchase made in one of the coalition chains: HaMashbir LaZarchan, New-Pharm, Yenot Bitan, Mega BaIr, Kishrey Teufa, Tzomet Book, Shuk Mehadrin, Mega Ba'Ir and others, in addition to existing discounts.

Photo Gallery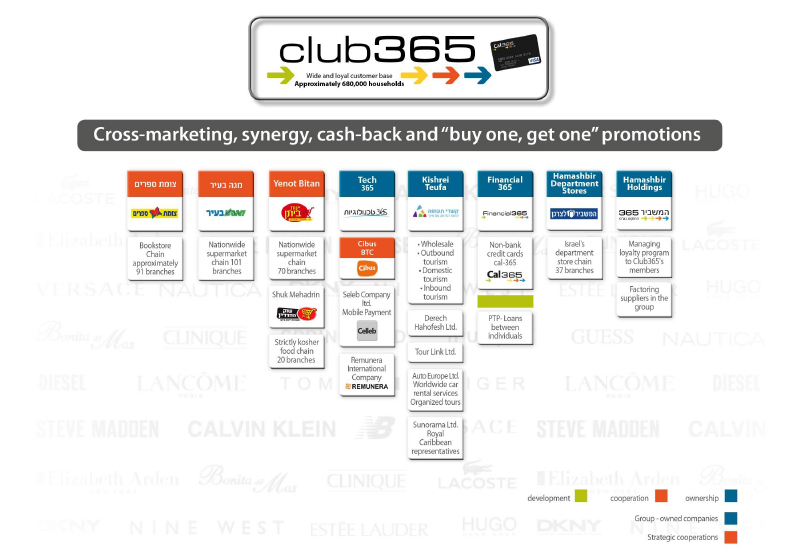 pic | Hamashbir 365 Holdings Ltd.