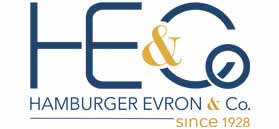 Hamburger Evron & Co., Law Offices & Notaries
Law Office

Company's Profile
| | |
| --- | --- |
| Established: | 1928 |
| Line of Business: | Law Office |
| Address: | Museum Tower, 4 Berkowitz St., Tel Aviv 6423806 |
| Phone: | 972-3-6074000 |
| Fax: | 972-3-6074006 |

Company Executives
Shai Pines

Senior Partner

Hamburger Evron & Co., Law Offices & Notaries

View Profile

Shai Pines

Haim Waintrob

Senior Partner

Hamburger Evron & Co., Law Offices & Notaries

View Profile

Haim Waintrob

Gabriel (Gabi) Moyal-Maor

Senior Partner

Hamburger Evron & Co., Law Offices & Notaries

Amnon Sorek

Partner

Hamburger Evron & Co., Law Offices & Notaries

View Profile

Amnon Sorek

Menachem Abramovich

Senior Partner

Hamburger Evron & Co., Law Offices & Notaries

View Profile

Menachem Abramovich

Dor Shacham

Managing Partner

Hamburger Evron & Co., Law Offices & Notaries

View Profile

Dor Shacham
Partners
Shai Pines
Haim Waintrob
Gabriel Moyal-Maor
Miriam Donin Shoob
Amnon Sorek
Menachem Abramovich
Dor Shacham
Yaron Sobol
Ronen Yardeni
Assaf Englard
Steven Berelowitz
Ori Primo
Yael Urieli
Yif'at Fux
Eleanor Stark
Achai Gomeh
Ram Museri
Itay Chelouche
Karin Bresler
Oshri Yamin
Tom Wolfstein

Associates
Idit Eisdorfer
Sarit Rozenberger-Zada
Liz Arzi
Liat Elpaz
Tzahi Nahum
Tal Dan-Gour Sagiv
Ben Frenkel
Nisim Menashe
Rotem Paist Roitman
Gilad Goni
Mor Turgeman
Adva Benor
Einat Amidi
Bat El Levy
Gal Rosenzweig
Tal Hazan
Mor Damti
Mor Vardi
Michal Sapir
Dana Bensignor
sharon Eshed
Amit Horovitz
maya Malka
Adi Herzig
Stav Matzkevich
Chen Mahatabi
Zeev Milner of counsel


FOUNDERS
Arie Hamburger
(1900-1976)
Amnon Evron
(1931-2006)

About Hamburger Evron & Co., Law Offices & Notaries
Since it was founded in 1928, Hamburger Evron & Co. has been at the vanguard of Israel's legal sector, taking part in numerous transactions that shaped the country's economy. The firm provides comprehensive service in every field of civil and commercial law.
Practices
Renewable Energy – The firm includes one of the most creative departments of renewable energy. While "traditional" sources of energy are being depleted, the field of renewable energy based on underived sources such as the sun, wind and sea waves is increasingly catching a place at the front of the stage.
Africa Department – The firm's Africa Department is unique among Israeli law firms. It provides comprehensive legal counsel for businesspeople active in various African countries, enabling clients to contend with complex issues from both the business and the legal perspectives.
Alternative Dispute Resolution (ADR) – Provides the firm's clients with a wide range of efficient and creative solutions for alternative resolutions. The Department has extensive experience with complex disputes in all areas of commercial law, including real estate, contractor disputes, financial claims, disputes among partners, intellectual property, banking, insolvency, estate disputes, personal wealth, etc.
Banking and Finance – A leader in this field, the firm boasts decades of cumulative experience in this area, and is at the forefront of the banking field in Israel, representing many commercial banks in complex financing deals and legal proceedings in all courts of law.
Insolvency, Receivership and Liquidation – The Department's attorneys specialize in complex insolvency cases and corporate recovery, serving as receivers and liquidators, as well as trustees in bankruptcy cases and stays of proceedings. Their extensive experience representing banks and their deep understanding of real estate and construction enable them to handle receivership cases for real estate projects in a comprehensive manner.
Technology and Life Sciences – The firm is proud that for many years it has represented numerous corporations, private investors and institutions in a range of financing and investment deals, such as assisting to set up new companies, plan their financial structure and establish international alliances and business partnerships. The Department has a great deal of expertise in technology law, especially R&D, licensing and technology transfer.
Litigation – The firm's attorneys have accrued rich and varied experience representing clients in the courtroom, in arbitrations and various types of courts of law. The Department provides litigation services in most areas of civil, commercial and administrative law.
Private Clients, Trusts and Estates – This Department provides continuous legal counsel to Israeli and foreign clients on the management of their personal and family assets, in Israel and abroad. Clients receive comprehensive legal services that include creative and up-to-date legal solutions.
Administrative Law – This Department has accrued a great deal of experience, mainly thanks to its handling of cases about planning and construction, which frequently involve administrative decisions. Clients include leading public and private companies, and high-tech and bio-tech companies.
Real Estate – For years the firm has been ranked in the elite group of the ten leading law firms in this field. The Department handles complex transactions and some of the largest projects in the country, providing comprehensive legal counsel. Sub-specialties include counseling large-scale projects, assisted living, urban renewal, NGOs and group buying projects. The firm represents hundreds of residents in projects in the Greater Tel Aviv area, groups of land owners in combination deals, etc.
Cyber Security – The firm provides a "one stop shop" for this complex field, from both legal and business perspectives. This is a unique Department at the forefront of this field in Israel, counseling private and business clients on complex issues through ongoing counsel and for specific crises.
International Transactions – The firm has been active in global commerce since its inception, and has represented entrepreneurs and investors in international projects concerning corporations, partnerships, banking, finance and real estate. The Department provides full legal counsel from the company's establishment and international breakthrough to ongoing guidance on commercial issues such as purchasing and contracts, working with local entities in other countries and M&A agreements with foreigners.
Projects and Infrastructures – The firm has been active in this field for many years, and has been closely involved with projects at the heart of Israel's infrastructure, including significant transportation projects, infrastructure projects that help the economy grow and large government projects.
Capital Markets, Securities and Venture Capital – This Department provides legal services to companies that issue stocks and bonds to the public, financial brokers and institutions, venture capital funds and high-tech companies. Provides continuous legal counsel to companies that issued (or are considering to issue) stocks or bonds, and provides legal services to venture capital funds and high-tech companies.
Corporate Law – The firm represents companies that belong to Israel's leading conglomerates and corporations, providing legal counsel at every phase, as well as to corporations and investors regarding private stock issues, stock purchases, bond deals, mergers, restructuring, selling and buying businesses, disputes between stockholders, antitrust cases and class action suits.
Class Actions – The firm has accrued expertise handling complicated lawsuits pertaining to large corporations and NGOs, and handles class action suits by large groups in Israel and around the world – some of which have been precedent-setting – including large banks, public and private companies, high-tech companies, etc.
Planning & building and Zoning – The firm is considered a leader in this field, with decades of experience. The Planning & Building and Zoning Department handles all matters related to planning, civil-commercial issues and criminal suits having to do with relevant laws, building deviations, etc.

Facebook Updates

Company Rankings