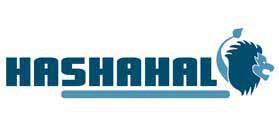 Hashahal Ltd. Trading House
Trade and Distribution House for Industrial Cutting Tools, Abrasive and Grinding Products, Oils, Glues and Industrial Accessories

Company's Profile
| | |
| --- | --- |
| Established: | 1972 |
| Line of Business: | Trade and Distribution House for Industrial Cutting Tools, Abrasive and Grinding Products, Oils, Glues and Industrial Accessories |
| Address: | HaShaHal Logistics Center, 4 Harav Jeropi St., New Industrial Area, Rishon Lezion |
| Phone: | 972-3-7612700 |
| Fax: | 972-3-5616111 |

Company Executives
leading executives
Guy Ophir Co-CEO
Tal Kurt Co-CEO
Gil Tolkovsky Co-CEO
Kobi Levy Chief Marketing & Sales Officer
Yossi Gurevich Finance Manager

About Hashahal Ltd. Trading House
Hashahal Ltd. is Israel's largest and leading distributer and marketer of cutting tools, abrasive, grinding material and other industrial tools. It is the only company that offers a comprehensive solutions envelope as a one stop shop for factories, trading houses, processing plants, metal stone and wood industries, hi-tech and electronics, aviation, military defense and security industries etc., based on valuable know how, many years of experience, uncompromising quality, the highest professional standard and the most efficient service.
The company is known as stable and prospering, striving for perfection and optimal performance, regarding product quality, customer service and conduct inside the organization. The company's experts assist at all stages, starting from the selection of the best solutions for any requirement, smart products selection, guidance and good advice.
After the purchase, the service department is at the customers' disposal for guidance, repairs and replacements, as required. Therefore, the customers choose the company time and again as their preferred supplier thanks to its expertise, quality products, attractive prices and fast supply timetables.
Groundbreaking Innovation
One of the company's most important values is innovation, motivating Hashahal to achieve the most advanced and innovative solutions worldwide. The company's experts are up to date on global trends and provide products from the world's best and leading brands, such as YG1, Iscar, 3M, Guhring, KEIL, WD40, Alfra, Klingspor, Kapro, MORSE, etc.
About the Company
Hashahal is located in Israel's center and employs over 80 workers in various divisions: marketing, commercial, technological, abrasives and logistics. Its varied products include cutting tools, clamping and holding products, machines and accessories, measuring tools, safety products, glues and oils, sealants and others. The company is committed to quick and direct supply and puts at the customers disposal a fully equipped inventory warehouse, managed by the procurement and inventory departments, planning and controlling it according to strict procedures. As a result, each order will be supplied in Israel within 24 hours.
Hashahal's showroom includes an extensive variety of worldwide quality and updated products. The showroom's personnel render explanations, demonstrations and information. The showroom holds from time to time training, lectures and seminars on various topics.
Exclusive Innovative Solutions
Hashahal Trio – Tomorrow's inventory management system on today's manufacturing floor is an intelligent and precise solution for all the manufacturing requirements at the plant. The system is in fact a vending machine, incorporating a miniature warehouse, virtual warehouse manager and a smart software. The vending machine is located at the manufacturing floor, enables real time product order from the manufacturing site, without having to go to the main warehouse.
This saves time, reduces the tools quantities, minimizes logistics and paperwork involved in traditional orders, saves unnecessary inventory, etc.
Hashahal Trio: intelligent, economical, innovative, true to its name, controlling the tools quantity per worker and project, the working method of the worker, the team and the division, commanding production processes, etc.
Abrasive Progress – Hashahal's Abrasive Plant provides customized abrasive solutions for any requirement or application. The company's engineers and technical consultants are at the customer's disposal starting from the need's understanding, planning the solution and manufacturing it at the highest level. The division manufactures belts, bands, discs, wheels, cloths in various types of pad backs and minerals. All products are suited to required applications including rolls, sheets, mops on axis, flaps, discs, adhesive and attachable, sleeves, adhesive products, felt wheels, etc. The abrasive division holds an updated catalogue with products ready to order, technical data, safety and use instructions, etc.
Divisions
Technological Division
The engineering division enables to receive customized products for every requirement.
The division's experts are at the customer's disposal during the development and production stages and offer smart and precise solutions in the areas of electronics, car, aviation, hi-tech, military and security industries and more.
Commercial Division
The company's activity basis leading a dynamic order center with sales agents available to customize the products, field managers providing professional and efficient response 5 days a week, an updated rich products catalogue etc.
The division is responsible for product supply within 24 hours of placing the order and provides service to over 1,000 wholesalers and factories in Israel: from DIY marketing chains to specialized technical companies and neighborhood stores.
Logistical Division
The logistical division handles 3 main activities: procurement, import and management of over 50,000 different items, available for immediate supply, the products are provided by the company's vehicles to the customer's door within a few hours of placing the order.
Hashahal is committed to continue operating on behalf of its customers, according to the strict service standards, that became its superior value for four decades, in order to offer innovative, reliable, available and quality solutions.
You may also like
Law

An open letter to the Israeli judiciary in the time of coronavirus

Dealing with the epidemic using customary rules will lead to a major economic collapse. Forget what you may have known – this is unprecedented

An open letter to the Israeli judiciary in the time of coronavirus

Law

LEGAL AND ETHICAL RAMIFICATIONS OF COVID–19 IN ISRAEL

LEGAL AND ETHICAL RAMIFICATIONS OF COVID–19 IN ISRAEL

Law

Article For Yom Hashoa

The 24th April is a memorial Shoa day in Israel. The shoa day is marked to remember the loss of many millions of lives during the Shoa. In addition it is important to add and remember the cultural victims of the Shoa, the people who lost looted art works and other properties.

Article For Yom Hashoa