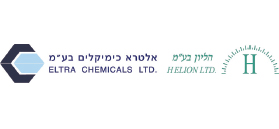 Helion Ltd.
Vendors of substances and knowledge to the industrial chemicals and raw materials sector

Company's Profile
| | |
| --- | --- |
| Established: | 1948 |
| Line of Business: | Vendors of substances and knowledge to the industrial chemicals and raw materials sector |
| Address: | 8 HaGoren St., Omer Industrial Park |
| Phone: | 972-9-7286909772 |
| Fax: | 972-9-7286909775 |

Company Executives
Anat Hadar Shireto

CEO

Helion Ltd.

Sharona Tzadok

CFO

Helion Ltd.

About Helion Ltd.
Helion and Eltra are senior and professional companies that specialize in supplying substances and knowledge in the industrial chemicals and raw materials sector for over 70 years. Both companies are subsidiaries of AWS Company, itself controlled by Gijs Cremer Eindhoven, based in The Netherlands. Jointly, both companies serve as active chemical distributors and agencies, provide a comprehensive solution to companies in all sizes while championing flexibility, credibility, and professional excellence. The companies employ 30 workers and external advisers who form the core strength of the two companies and a skilled and quality team that allows the company to participate in R&D while implementing innovation and technological development.
Founded in 1948 as an agency company that represents companies in the industrial chemicals and raw materials sectors, Eltra operates based on selling directly to customers against commission. Helion was founded in 1994 and specializes in similar or identical substances, both from identical and other vendors, and buys, sells and stores the substances. Eltra and Helion companies work side by side in similar or identical sectors, according to the transaction. The companies reach a volume of approx. ILS 200 million.
In addition to its business operations, the company owns a laboratory and technical team, working jointly as a single unit that assists its clients and advances development with vendors and clients, invests in knowledge and implements new technologies. The company even has a laboratory that specializes in prototypes.
Helion/Eltra operate in three main sectors: in cosmetics: plastic construction and coatings, and in agricultural industry, detergents, paper industry and adhesives. Moreover, beyond sales, the company specializes in digital print and 3D through start-up companies. Some of the technologies the company specializes in are eco-friendly green technologies for substances that assist with solving environmental protection problems. Helion maintains permits for new substances in every field it operates in, including polymers, biopolymers, bio-degradable polymers, and green cosmetics. Additionally, the company operates similarly in construction, ensuring substances with low cement quantity, curbing CO2 emission. These technologies lead to eco-friendly compatibility and development in the eco-friendly and climate-preserving substances sectors.
The cosmetics department dominates a significant part of the market, both in the cosmetic field and detergents field, providing solutions in accordance with the regulatory changes in the cosmetic industry and in accordance with the preferences of public opinion and customers.
We are a knowledge and training center using our application lab where we develop formulas in collaboration with our customers. In the field of construction and coatings, Eltra/Helion provides solutions in raw materials and technological knowledge to produce resins and additives for the digital and 3D printing industry in the UV CURE technology and other technologies.
During their 70 years of operation, Helion/Eltra have acquired extensive professional experience that grants them professional skill in working with 100+ vendors and providing professional solutions to its clients through approx. 4000 products, thereby assisting its clients with maximizing their business potential.
Helion/Eltra work in full cooperation with both vendors and clients and are involved in developing innovative development technologies that cater to both sides and contribute to the Israeli market.
Community Outreach
Helion champions contribution to the community and donates to hospitals, associations and numerous bodies, e.g., Be'er Sova, among others, in various ways. As part of its operations, Helion publishes a calendar that contributes to a different association every year. Among others, Helion has done community outreach on Cannabis, through donations to an association that helps children on the spectrum that use Cannabis for relief, to ALUT, and to the Shanti House and other associations, in addition to purchase equipment for hospitals.
In the past 40 years, the companies have been in the Negev. Yaron Ganin, who has been serving as the CEO since 1977, has relocated Helion to the Negev with an ideology of contribution, both to the country and the community, and has been advancing the company while emphasizing innovation and being a technological leader. Innovation is Helion's passion and the secret to its longevity, which is achieved by Yaron Ganin through preserving Helion's status as a company at the forefront of technology.

Photo Gallery