Yuval Horn
Founding Partner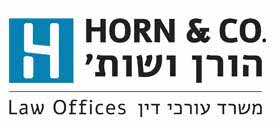 | | |
| --- | --- |
| Year of Birth: | 1967 |
| Email: | [email protected] |
| Fields: | Corporate finance, technology deals, mergers and acquisitions. |
| Position: | Founding Partner |
| Past positions: | Senior Partner, Baratz, Horn & Co. (2004-2009); Partner and Associate at Law firms (1993-2004); Legal Advisor, Chief of Staff Bureau (1991-1993); Aide to the Chief Military Prosecutor (1988-1991). |
| Seniority in position: | 7 years (Number of years in profession: 27 years). |
| Public positions: | Member (Legal Advisor) IRB (Helsinki Committee), Sheba Medical Center. |
| Education: | LLM, Tel Aviv University (1992); LLB, Tel Aviv University (1988). |
| Member in: | International Bar Association (Co-Chair, Technology Law Committee). |
| Community Activity: | IRB (Helsinki Committee), Sheba Medical Center. |
| Military rank: | Major. |
What is the most significant action that you have recently led?
Further to my appointment as co-chair of the Technology Law Committee of the International Bar Association, we coordinated together with Clara Ann Gordon and Jocelyn Kelley an international conference in Tel Aviv on mergers and acquisitions in the technology sector, with dozens of participants from around the globe. During the last year we have represented several tech companies traded on TASE in initial public offerings on Nasdaq, thus leading some of the very first transactions for Israeli tech companies in US capital markets, an area which has seen a relative slow-down in recent years. We also represented Protalix Biotherapeutics Inc. (NYSE: PLX) in in a $54.1 Million private notes exchange agreement, and a $22.5 Million private placement of the company's Secured Convertible Notes.
What are the significant strengths of your firm in your eyes?
Despite its size, the firm provides service at the same level as all Israel's largest firms in terms of the quality of the work and the type of deals. We do this by focusing only on technology companies and recognizing their needs. We support many clients from the incorporation with the same support team working with the client over many years. We obtain a good understanding of the business, the clients and the relevant market, which, in turn enables us to offer creative solutions to complex problems, and to assist entrepreneurs and veteran executives in navigating complex deals.
What are the main measures recently carried out that will lead to the strengthening of the firm in the coming years?
We have taken on as partners several lawyers who grew up in the firm – in 2015 Roy Ribon and Ohad Mamann, in 2016 Orly Sternfeld and in 2017 Paz Avercohen. In addition, we have received international recognition as leading lawyers in our fields of expertise and by my appointment as Co - Chair of the Technology Law Committee of the International Bar Association. In this capacity, I have been assisting in the organization of several international conferences, which has increased the firm's international exposure.
What are the firm's main challenges in the coming years?
We face a constant challenge of proving our level of legal analysis, quality and the amount of time we provide our clients. Our clients are in a position to choose the large firms but prefer to work with us.
What advice would you offer a lawyer who is just starting out?
Every person in an organization has something to contribute to it regardless of their seniority and how long they have been there. It is therefore important to listen. Law firm management requires personal work on deals and ongoing professional assistance. Oversight of the level of the firm's work (and not only the amount of work) is vital.
What is important to remember during difficult times?
We are advisors. We must provide our clients with the best assistance possible. They will not always accept our advice but if we are prudent, advise them in a professional and timely manner, and have tried to persuade them, they are entitled to – they are the clients.