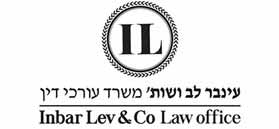 Inbar Lev & Co. Law Office
Legal services in the fields of family law, real-estate, inheritance and wills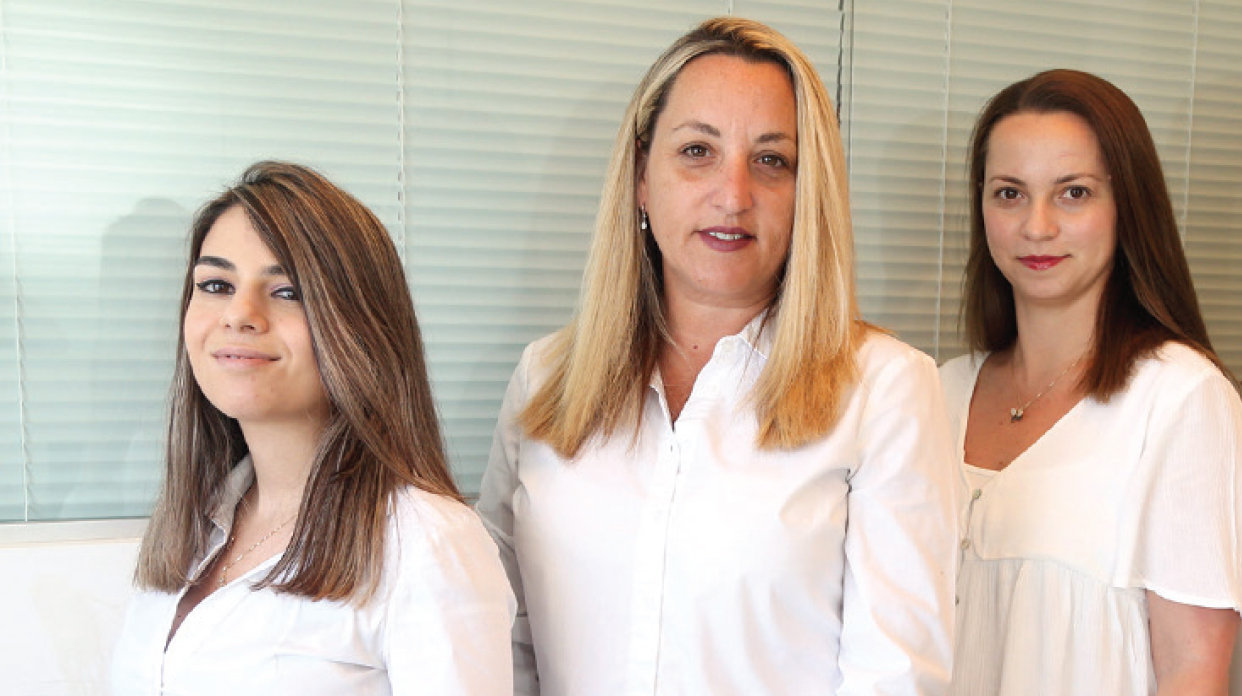 Company's Profile
| | |
| --- | --- |
| Established: | 2005 |
| Line of Business: | Legal services in the fields of family law, real-estate, inheritance and wills |
| Address: | 7 Jabotinsky St., Moshe Aviv Tower, 53rd floor, Ramat Gan 5252007 |
| Phone: | 972-3-5188886 |
| Fax: | 972-3-5188887 |

Company Executives
Adv. Inbar Lev

Founding Partner

Inbar Lev & Co. Law Office

View Profile

Inbar Lev

Adi Avraham

Lawyer

Inbar Lev & Co. Law Office

Orna Tish

Office Manager and Paralegal

Inbar Lev & Co. Law Office

About Inbar Lev & Co. Law Office
Inbar Lev & Co. Law Office specializes in the management, handling and representation of cases in family law, inheritance and wills, with particular expertise in the economic aspects of disputes of high-net-worth spouses.
Adv. Inbar Lev is one of the leading attorneys in her fields of expertise, and brings many years of experience, skill and valuable knowledge to every managed case, combined with a personal, compassionate and warm approach. She specializes in the management of economic aspects of family law, as a result of her specialty in civil-commercial law, mainly in bankruptcies, company and transaction valuations and more.
The firm is highly reputed among its clients, which include leaders of the Israeli economy, executives, public officials, businessmen, doctors, lawyers and senior high-tech managers.
"Hands-on" Personal Service
Adv. Lev serves as a confidante for her clients, a reliable and professional address for determined management of the legal aspects, with a lot of sensitivity and dedication during emotionally-intensive periods. In this way, she helps her clients recover after complex divorce proceedings, provides economic and business assistance, along-side assists with locating employment opportunities or with opening a business, handling labor law, real-estate aspects, etc, out of the honest wish to help and direct towards proper financial conduct.
Expertise in Family Law's Financial Aspects
The firm's team has a profound commercial understanding along-side a unique financial perspective, in topics such as company ownership, IP, real-estate properties, career assets, stocks, goodwill valuations, dissolving of partnerships and taxation, all of which contributes to the promotion of the client's interests when conducting arrangements, preparing agreements and settling the dispute. Owing to its thorough conduct and attention to details, the firm succeeds in analyzing interrogation materials and evidences, locating opportunities and presenting them before the court.
The team is skilled in representing clients before all of the family courts, the rabbinical courts, The Great Rabbinical court and quasi-judicial authorities.
Family Law
The firm handles all aspects of family law including all matters relating to divorce, marital harmony, custody, alimony and child support, resources balancing, division of assets and more. The firm aspires to reach an optimal settlement agreement, and when necessary, works determinedly to protect the client's interests.
Agreements
The firm handles the legal aspects of various agreements while accompanying and drafting, negotiating and validating pre-nuptial, property, marital harmony and mutual-respect agreements for spouses, betrothed and common-law spouses.
Wills, Inheritance and Estates
The firm handles all legal aspects of wills, inheritances, and estates including the preparation of wills and inheritances, mutual inheritance, estate division agreements, inheritance and inheritance enforcement orders, handling objections to wills, etc.
Real-estate
The firm's staff has experience and skill in handling all aspects of real-estate law for individuals, associations, developers and contractors. The firm is highly experienced in land law, ILA, Lands within the Green Line, Kibbutzim, urban renewal, sale and rent transactions and more. The firm utilizes this experience in the management of spouses' disputes which concern properties that should be properly handled by their various characteristics. It should be noted, that the firm has a special expertise in land taxation, which serves as a vital tool in the management of disputes and prevents the payment of unnecessary taxes and building deviation charges in real-estate properties that are divided between spouses.
Important Achievements
A ruling which allowed custody transfer for minors under the age of 6 (within the toddlerhood rule) from mother to father.
A ruling which provided the Ktuba, amounting to hundreds of thousands of Shekels, for the wife, in addition to a balanced joint property.
A ruling that allowed returning a minor that was taken into a foster family to his mother.
A ruling that allowed unequal division between spouses.
A ruling that allowed the return to Israel of minors who were taken by their mother under the Hague Convention.
A ruling that allowed the repayment to creditors from the husband's share in the apartment while the husband is in a bankruptcy procedure.
Precedents
The Supreme Court ruled, in one of the cases that was managed by the firm, that any claim that would be submitted against an appointed official such as a receiver, an estate manager and a trustee, which was submitted after their release from office, shall be rejected. In addition it was ruled that even if such a claim is submitted during office, very strict criteria must be met or the claim would be rejected. This ruling made the rules for claims against officials during and after their office stricter. Another ruling that was given in the Supreme Court in one of the firm's cases determined that section 6 of The Family Court Law shall be used sparingly. This section allows a third party to join a legal proceeding between spouses in the family court. The Supreme Court significantly reduced the cases where a third party may be joined under this section and set previously un-ruled and very strict criteria.
An additional ruling, in which the court decided that even though the parties were common-law spouses, and acquired joint assets, there was no actual intention for common property between them. Thus, the firm's client won the right to maintain her assets, which she accumulated during her 20 years' relationship, and the debts her spouse accumulated did not apply to her.
Adv. Inbar Lev
Has an LL.B., certified as a lawyer since 2001.
Formerly a manager of the legal department and the collection department of a large telecommunication company, where she practiced, inter alia, execution, bankruptcy and labor laws, mergers and commercial agreements.
The firm, which has been operating for over a decade, keeps growing in both its size and its achievements in various cases.

Facebook Updates

Company Rankings