Adv. Inbar Lev
Founding Partner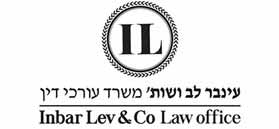 Which of the firm's recent key moves will lead to it becoming stronger over the next few years?
In my humble opinion, one of the significant moves that were recently carried out was the "handicapped protest" which recently led to an increase in the disability pension, and would also lead to a further future increase.
In addition, the recent Supreme Court ruling which de facto cancels the personal law in relation to child support and determines that child support should be determined in accordance with the needs of the children and the actual earnings of both of the parents, so that two parents who earn the same salaries and manage a joint custody should be equally liable to their children' needs, so that the father's liability for child support is cancelled – a ruling that would lead to diminished child support payments, joint custodies and joint parenting even in the case of divorced ex-spouses.
In addition, the trend of abolishing the young children maternal custody rule is gaining momentum, in light of the modernization of the social perception, which makes me very happy.
What are the main challenges facing the firm in the next few years?
I expect the most important challenges in the next few years to be:
The development of a mechanism with social workers of a higher level than those who currently work in the welfare offices, and who would dedicate their efforts exclusively to family cases, with higher availability and professionalism.
Expanding the disability pensions.
Canceling the family court's proceeding arrangements law.
What should one remember during hardships?
That eventually, there is a solution for everything!