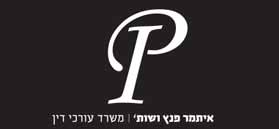 Itamar Pantz & Co., Law Office
Real-estate and complex transactions, focusing on urban renewal

Company's Profile
Established:
2012
Line of Business:
Real-estate and complex transactions, focusing on urban renewal
Address:
V-Tower, 6th floor,
23 Bar Kokhva St., Bnei-Brak
Phone:
972-3-5662808
Fax:
972-3-5662801

Company Executives
Itamar Punch

Founding Partner and Owner

Itamar Pantz & Co., Law Office

View Profile

Itamar Punch

About Itamar Pantz & Co., Law Office
Itamar Pantz & Co. Law Office is a leading boutique law firm specializing in real-estate with a focus on urban renewal. The firm was founded by Adv. Itamar Pantz, who gained extensive experience in large law firms and spent the last decade accompanying some of the largest transactions and public and private (?) bodies in the Israeli economy.
The firm provides its clients with professional and personal service and takes pride in its client-centric approach. Services are personally tailored to match the circumstances and needs of each client and case.
The firm's unique strength is its multi-dimensional expertise in the urban renewal field, a product of Adv. Pantz's held public office, his experience representing all types of project stakeholders and institutional clients (government/municipal), and finally, his academic activities. The firm has an integrative view that provides it with a complete mastery of the complex arena of real-estate and urban renewal.
Unique Perspective
Adv. Pantz' professional record provides the firm's clients with up-to-date and comprehensive information, reflecting the latest real-estate regulatory and market trends. The firm represents both developers and land-owners ("residents"). The firm is currently at the forefront of the urban renewal field and has a broad perspective of all of the participating parties, allowing it to provide clients with significant added value.
Adv. Pantz serves in a variety of public-sector positions, including as the General Counsel of Halamish Inc., an urban renewal company co-owned by the State of Israel and the Tel-Aviv-Yafo Municipality. In addition, Adv. Pantz is a member of the Interdisciplinary Center's Legal Clinic, and maintains relationships with the statutory institutions responsible for legislation and regulation in the field of urban renewal.
Longstanding Expertise
Adv. Pantz gained extensive experience in the real-estate practice by facilitating large projects responsible for the construction of thousands of apartments throughout the Gush Dan, Jerusalem, Haifa and Krayot regions.
Adv. Pantz lectures before professionals from local authorities (city planners, planning and building committees' managers, plans assessors, etc.) in the framework of the Federation of Local Authorities in Israel, as well as before a variety of professional real-estate and urban renewal forums.
Adv. Pantz's reputation stems from years of professional expertise, the high-quality personal service he provides his clients, and his dedication to ensuring optimal results for his clients in every project and transaction.
Practice Areas
Urban Renewal
The firm is highly experienced in providing legal support for urban renewal projects, which constitute the majority of its operations, both in representing land owners and in representing developers and contractors.
Adv. Pantz has integrative professional capabilities for handling urban renewal projects, thanks to his in-depth knowledge in various legal fields, including real-estate, planning and building, taxation, banking, as well has his litigation experience before courts and other tribunals.
The firm successfully provides its clients with efficient ways to achieve their goals thanks to its comprehensive understanding of the legal and economic interests of the various stakeholders, its familiarity with the requirements of planning authorities and banking institutions, and its mastery of complex tax arrangements in the real estate field.
The firm handles all stages of urban renewal projects, including Tama 38, Pinui-Binui/Ibui-Binui, including "premium" projects.
Representation in Real-Estate Transactions
The firm is highly experienced in representing entrepreneurs in real-estate purchase/sale transactions, including combination transactions; in providing legal counsel on tax, planning and building aspects of real-estate projects; and in drafting and facilitating contracts with apartment buyers.
Infrastructures
The firm facilitates contracts of management companies and contractors in infrastructure works whose annual net value amounts to hundreds of millions of Israeli shekels.
Commercial Real-estate and Land Taxation
The firm facilitates transactions of contractors and developers, organizes joint construction groups, handles guarantees and the financial support from banking institutions, conducts real-estate transaction tax planning, makes calculations and analyses, represents clients before the tax authorities and handles tax objections and appeals in Israeli courts.
Legal Management and Representation of Properties
The firm handles the legal management of properties, including contracting with management companies, contractors, and commercial tenants. It also represents commercial tenants in commercial tenancy agreements and manages the legal aspects of yielding properties.
Commercial Tenancy
The firm represents commercial chains in commercial property-rental negotiations, from the negotiation phase to the contractual phase, including dealings with service suppliers. The firm provides support from start to finish, right up until the occupation permit is received.
Purchasing Groups
The firm is experienced in facilitating purchasing groups, from the initiation phrase through the contract phase, including drafting a framework agreement and signing additional purchasers on joining agreements; facilitating the planning and execution processes; and overseeing the projects' occupation and registration of the rights in the Land Registrar.

Company Rankings