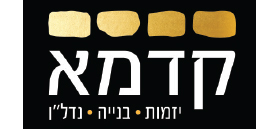 Kedma Real-Estate
Development and Construction

Company's Profile
| | |
| --- | --- |
| Established: | 2015 |
| Line of Business: | Development and Construction |
| Address: | 11 Gush Etzion St., 1st Floor, Givat Shmuel |
| Phone: | 972-3-7523244 |
| Fax: | 972-3-7523245 |

Company Executives
David Cohen Gindi

Owner & Founder

Kedma Real-Estate

Gago Klugman

Owner and Founder

Kedma Real-Estate

View Profile

Gago Klugman

About Kedma Real-Estate
Kedma Real Estate, which specializes in construction and initiation, is a trail-blazing real estate company. The company is leading first-class standards in all of the projects in which it is involved all across Israel, including in settlement areas which can now benefit for the first time meticulous planning and a high-quality and uncompromising spec.
Commitment, Reliability and Innovation
Kedma, which meticulously maintains responsibility and professional excellence in all of its operations, turns its core values which are expressed in its name (Kedma = Ancient, Original), and emphasizes its commitment to its customer, with constant renewal and innovation. The company's owners, David Cohen-Gindi and Gabriel (Gago) Klugman, adhere to the ancient values of commitment and reliability, while emphasizing professionalism in construction and leading a new standard in its company's area of expertise.
Focusing on the Customers
Kedma's professional team supports its clients throughout the entire project and provides a homely atmosphere. We understand the great importance of the home-buying process as a significant purchase that affects the entire family. Kedma meticulously maintains the high standard for which it is renowned in every location where it builds, in every type of project: construction initiation, urban renewal and Mehir LaMishtaken (government price-cap) projects.
The Company's Structure
Kedma is a parent company that manages subsidiaries which specialize in project initiation and construction throughout Israel. Kedma has numerous residential construction projects in high-density construction, detached houses, urban renewal – Tama 38, Mehir LaMishtaken projects, etc.
Projects in the Mehir LaMishtaken Program
Kedma Beit El: A unique project which includes 80 apartments to be built in two 10-storey buildings. The buildings will have a subterranean parking garage and environmental development which is unique for their area.
Kedma Shapira Center: In a renewing settlement with a predominantly Religious-Zionist community, near Kiryat Malachi, a 65-apartment project is under construction, with a mix of country-style semi-detached cottages and garden/roof apartments with high standards. Kedma in Ariel: In the city of Ariel, in a new neighborhood characterized by superb and innovative planning, a 91-apartment project is being built. The project includes apartments in terraced houses that will be marketed mainly for Mehir LaMishtaken tenants, as well as private houses on lots of about 500 sq.m. which will be marketed for private customers in the free market.
Completed Projects
Kedma in Leshem: A unique residential complex in the settlement of Leshem, a new and young Religious-Zionist settlement, within a 20-minute driving distance of Tel Aviv. This boutique project offers 42 large and designed apartments with a lavish spec that includes smart-home technologies, for the first time in this area. The project's apartments mix is semi-detached units (garden apartments and roof apartments). In this project the company set a new and unique standard of quality and luxury, the likes of which was never seen in the Samaria area before, a standard which serves as a unique strength of the company. Kedma Ma'Ale HaZeitim, Jerusalem: To live at the center of the world. A unique residential building is being built about 700 meters from the Western Wall, adjacent to the Ma'Ale HaZeitim neighborhood. The building has 3 storeys and 17 apartments with an advanced spec, an upscale standard and a spectacular design. Kedma Kfar Saba: On 16 Tel Hai St., an urban renewal project – Tama 38. Addition of balconies and shelter rooms for existing apartments and an addition of 8 apartments with a mix of 5-room apartments and upscale duplexes with an amazing view.
Projects in Marketing and Future Projects
Kedma is constantly promoting additional projects. We emphasize the uniqueness of the projects and the expression of our added value. We are currently building the project of Kedma Ramat Gan: in 11 HaRav Levin St., an additional urban renewal – Tama 38 project in cooperation with Ya'ad Si'an Nadlan of the "Erech" Group. The project includes 12 new apartments in a quiet street with an attractive location near the Merom Naveh neighborhood, Bar Ilan University and more. The building will be populated around the end of 2020. Additional Projects: Kedma Ra'anana: an urban renewal project on 121 Weizmann St., Kedma Rehovot: A Pinui-Binui project in Rehovot which includes a preservation building, an additional attractively-located project in Samaria, and more.
The Company's Owners
David Cohen Gindi, Owner and Founder: Belongs to the third generation of a contractors' family, studied in the Ramat Gan Hesder Yeshivah and afterwards worked in the Yeshiva's management. For about 10 years, he managed and budgeted numerous educational and other projects. In 2009 he entered the real estate sector and in more than a decade he accumulated extensive experience in project management, purchasing groups, initiating, planning and leading numerous residential projects.
Gabriel (Gago) Klugman, Owner and Founder: Gabriel immigrated from Uruguay for ideological reasons, studied in the Maalot Hesder Yeshivah, and served as a combat officer in the Nahal. Gabriel is a businessman and social activist with more than 20 years of experience in the diamonds trade, which he leverages to real estate trading.

Photo Gallery