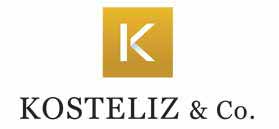 Kosteliz & Co. Law Office
Legal Services in the White Collar Offences and Civil Litigation


Company's Profile
Established:
2014
Line of Business:
Legal Services in the White Collar Offences and Civil Litigation
Address:
B.S.R. Tower 3 (31th floor),
5 Kinnereth St. Bnei Brak
Phone:
972-3-7671500
Fax:
972-3-7671501

Company Executives
Yaron Kosteliz

Founding Partner

Kosteliz & Co. Law Office

View Profile

Yaron Kosteliz

Yoav Segal

Managing Partner

Kosteliz & Co. Law Office
Lawyers
Lea Segal
Aviad Shaulzon
Shani Rozen
Simcha Albachari
Yoav Stashevsky

About Kosteliz & Co. Law Office
Kosteliz & Co. Law Office is a leading-edge, flourishing, highly professional firm providing legal services for white-collar offenses, civil-commercial law, and real estate. The firm is headed by Adv. Yaron Kosteliz, one of the most respected lawyers in the field, described as "One of Israel's stars in the white-collar crime field" (Globes: 9.3.2014). Since its establishment, the firm's law team and leader have succeeded in achieving exceptional results while the firm has grown swiftly. This is reflected in the clients that choose the firm, Israel's key figures and prominent businesses, and the unprecedented legal results that the firm obtains for clients.
The Firm's Clients
The firm's clients include the Minister of Defense Avigdor Liberman, businessmen Michael Cherney and Jacky Ben-Zaken, the former Chairman of Bank HaPoalim Mr. Shlomo Nehama, former Bat Yam Mayor Shlomi Lahiani, global accounting firm Ernst & Young (Kost Forer Gabbay & Kasierer), Israel's Chief Rabbi Bakshi-Doron, Berman Bakery, Ayalim, Mr. Amos Luzon, Israel Land Development, Angel Bakery and more. These and many other clients receive a holistic package of solutions encompassing representation, consultancy and business management.
About the Firm
Kosteliz & Co. has many years of experience, precious knowhow and special expertise combined with a personal, caring, transparent and fully discreet approach. The firm's lawyers respect the client's time and privacy, and are careful to remain in constant contact and be immediately available to respond professionally on all issues.
Adv. Yaron Kosteliz
Adv. Yaron Kosteliz is the firm's founder and senior partner with an LL.B. and LL.M. (summa cum laude) and MBA (Hons), all from Bar-Ilan University. At 29 he was ranked in "Globes" G magazine 40-40 list of young leaders (2006) and has been named on the outstanding lists of The Marker (2008), Ma'ariv (2011, 2013), and Nana10 (2014).
Milestones
From 1999-2005, Adv. Kosteliz was senior assistant to then Chief Military Prosecutor Col. Einat Ron (today President of the Central District Magistrates Court). Among other things Adv. Kosteliz was military prosecutor in the trial of five political conscientious objectors, in the trial of conscientious objector Yonatan Ben Artzi, and the request of Prisoner X Mordechai Kedar for a retrial. Adv. Kosteliz acted for the Chief Military prosecutor on fundamental questions of military law in the Supreme Court and appeared many times in the Military Court of Appeals on a range of legal criminal issues. In 2005, Adv. Kosteliz became a partner at Dr. J. Weinroth & Co. and in 2014 founded Kosteliz & Co. Law Office.
Adv. Yoav Segal
Adv. Yoav Segal specializes in litigation and resolving disputes, commercial contracts, real estate deals and routine legal consultancy. He was a member of the editorial board of the legal periodical "Alei Mishpat" edited by Tel Aviv District Court Judge (present position) Rahamim Cohen. Since qualifying in 2002, Adv. Segal's practice has included large-scale litigation cases including civil suits and arbitrations, administrative petitions, class action suits, and representing defendants in white collar offenses and major proceedings. Adv. Segal was a member of businessman Michael Chernoy's defense team in the "Bezeq" affair in which Chernoy was acquitted of all charges, and the "Eilat" affair in which the State withdrew its charges against Chernoy. In addition to his litigation cases, Adv. Segal also handles a range of multi-million real estate deals, both commercial and private. Adv. Segal is also experienced in providing routine consultancy to commercial companies on various matters including labor, contracts, regulation and municipal matters. In 2002, he joined Dr. J. Weinroth & Co. where he became a partner in 2008. In 2014, he founded Kosteliz & Co. Law Office.
Outstanding and Renowned Legal Achievements
Representing Michael Cherney, who was accused of conspiring with businessman Gad Zeevi to fraudulently purchase 19.6% of Bezeq's shares and obtain a $643 million loan by concealing his involvement in the deal. Advs. Kosteliz and Segal have represented Cherney since 2005. In October 2015, the Tel Aviv–Yaffo District Court acquitted Chernoy of all charges after a 10 year-long case in which the testimonies of Advs. Ram Caspi, the late Yigal Arnon, Gad Naschitz, and Mr. Shlomo Pyotrokovsky were heard. The state did not appeal the ruling.
Representing Yaakov Efrati, former Israel Land Authority (ILA) head in the Holyland case (Salt Indus-tries) who was then accused of receiving a bribe from the Bank Hapoalim Chairman Dani Dankner to approve Salt Industries undertaking a deal with the ILA worth hundreds of millions of shekels. Adv. Kosteliz personally represented Efrati who was acquitted by the district court after legal proceedings.
Representing Avigdor (Yvette) Liberman, the Minister of Defense and leader of the Yisrael Beitenu party. Adv. Kosteliz represented Liberman in the "straw companies" affair and appointment of Ambassador Zeev Ben Arieh, and represented him in a range of areas including High Court of Justice proceedings, lawyer-client immunity proceedings, a hearing before the Attorney General, and more. In the "straw companies" affair, the Attorney General was persuaded in the hearing to close the case without charges. In the appointment of the ambassador, Liberman was unanimously acquitted by the court.
Representing Jacky Ben-Zaken in the Manofim affair (on appeal to the Supreme Court) and the Ben-Eliezer affair. The court accepted Ben Zaken appeal on the severity of his punishment.
Representing Berman Bakery and its former CEO in the bread cartel affair. The largest bakeries including Berman, Angel, and Deganit Bar were accused of forming a price cartel. Adv. Kosteliz is representing Berman and its former CEO. The court accepted the appeal on the punishment.
Representing Eli Abugani CPA, Kost, Forer, Gabbay & Kasierer, Ernst & Young Israel in the fiscal affair. Eli Abugani was an auditing partner at the accounting firm and was accused of alleged fraud on NIS 50 million in taxes for clients. The court accepted Adv. Kosteliz's arguments of "abuse of process" and cancelled two of the three charges. In 2015 the third indictment was also retracted and the charges were cancelled.