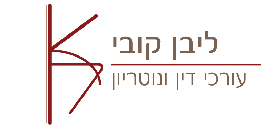 Liban Kooby Law Office and Notaries
Real Estate, Urban Renewal, Civil-Commercial law

Company's Profile
| | |
| --- | --- |
| Established: | 1991 |
| Line of Business: | Real Estate, Urban Renewal, Civil-Commercial law |
| Address: | 53 Mohaliver St., Yahud |
| Phone: | 972-3-5365894 |
| Fax: | 972-3-5368940 |

Company Executives
Adv. and Notary Michal Liban Kooby

Founder & Owner

Liban Kooby Law Office and Notaries

Moshe Avraham

Associate and Notary

Liban Kooby Law Office and Notaries

Matan Teboul

Associate

Liban Kooby Law Office and Notaries

About Liban Kooby Law Office and Notaries
Liban Kooby Law Office and Notaries was founded in 1991 by the Adv. Michal Liban Kooby. The firm represents a wide variety of clients in civil-commercial, administrative and real estate (with an emphasis on urban renewal projects) law, as well as public tenders and elections laws, and environment protection law.
The Firm's Team
Adv. and Notary Michal Liban Kooby, Founder and Owner: has been active as a lawyer since 1989, started her professional career as an intern of Judge Eliezer Goldberg in the Supreme Court, in the 12th Knesset Elections Committee and in the Haberman Dovev Stern Law Firm, where she worked as an associate for two years, practicing elections, NGOs and real estate law. Later she worked in the Avital Dromi Law Firm for seven years, of which five as an associate and two as a partner, specializing in Media. She served as the General Counsel of two public companies: Packer Steel and Negev Ceramics for about five years, in the framework of the firm. In addition to her professional work, she was socially active as Yehud-Monson's council and Planning and Zoning Subcommittee member and as a board member of Yehud High School. Michal graduated from the Heshel Center Sustainability Associates Program, and by education she has an LL.B., Hebrew University.
Adv. and Notary Moshe Avraham: He has 15 years of experience during which he acquired knowledge and reputation in the fields of tenders, administrative law, execution and collection, civil law and real estate. He has a particular specialization in tender law and the comprehensive facilitation of the entire public tender process. In addition, he served as the legal counselor of the "Haverim Le'Refuah" association. By education, he has a B.A., Business Administration (magna cum laude) and an LL.B., and was admitted to the Bar in 2005. He has a mediator certificate from the Neve Zedek Mediation Institute.
Civil-Commercial Law
The firm provides services for private clients and companies in Israel and abroad, including, inter alia: accompanying businesses from the founders/partners agreements and incorporation through licensing, leasing, agreements with clients, suppliers, employees and lessors, advisory and planning of transactions, negotiations, establishing and dissolving business ventures, correspondences with the state authorities and other regulators, preparation of legal opinions and appearance in mediations, arbitration and courts. From the civil aspect, the firm drafts agreements and manages various civil disputes. The firm has clients from diverse fields such as communication, sport, recycling, installation of garbage disposal etc. The firm represents NGOs including the Israeli Ecology Association, The Israeli Center for Guide Dogs and Ajeec Negev Institute.
Urban Renewal
The firm is considered to be one of the pioneers in Israel's urban renewal field and has been accompanying many hundreds of residents for more than a decade. The firm provides end-to-end legal services for residents, from initial organization and delegation, through the selection of the developers and contractors and drafting and signing the agreement with the developers and financiers. The firm accompanies numerous projects across Israel and its in-depth experience in this domain enables it to overcome any difficulty along the way, such as considerations for the residents, bank guarantees, alternative housing and more. For the purpose of the ongoing facilitation, the firm cooperates with first-class professionals and experts such as architects, real estate appraisers, economists and tax experts.
Prominent Urban Renewal Projects
The firm supports apartment owners in urban renewal projects across Israel, including in Jerusalem, Tel Aviv, Ramat Gan, Petach Tikva, Herzliya, Ramla, Givat Shmuel, Bat Yam, Rishon LeZion, Ramat HaSharon, Yahud and more. Some notable projects that are facilitated by the firm:
12-16 Yosefberg, Kfar Ganim, Petach Tikva: The 90 exiting apartment owners that were represented by the firm received their new apartments several years age, in a project of Neve Gad Ltd. where 360 new apartments were added.
2 Sa'adya HaTuca, Yahud: All 36 residents received their new apartments (in July 2017 and 2019) in this project, which was built by Azorim Ltd. and included the construction of 182 new apartments.
34-42 Stern, Kiryat HaYovel, Jerusalem: A Pinui-Binui project with 67 apartments currently under construction. The Developer is Kidmat HaYovel Ltd. and the project is financed by Bank Leumi.
HaNasi, Giavt Shmuel: Representing the owners a 550-aparmtents project. To date, about 330 agreements that were drafted by our firm vis-à-vis the developer, of the Dayan Group, have been signed, and the plan was approved by the Local Preferred Buildings Commission (Vatmal).
Bar Yohai St., Jerusalem: Representation of residents in a project with 380 existing apartments; The zoning plan was approved in the district committee. Developer: Kidmat HaYovel Ltd.
23 Golomb, Jerusalem: Representing 112 apartment owners – the zoning plan was approved in the local authorities track, and the firm and the resident's delegation are currently selecting a developer. Simultaneously, representing the owners in a lawsuit that was filed by a person alleging to be the project's "initiator".
Kdoshei Mizrayim, Yahud (Pinui-Binui): Representing 144 apartments owners in a project that is promoted by Yahud Municipality in cooperation with the developer Katav Group in the framework of the Vatmal. 99% of the owners signed the agreement.
Weizmann Lev HaIr, Yahud: Representing residents of 150 existing apartments in Pinui-Binui project.
2-4 Borokhov, Kiryat HaYovel, Jerusalem (Pinui-Pinui) – representing the residents in a project with 36 existing apartments.
47-49 Slant, Petach Tikva: representing 24 residents in two buildings in a Pinui-Binui project. 100% signatures. Developer: Shapir Engineering.
Ramat HaNasi, Bat Yam: Representing residents in the Kaf-Tet Be'November/Dalia complex in Bat Yam. The developer, Shapir Engineering, is promoting this project in cooperation with the municipality in the Vatmal.
The Herzl Neighborhood, Be'er Yaakov: Representing residents in a Pinui-Binui project that is promoted by Almog Kedai Ltd.
HaCarmal HaGalil Brodsky Complex, Netanya: At the owners' organizing stage (170 apartments). Currently selecting a developer.
6 Esther HaMalka, Jerusalem - (Seismic Retrofitting) representing 18 apartment owners. An Agreement was signed with B.K. Initiation Ltd.
7 HaMa'alot, Ramat HaSharon: Tama 38/2, 18 apartments. Permit application stage. Developer" T.P. Construction Ltd.
45 Reines, Tel Aviv: A Tama Seismic Retrofitting project in execution. The Developer: Motag Ironi.

Company Rankings