Lilach Holdings N.I 2010
Manpower Recruitment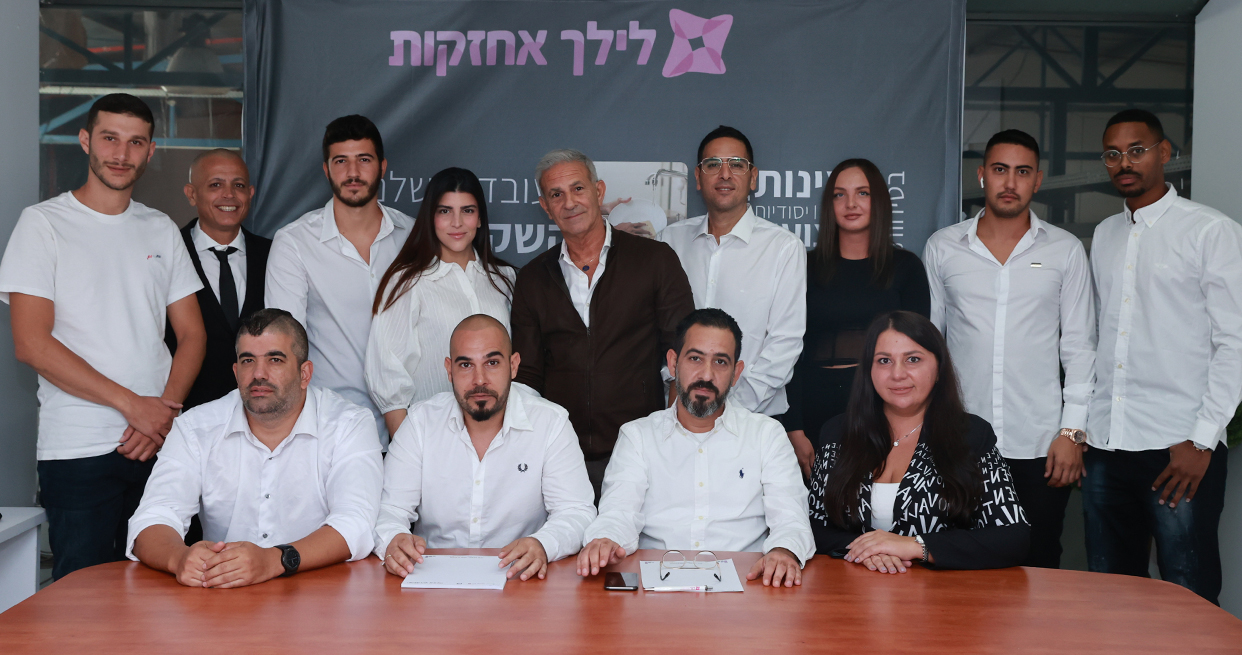 Company's Profile
| | |
| --- | --- |
| Established: | 2010 |
| Line of Business: | Manpower Recruitment |
| Address: | 61 Ben Ziyon Galis St., Sgula, Petach Tikva, 4927955 |
| Phone: | 972-1-700-501214 |
| Fax: | 972-50-8971532 |

Company Executives
Arik Yaniv

Joint CEO and Founder

Lilach Holdings N.I 2010

Lilach Yaniv

Joint CEO and Founder

Lilach Holdings N.I 2010

Noam Yaniv

Deputy CEO

Lilach Holdings N.I 2010

About Lilach Holdings N.I 2010
Lilach Holdings N.I 2010 Ltd. Is a leading company in its field, specializing in manpower recruitment for commercial kitchens in restauranteering, hotels, and factories countrywide. Lilach Holdings offers its clients first-rate professional services and real-time comprehensive solutions while taking care to uphold professional excellence, thoroughness, high-performance quality, safety, and full availability.
Lilach Holdings established its activities in 2008 as a company specializing in services for offices and business, special high-altitude projects and evaporators. In 2010 it naturally expanded as part of its growing business cycle, becoming focused on manpower recruitment for institutional kitchens, restaurants, hotels, and factories.
Today Lilach Holdings is financially robust and its roster numbers 1000 employees. It acts around the clock 24/7 to offer its clients an uncompromisingly high-quality service with full availability. Lilach Holdings is certified as a manpower contractor by the Ministry of Economy (license no. 1593) and as a services contractor. Among its clients one may find leading chains countrywide and Israel's largest restaurants.
Lilach Holdings – Departments
Lilach Holdings is comprised of three departments, offering clients professional real-time comprehensive services of the first rate. The three departments are Services, where every client has their own operations manager, Operations, and Accounting.
Professional Excellence, Thoroughness, First-rate Performance Quality
Lilach Holdings owns a vast recruitment and training array, operating on many levels in a parallel manner. Each and every operations manager is in charge of regional recruitment under their professional responsibility, and it is their capacity to appraise and choose the best employees who demonstrate the highest-level service orientation. These are then trained as necessary in all professional aspects pertaining to the job.
Since its establishment, Lilach Holding has been upholding the highest standards in all service-related matters thanks to instilling the values of loyalty, maintaining performance quality, a skilled staff and daily involvement in listening to clients' and employees' needs in the field.
For this, each Lilach Holdings client is allotted a personal operations manager, available 24/7, learning their clients' needs and offering them an address and comprehensive and thorough solutions for every request, matter and need at all times while conducting a continuous process of management and control for bettering service quality.
Lilach holdings commit to offering its client an available, comprehensive, thorough, and prompt solution for temporary or permanent employees as per client demands.
Clients at the Center at All Times
Lilach Holding sees servicing its clients as its superseding core value at all times and is focused on its client's needs in all its activities at any given time.
Lilach Holdings takes care to maintain a first-rate service array in order to ensure the full satisfaction of its clients, who are key to its development vis a vis its standards of human capital.
According to company regulations, Lilach is committed to offering first-rate services and to be meticulous about employee quality. Service quality is based on Lilach Holdings' professional experience and is maintained so as to uphold the high and rigorous standards it has taken upon itself. All company employees are committed to this policy as well.
Professional Training and Fire Safety
Since Lilach Holding sees an utmost importance in workplace safety, the company operates a professional and comprehensive training array, wherein employees undergo professional training, service related instruction, safety courses in order to offer its clients a professional service while taking care to maintain safety at all times.
Among our Clients
Chef Haim Cohen, Chef Jonathan Roshfeld, Chef Eyal Shani, Chef Aviv Moshe, Chef Yossi Shitrit, Shef Yuval Ben Neriya, Chef Yaron Shalev, Chef Segev Moshe, Chef Meir Adoni, Chef Ayelet Latovich, Chef Israel Aharoni, Segev Group, Giraffe Group, Popular Group, Tati Group, Zozobra Group, Greco-Greenberg Group, Dixie Group, chains such as Roladin, Beita Café and Ladwer, The Montefiore Hotel, The Florentine Hotel, The Gordon Hotel, and many leading restaurants: Turquoise, Toto, Claro, Taizu, Bayit Thailandi, Shalvata, Kitchen Market, Meshaya, Messa and more.
Lilach Holdings is committed to continuing to act on behalf of its customers, in accordance with the strict service values that are the highest value for the Company's employees and managers, in order to offer innovative, reliable, available and quality solutions.

Photo Gallery