Lilach Holdings N.I 2010 Group Ltd.
Manpower Recruitment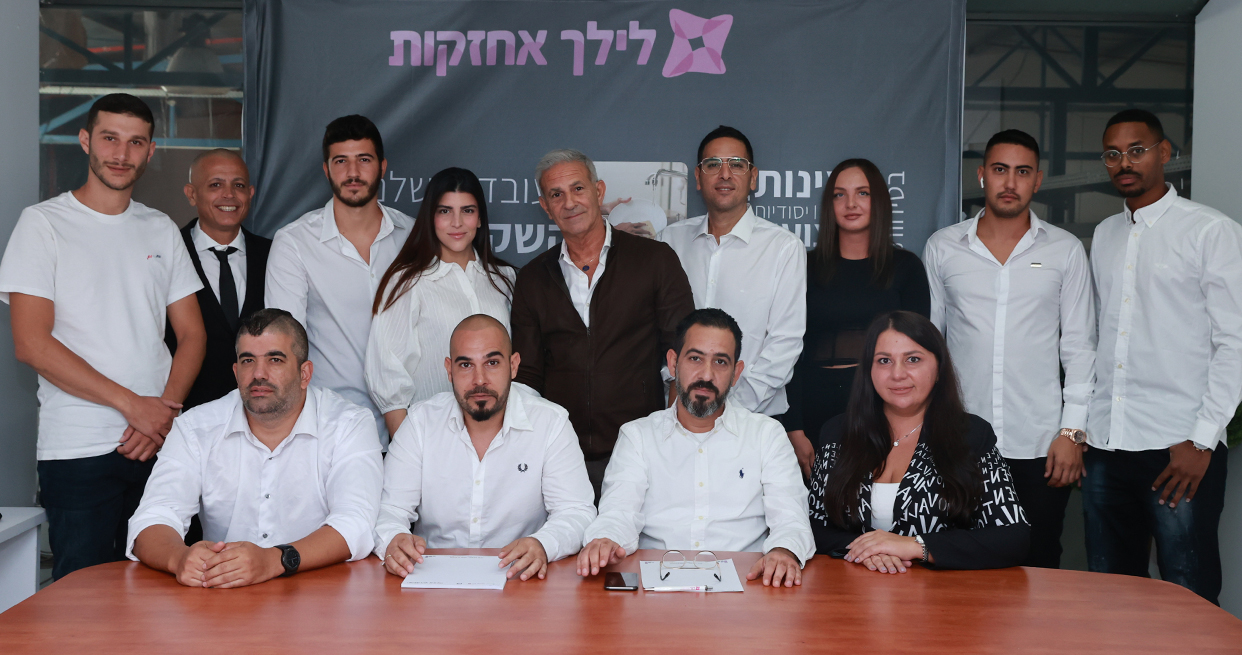 Company's Profile
| | |
| --- | --- |
| Established: | 2010 |
| Line of Business: | Manpower Recruitment |
| Address: | 61 Ben Ziyon Galis St., Segula, Petach Tikva, 4927955 |
| Phone: | 972-1-700-501214 |
| Fax: | 972-50-8971532 |

Company Executives
Arik Yaniv

Joint CEO and Founder

Lilach Holdings N.I 2010 Group Ltd.

Lilach Yaniv

Joint CEO and Founder

Lilach Holdings N.I 2010 Group Ltd.

Noam Yaniv

Deputy CEO

Lilach Holdings N.I 2010 Group Ltd.

About Lilach Holdings N.I 2010 Group Ltd.
Lilach Holdings is a leading staffing group that specializes in assigning employees to commercial (restaurants) kitchens, institutional kitchens, hotels, industrial facilities and logistics centers across Israel. The group, which benefits from economic strength and resilience, started operating in 2008 as a company for assigning housekeeping and cleaning workers for homes and restaurants, high-altitude workers, and rappelling, and over the years it has expanded its operations to supplying a wide variety of workers as mentioned above. Lilach Holdings was selected, for the third consecutive year, as the leading company out of 100 companies in the market and provides clients with first-class service and an ongoing and comprehensive response with attention to professional excellence, thoroughness, execution quality, safety and full availability. The company is financially sound and exists in the market for more than a decade.
Employing more than 1,000 Employees
Nowadays, Lilach Holdings is at the top of Israel's largest staffing companies and it employs about 1,000 workers regularly, working untiringly around the clock seven days a week, 24/7, in order to provide its customers with uncompromising high-quality service with full availability. The group has an HR Contractor License from the Ministry of Economics and a Service Contractor License. The group focuses on supplying workers mainly to businesses in central Israel (Gedera-Hadera) with an emphasis on the city of Tel Aviv.
Areas of Expertise
The group specializes mainly in assigning employees to restaurants and hotels and assigning nonprofessional employees to a variety of entities and companies in the restaurant and hotels category the company provides dishwashers, cook assistants, general kitchen workers and kitchen cleaning personnel. In its second category, the company assigns nonprofessional workers and temps to industrial facilities from numerous segments, to logistics centers, retail chains and more. The company is considered the national leader in these categories and it takes full responsibility for the immediate hiring of the required number of employees including the complete employment umbrella: transportation to and from the workplace, professional and safety training, salaries and social benefits, and handling ongoing HR matters throughout the entire employment term.
A Unique Operating Model
The group includes 8 regional operation managers, each responsible for the hiring activities in the region under his/her professional responsibility. Every client is assigned to their regular operating manager who provides them with full service on both ongoing and unexpected matters, with 24/7 availability. The operation managers are responsible for evaluating and selecting the best employees who demonstrate the highest service-orientation, and to train them appropriately in every professional aspect of their job.
Care and Devotion to both Clients and Workers
The company's core values are devoted service, reliability and professionalism with the clients at the ultimate priority. For example, if one of the workers has a problem vis-à-vis the Immigration Authority or in case they sue the company where they worked, Lilach Holdings would handle the matters by itself. In addition, the company pays its employees properly and provides medical insurance for them. Furthermore, in cases where a foreign resident's visa is about to expire, the company notifies them in advance to verify that they arrange their visas in due time. The Firm's Operations Department is responsible for the direct contact with the customers and the employees, including verifying the validity of visas, facilitating the medical insurance for every employee and organizing the workers' transportation in every hour of the day, evening and night. It should be noted that the company's drivers are courteous, professionals, presentable, and service-oriented, with a special emphasis on punctuation. The groups takes care to handle and correct events quickly, and uses cutting-edge equipment.
90-Minute Response Time
The company boasts uncompromising service for its clients. This is exemplified in cases where workers fail to show up at the workplace for any reason whatsoever. In such cases the company works unceasingly until it brings an alternative worker to the client within only 90 minutes. The company puts such a great emphasis on response times, that in several cases the group's executives took the employees' place until they arrived to the location.
Constantly Reinventing Itself
The group constantly renews and reinvents itself and it recently developed a dedicated website under the name C4S (Click for Service) which enables businesses and companies that require workers on a daily basis or for several days a week, for any purpose and at any location, to fulfill said requirements with only 3 clicks. The payment is carried out easily through credit and the workers arrive to the client within a short notice of only 90 minutes. The company has a broad reach in the areas of central Israel, Gush Dan and HaSharon Region.
The Group's Clients
The group assigns workers to some of Israel's largest companies and entities, with an emphasis on renowned chefs and restaurants. Some of the group's former and current clients are the chefs Haim Cohen, Yonatan Roschfeld, Eyal Shani, Aviv Moshe, Yossi Shitrit, Yuval Ben Neriya, Segev Moshe, Meir Adoni and Ayelet Letovitz. Other notable clients include the Segev Group, Giraffe Group, Popular Group, Tati Group, Zozobra Group, Gerco-Grinberg Group, Dixie Group, the restaurant Turquoise, Toto, Claro, Taizo, Thai House, Shalvata, Kitchen Market, Mashya, Messa and more, as well as the chains Roladin, Landwer, Beta Café, and the hotels Montefiore, Florentine and Gordon.

Photo Gallery