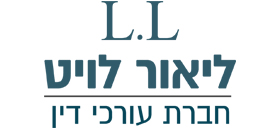 Lior Levit, Law Firm
Compensation for damages caused by traffic accidents, workplace injuries, institutional or private negligence, medical malpractice, insurance claims

Company's Profile
| | |
| --- | --- |
| Established: | 2011 |
| Line of Business: | Compensation for damages caused by traffic accidents, workplace injuries, institutional or private negligence, medical malpractice, insurance claims |
| Address: | 144 Menachem Begin Rd., Midtown Tower, 43rd floor, Tel Aviv |
| Phone: | 972-72-2220111 |

Company Executives
Adv. Lior Levit

Owner and Founder

Lior Levit, Law Firm

View Profile

Lior Levit

Mirit Levi

Attorney

Lior Levit, Law Firm

About Lior Levit, Law Firm
Adv. Lior Levit's firm is a boutique law practice specialising in compensation due to bodily harm following traffic accidents, workplace injuries, institutional or personal negligence, medical malpractice and insurance claims.
The firm employs 3 attorneys, 2 interns and 2 secretaries and is ranked among the foremost law practices which work in the aforementioned fields. The firm's ethos is professional service, 24/7 availability and attention to details, in every case.
The firm's clients are given Adv. Levit's personal cell number, and know that he is at their disposal 24/7. He also instructs his employees to be available via email and cell phone.
The firm's gold star customer service ensures the clients experience a personalized, humane and attentive touch for their every need. In addition, Adv. Levit offers home consultations, as well as hospitals visits for his clients, saving them the trouble of reaching his office. In this way, Adv. Levit can analyse the client's situation, guide and counsel them towards awarding proper compensation, even at the early stages of preparing his case.
As regards to professionalism, the firm conducts research and evidentiary discovery in the most thorough manner, the highly professional staff inspect the minutiae of every case in order to track the best angle to ensure that the best possible result will be delivered for the client.
Adv. Lior Levit, Owner and Founder
Adv. Lior Levit was certified by the Israeli Bar Association in 2001, having completed a year of internship at a prestigious law firm, which represented claimants in cases of bodily harm. As a hired attorney, he began working for a leading firm in the field, where he quickly became a partner, bringing in new clients, while maximizing efficiency and profits.
With time, the volume of cases which he personally brought to the firm increased, from dozens to hundreds, and the firm in which he was partner doubled and trebled its profits.
In 2008, Adv. Levit realized his greatest passion was to open his own, independent law practice, which started in a small office in south Tel Aviv. Thereafter, he transitioned into a bigger practice on Shaul HaMelech Boulevard, where he shared chambers with his brother-in-law, Adv. Sharon Nahari, a prominent criminal attorney in Israel. Through the years, the firm has been recognized for its achievements for its clients, and the turnover and revenue increased dramatically, with the firm moving to its present venue, in luxurious and stylish chambers on the 43rd floor at Midtown Towers, Tel Aviv, where 3 attorneys, as well as 2 interns and 2 secretaries form the staff. Adv. Levit acquired his LL.B. at "Guildhall City University" in London, where he qualified as an attorney.
Adv. Levit writes numerous articles for the press, and is currently active in the tort forum of attorneys within the Israel Bar Association, and represents plaintiffs in cases which receive media attention.
Areas of Expertise
Adv. Lior Levit's firm specializes in redeeming compensation due to bodily harm: representing victims of traffic accidents, workplace injuries due to negligence and safety violations, claims against private insurance policies, negligence of public and private entities, medical malpractice, and more.
In the field of medical malpractice, the firm deals with the entire spectrum of possibilities, from gynecology, birth and neonatal defects, to dentistry, orthopedics, failure in early diagnosis of disease, etc.
With regards to workplace accidents, suits are filed both against the National Insurance Institute, the insurance firms of the employer and against private insurance policies for loss of ability to work, personal accidents, disability, pensions and so forth.
Methods
The firm has access to highly qualified professionals, such as experienced physicians in all fields of medicine, private investigators and safety advisors. These help identify, in every case, whether any fault was due to the employer, hospital or institution in which the alleged injury had taken place.
In matters pertaining to medical malpractice, the firm inspects in great depth the medical-procedural aspects of the case in order to determine whether they are the main or secondary contributors to the injury. Moreover, the firm often has success in identifying those aspects where other professionals may have failed.
Remarkable Success in Appeals
Lior Levit is a firm renowned for its appellate practice, to the extent that many attorneys who find their cases quite weak at the appeals stage – transfer these to Adv. Levit; frequently wins these cases, providing the clients with a large monetary redress.
Focusing on Clients' Representation
Adv. Levit represents only claimants – typically, private individuals, from all strata of society in Israel, from the senior executive to ordinary and underprivileged people. In each case, Adv. Levit provides equal and fair treatment to every person, while understanding the tough times his clients are experiencing, in order to do justice by them and arrive at proper restitution for them.
Community Outreach
The firm works with a legal fund which finances lawsuits for those who cannot afford them, guaranteeing a loan for the duration of proceedings.
The fund inspects the likelihood of victory in each case, and when the trustees are convinced of success in the lawsuit, they provide necessary financial aid to the claimants.