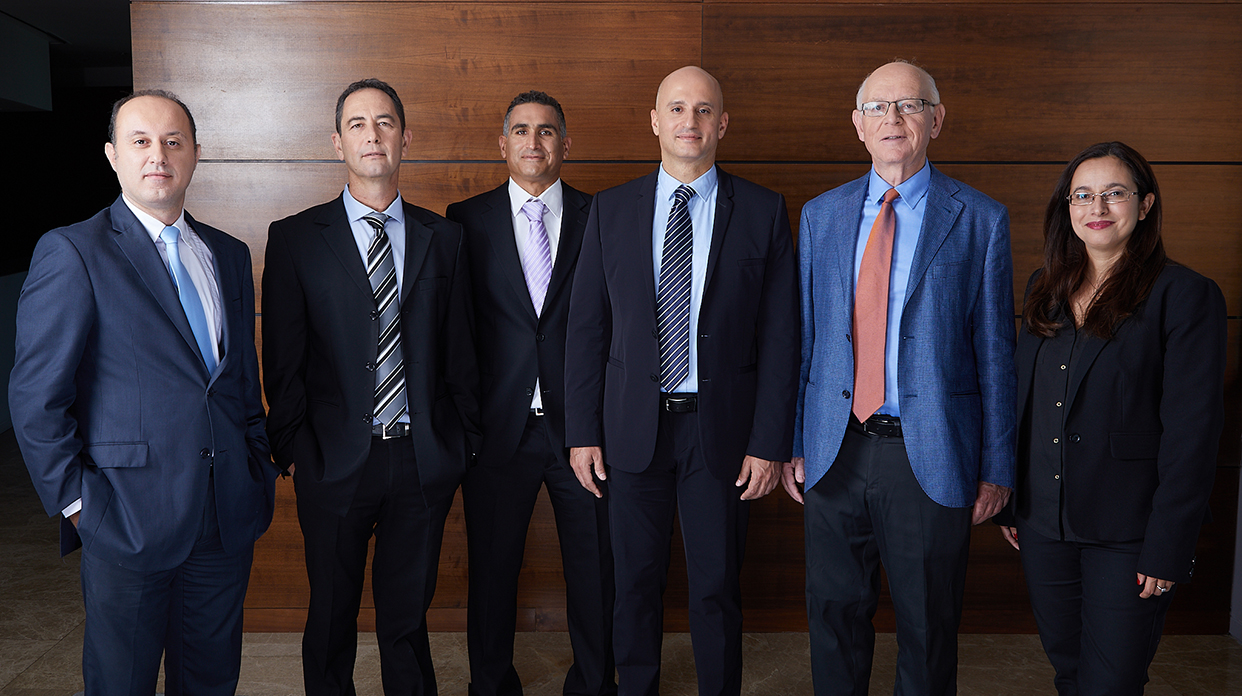 Company's Profile

Company Executives
Dr. Meir Lipa

Founder and Managing Partner

Lipa Meir & Co. Advocates

Alon Pomeranc

Partner and Head of Litigation Department

Lipa Meir & Co. Advocates

Uzi Mor

Partner and Head of Commercial Department

Lipa Meir & Co. Advocates

Shabtai Michaeli

Partner and Head of Labor Department

Lipa Meir & Co. Advocates

Osnat Sarusi-Firstater

Partner and Head of Hi-Tech Department

Lipa Meir & Co. Advocates

Yariv Shalom

Partner and Head of Real Estate and Finance Department

Lipa Meir & Co. Advocates

Zuriel Lavie

Senior Partner

Lipa Meir & Co. Advocates

Gary Copelovitz

Partner

Lipa Meir & Co. Advocates

Gad Azor

Partner

Lipa Meir & Co. Advocates

Erez Dar-Lulu

Partner

Lipa Meir & Co. Advocates

Raz Navon

Partner

Lipa Meir & Co. Advocates

David Weinstein

Partner

Lipa Meir & Co. Advocates

Eyal Zalikha

Partner

Lipa Meir & Co. Advocates

Amit Sela

Partner

Lipa Meir & Co. Advocates

Roy Aiz

Partner

Lipa Meir & Co. Advocates

About Lipa Meir & Co. Advocates
Lipa Meir & Co., established in 1987, specializes in the provision of high quality legal services in all areas of civil law. The firm's work force consists of a legal staff of 81 highly experienced lawyers, supported by qualified interns and a professional administrative team.
The firm's full range of legal services, offered to Israeli and to non-Israeli clients alike, encompasses a diversity of areas, including corporate, tax law, insolvency, banking and financing, insurance, real estate, high-tech, labor law, infrastructure projects and intellectual property, environmental protection, clean-tech and renewable energy, anti-trust as well as representation in different courts and tribunals.
Departmental Division
Dr. Lipa Meir, founder and managing partner and Adv. Zuriel Lavie, are the firm's senior partners. The firm's practice is divided to departments, each of which focuses on a specific field of expertise and covers the entire spectrum of activities within its area: a commercial department headed by Adv. Uzi Mor; a litigation department headed by Adv. Alon Pomeranc; a labor law department headed by Adv. Shabtai Michaeli; a high-tech department headed by Adv. Osnat Sarusi-Firstater; and a real estate and finance department headed by Adv. Yariv Shalom.
The firm also prides itself with its sub-specializations, including cross border transactions, intellectual property, tenders (including technology and IT projects, PFI, BOT projects, etc.), infrastructure and project financing, environmental protection, clean-tech and renewable energy, anti-trust and health law.
Areas of Specialization
Corporate Law: The firm has vast experience in the domestic and international markets in commercial and corporate law, in the context of which it provides legal advice to the country's leading businesses.
The diversification of our lawyers enables us to provide our clients with a full package of advice in all transactional aspects, ranging from corporate finance and corporate governance through anti-trust and taxation and culminating in regulatory and labor law issues.
Litigation: The firm handles civil, commercial and administrative litigation in a wide spectrum of areas, in all tiers. The firm also represents defendants in white collar proceedings.
Real Estate: The firm has vast knowledge and experience in all areas of real estate, including transactions for purchase, sale and leasing of real estate, construction projects, planning and licensing procedures, planning and construction offences, project financing and ownership disputes.
Labor Law: The firm renders advice in various aspects of labor law: drawing up collective bargaining agreements; representing employees and employers in all tiers of labor courts, pension law, active participation in current legislation on the aforementioned subjects etc.
Technology: The firm has various clients in a range of areas in the new economy and supports high-tech companies in various technological sectors in all stages of development, ranging from establishment and raising capital from investors and VC funds, through day-to-day commercial activities in Israel and abroad, to various exit stages.
Bankruptcy and Insolvency: The firm is renowned and in a national leader in receivership, liquidations, stay of proceedings, debt restructuring and refinancing of companies in financial difficulties, its specialization not stopping at rendition of legal advice and engaging in related litigation but also focusing on all business aspects of such complex proceedings.
Health Corporations: The firm has a particular specialization in health corporations (health funds, hospitals and the like), supplementary health insurance, tenders for medical equipment and devises, health legislation, health regulation etc.
Infrastructure Projects and Tenders: The firm engages in the issuance of public tenders (including PFI, BOT and other projects) and provides legal support in this area to governmental, municipal and public tender committees, in all phases of the tender process.
Environmental Protection, Clean-Tech and Renewable Energy: Advice is provided in a myriad of areas of environmental law, including environmental risk management, environmental legislation and regulatory regime, administrative and other litigation proceedings as well as investments and other transactions in the alternative energy and in the industrial sectors.
The firm is a party to a collaboration agreement with the Italian firm, Emmeplus, with several branches worldwide, and is a member of the international association of law firms Legal Netlink Alliance.
Partners
Dr. Lipa Meir, Zuriel Lavie, Alon Pomeranc, Uzi Mor, Gary Copelovitz, Gad Azor, Erez Dar-Lulu, David Weinstein, Eyal Zalikha, Shabtai (Shabi) Michaeli, Osnat Sarusi-Firstater, Yariv Shalom, Roy Aiz, Amit Sela.
Of Counsel
Dr. Yehuda Ben Meir, Dr. Irit Mevorach.

Facebook Updates

Company Rankings