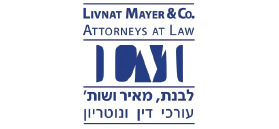 Livnat Mayer & Co. – Attorneys At Law
Employment and labor law, real estate law, corporate law, elder care and IP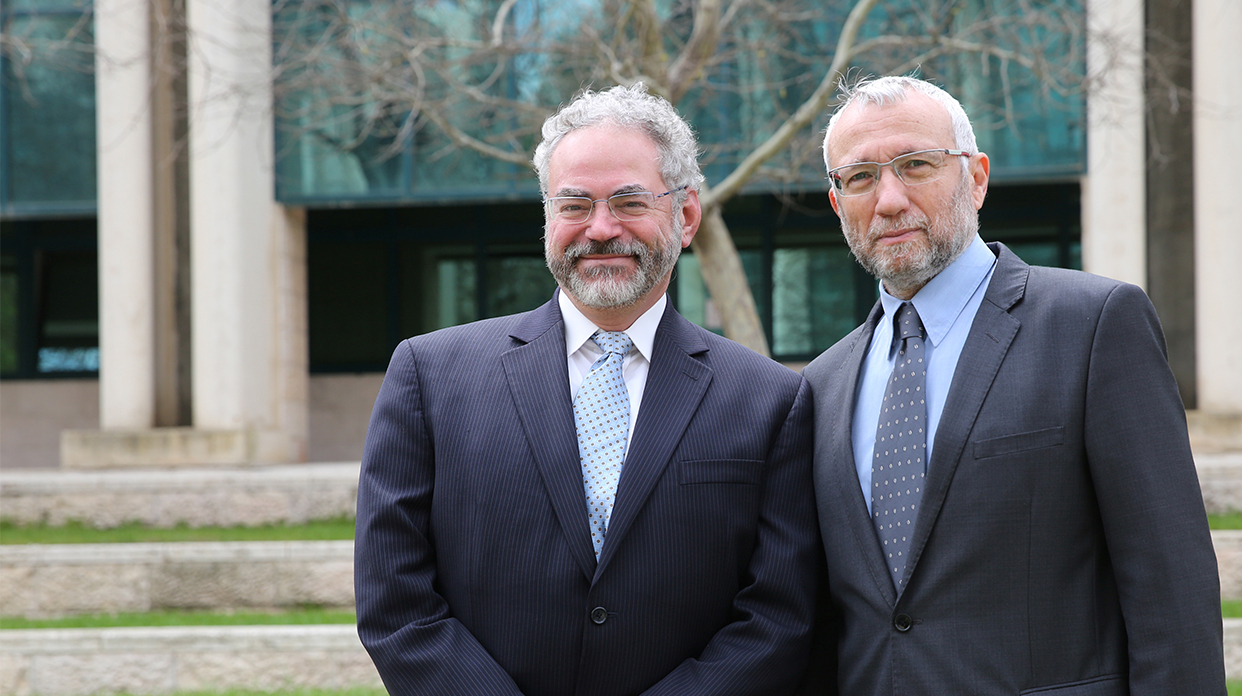 Company's Profile
| | |
| --- | --- |
| Established: | 1998 |
| Line of Business: | Employment and labor law, real estate law, corporate law, elder care and IP |
| Address: | Jerusalem Technology Park, P.O.B. 48193, Jerusalem 9148101 |
| Phone: | 972-2-6799533 |
| Fax: | 972-2-6799522 |

Company Executives
Russell D Mayer

Founding Senior Partner

Livnat Mayer & Co. – Attorneys At Law

View Profile

Russell D Mayer

Chen Livnat

Founding Senior Partner

Livnat Mayer & Co. – Attorneys At Law

View Profile

Chen Livnat

About Livnat Mayer & Co. – Attorneys At Law
Livnat, Mayer & Co. is a boutique law firm based in Jerusalem which serves clients from Israel and overseas in a highly professional, personal and responsive manner. The firm has extensive experience in numerous fields of law, including employment, corporate and real estate law. In recent years, the firm has also developed expertise in issues related to elder care and estate law. The firm provides top quality legal services in a practical and efficient manner, thanks to the expertise of its highly trained business-minded lawyers who initiate, structure and guide transactions from conception through closing. Founding partners, Chen Livnat and Russell D. Mayer, are highly accomplished attorneys who boast decades of legal experience and are personally involved in every case. Adv. Mayer was admitted to the Bar in both the United States and Israel, and his experience as a lawyer in both countries puts him in a unique position to counsel clients whose affairs involve both countries.
Areas of Expertise
Employment and Labor Law – the firm represents all types of employers, including small businesses, large multinationals, public companies, and foreign embassies. The firm specializes in providing guidance regarding the obligations of employers to employees and the rights of employees under Israeli law, including employment contracts, benefits, insurance issues and the rights of foreign employees. If necessary, the firm litigates on behalf of its clients in Labor Court in lawsuits involving allegations of wrongful termination, severance pay, claims of discrimination, breach of contract, restrictive covenants, compensation arrangements, etc.
Real Estate Law – the firm is experienced in representing clients on purchases and sales of properties. These real estate transactions ranging from smaller clients acquiring/selling residential units to developers and purchasing groups involved in large-scale projects. The firm is especially experienced in representing clients developing projects involving hundreds of residential and commercial units, including shopping malls, office buildings, and industrial zones, throughout the country. The firm's team is experienced in all aspects of real estate development, zoning, construction, and management. It has represented clients in front of zoning committees and Israel Land Authority tribunals; has litigated numerous zoning law cases; and has negotiated and litigated related disputes.
Corporate Law – since its establishment, the firm has been intensely involved in providing professional counsel to businesses on a wide range of matters, especially to companies in the field of high-tech. In addition to representing clients on business transactions of all sorts, the firm's lawyers have valuable expertise in all phases of the corporate lifecycle – the formation of new businesses, transactions, M&As, "exits" by either selling the business or going public, liquidations, etc. The firm has extensive experience representing start-ups and established businesses as well as investors, with a particular focus on foreign investors interested in investing in Israeli companies or acquiring local businesses, as well as Israeli businesses establishing operations outside of Israel. The firm also provides ongoing counsel related to the corporate relationship between foreign parent companies and Israeli subsidiaries or affiliates as well as foreign banks and other financial institutions in their operations in Israel. Members of the firm have expertise in structuring, negotiating and drafting complex international joint ventures, and have overseen public and private offerings in the U.S. and Israel, as well as M&As, financing arrangements and international sale and distribution arrangements such as distributorship, sales agent, foreign subsidiary and OEM arrangements, letters of credit and other international financing arrangements.
Elder Care - The firm's Elder Care department serves private clients of all ages in matters related to trusts, estates, wills and Ongoing Powers of Attorney – encouraging clients to make decisions about long-term care and estate planning while they are still able to do so without court intervention. Following the adoption of Amendment 18 of the Legal Capacity and Guardianship Law in 2017, which protects the interests of Israel's elderly and empowers individuals to determine their own destiny with respect to their care and financial affairs, there has been a surge in demand from clients interested in putting these issues in order. In particular, the firm prepares healthcare proxies, advanced medical directives, powers of attorney and testamentary Wills. The firm also deals with guardianship proceedings on behalf of others, probates estates from Israel and abroad, and counsels clients on methods for protecting their interests while considering potential tax ramifications.
Intellectual Property – The firm provides IP services to a wide range of clients, from start-ups to large Israeli conglomerates, specializing in legal issues related to copyrights and trademarks.
Data Protection – The firm has expertise in the area of data protection rights and obligations including with respect to the GDPR. One of the firm's partners authored the Israel section of the international treatise "Global Privacy and Security Law."
Litigation – The firm represents its clients in all courts of law, including the Supreme Court, and has been successful in reaching favorable outcomes in a range of cases – victories in the courtroom as well as settlements outside of court. Its litigation experience includes labor relations and IP litigation, commercial and residential real estate disputes and representing embassies involved in sovereign immunity, real estate, and employment matters.
The Partners
Adv. Russell D. Mayer – Adv. Mayer moved to Israel in 1990 from his native New York City. He received a J.D. degree from Benjamin N. Cardozo School of Law of Yeshiva University and was admitted to the Bar both in the U.S. and Israel. Adv. Mayer served as in-house counsel for major commercial banks in New York, specializing in corporate finance, and as an Associate at a leading Tel Aviv law firm, prior to founding Livnat, Mayer & Co. He is an expert in employment and labor law, international corporate and commercial matters, elder care, finance, and trade, and has extensive legal and business experience assisting high-tech companies in all phases of their life cycle. In addition, he regularly advises a number of foreign embassies and governments with respect to local Israeli law. Adv. Mayer has authored numerous publications, including the Israel chapter of the treatise "International Employment Law," the Israeli section of a treatise on data protection and privacy law and the Israeli chapter of an international treatise on International Secured Transactions. He also engages in pro bono and volunteer work, most notably providing legal counsel to immigrant groups.
Adv. Chen Livnat – Adv. Chen Livnat, who was born in Tel Aviv, holds a law degree from The Hebrew University of Jerusalem. Prior to founding the firm together with Adv. Mayer, he was an Associate at a respected, well-known Israeli law firm. He is an experienced litigator, specializing in real estate transactions, international corporate law and commercial matters. Adv. Livnat has successfully represented clients in litigation matters of all sizes and regularly handles real estate transactions of all types. He has extensive legal and business experience assisting high-tech companies in all phases, from incorporation and seed funding through exit arrangements, and is well-versed in the area of bankruptcy and liquidation of companies. Adv. Livnat is frequently appointed as a liquidator with regard to various debtors as well as being an experienced arbitrator.

Facebook Updates