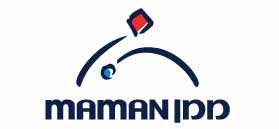 Maman Cargo Terminals and Handling
Logistics and Aviation Services

Company's Profile
| | |
| --- | --- |
| Established: | 1974 |
| Line of Business: | Logistics and Aviation Services |
| Address: | 5 Pesach Lev St., Northern Ind. Zone Lod |
| Phone: | 972-3-9715300 |
| Fax: | 972-3-9721733 |

Company Executives
Nehama Ronen

Chairperson

Maman Cargo Terminals and Handling

View Profile

Nehama Ronen

Boaz Zafrir

CEO

Maman Cargo Terminals and Handling
Leading Executives
Moshe Eidelman VP Finance

About Maman Cargo Terminals and Handling
The Maman Group is proud to be one of the leaders of Israel's logistics and aviation services. The Group's subsidiaries specialize in services for all aspects of supply chain management (SCM), from the cargo terminal at Ben Gurion Airport through third party logistics (TPL) to ground-handling services for passengers and airlines.
Maman is publicly traded on the Tel Aviv Stock Exchange. The main shareholders are Ta'avura Holdings, controlled by the Livnat family and Clal Industries ensuring the Group's financial stability and many years experience and knowhow in all branches of logistics.
The Group's subsidiaries are independently managed. At the same time, overlapping areas of activity allow sharing resources, professional expertise and experience, creating a synergy that guarantees customers a reliable, high-quality one-stop-shop format. The Group's corporate center, near Ben Gurion International airport, develops this synergy.
Each Maman Group subsidiary utilizes cutting-edge technologies and communications systems, but the Group's main asset is its personnel – its professional, skilled and irreplaceable staff. Ongoing infrastructure and human resources investment strengthens the Group's ability to compete with rivals.
With a deep knowledge of each element in the logistics chain, the Maman Group is the best value logistics partner.
Creativity and openness to adopting new ideas are the basis of the Group's dynamic character. Continually searching for ways to adapt to clients' changing needs, Maman possesses the flexibility and drive to remain in the leader in cargo and ground-handling services.
The Group's vision has enabled Maman to become Israel's leading logistic services group in Israel, and to expand overseas. To ensure that the company provides a high level of service, the Group has a strict, comprehensive code of ethics that expresses its business culture and requires employees and managers to comply with uncompromising international standards of quality service.
Ben Gurion Airport Cargo Terminal – provides all ground services to Israel's air cargo importers and exporters. www.maman.co.il
LogistiCare – provides all logistics services required for SCM, while meeting the highest standards. www.logisticare.co.il
LogistiCare Bonded – Provides bonded warehouse services. www.logisticare.co.il
Globus – One of Israel's leading logistics companies specializes in relocation for enterprises and individuals, logistics for hazardous materials, transport and warehousing of arts items and general logistics. www.globus-intr.co.il
Archives 2000 – specializes in the storage and retrieval of material, and in scanning documents. The company facilitates efficient, convenient management of stored records.
www.archive2000.co.il
Laufer Aviation GHI – Israel's leading ground-handling service company, working with aviation companies, and providing VIP services for individual passengers. www.lauferghi.com
Maman Aviation – specializes in providing outsourcing services for aviation companies. Provides general sales agent (GSA) services for passengers and cargo to aviation companies, as well as making ground arrangements, and creating packages for passengers.
www.mamanaviation.co.il
Tal Limousine Service – supplies transport services to Ben-Gurion Airport from all parts of Israel and transport services in over 250 airports in the world. www.tal-limo.co.il
IsraLimo – Main provider of luxury transport and car rental services with a fleet of luxurious brands including private cars, jeeps and limousines. www.isralimo.com
IBT – Maman – Romanian based logistics company which provides extensive logistic services such as: warehousing, distribution, customs fees, shipping, added value services and more. The company operates in Eastern and Central Europe. www.ibt.com.ro
MEL (Maman Euro Logistics s.r.o) – manages and operates an advanced logistics site in the Czech Republic, near the German border.
www.mamanel.cz
M.T.R. Railway Industries Enterprises – Specializing in maintenance and repair of train cars, exclusively operating one-of-its-kind cleaning and painting facility for train cars and engines. The factory encompasses manufacturing and assembly capabilities of train components for exporting.
KLP Maman – provides security and loss prevention services to leading companies and organizations worldwide. The company employs innovative risk detection and prediction methods with state-of-the-art technology, human capital training and resources, utilization of surveys to minimize risks, implementation of procedures and work methods across the operations network, and more.
www.klpmaman.com
Merhavim tal - Owns the franchise to operating all parking lots in Ben Gurion Airport.

Photo Gallery